As the NBA Finals moves to Cleveland, LeBron James returns home, but for how long?
Reporting from Cleveland —
When LeBron James' daughter saw his face Sunday during a FaceTime chat on his phone, 3-year-old Zhuri didn't like what she saw.
Half of her father's left eye was blood red, a product of being poked in the eye by Golden State's Draymond Green last week in Game 1 of the NBA Finals. James looked a little scary.
Hours later, the Cleveland Cavaliers star could laugh about it during his news conference following Game 2. James appeared less agitated than he did after Game 1. Perhaps a 19-point loss was a bit easier to swallow than an overtime loss spurred by miscues and missed calls.
Now, James returns to Cleveland, bloodied by the start of the series, literally and figuratively. The Warriors took a 2-0 lead on their home court, and they're about to get healthier. Stabilizing veteran Andre Iguodala, who has missed the last six games with an injured knee, is expected back soon.
For James, the week will be rife with meaning and analyzed heavily. He will be home, but for how long? The next two games could very well be his final times playing in Cleveland as a member of the Cavaliers.
He is expected to opt out of the final year of his contract, and could leave Cleveland again. Game 3 is scheduled for Wednesday night, and the Cavaliers, for the third season in a row against the Warriors, will try to recover from an early stumble.
"We want to continue to be uncomfortable," James said. "Just because we're going home doesn't mean we can relax. This is the last team in the world you want to relax against. … They've proven they can win on someone else's floor and do it in any fashion, in any way."
This summer may mark the third time James has truly put himself on the market.
In 2010 there were rumblings that James was planning to leave Cleveland long before he announced his decision to sign with Miami. In 2014, too, people around him could see his move back to Cleveland coming before he announced it.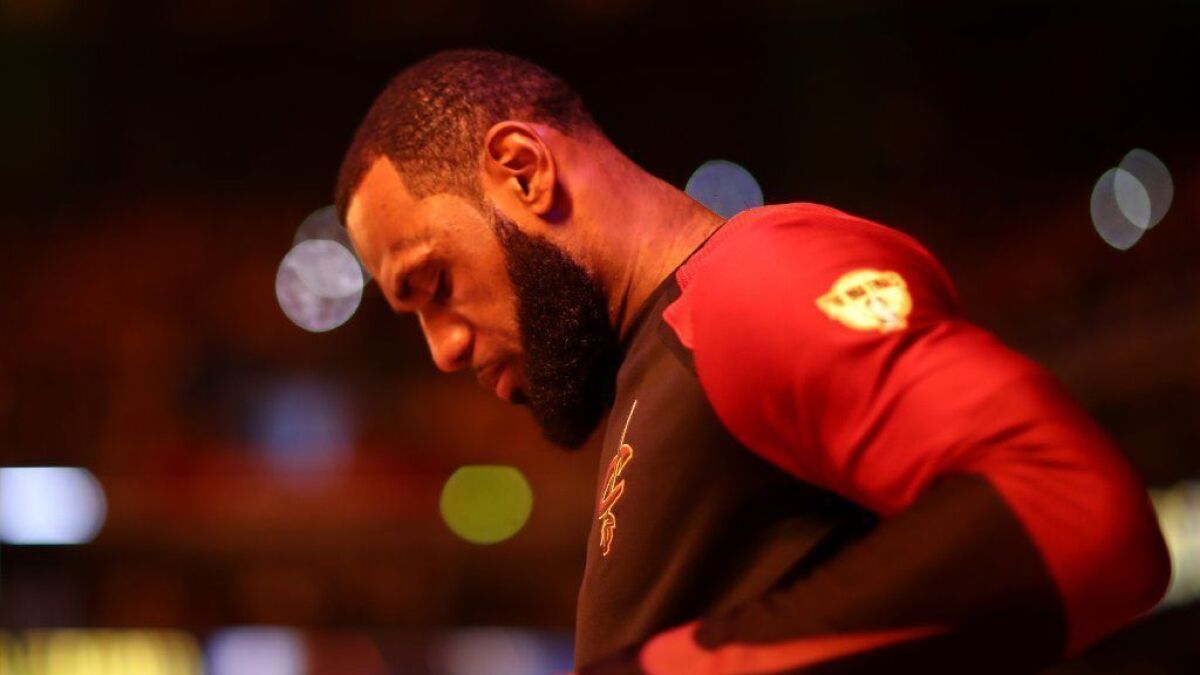 That hasn't been the case this year with free agency less than one month away and teams like the Lakers, Philadelphia 76ers and Houston Rockets hoping for a chance to sign him.
Rather, James' singular focus has been on seeing through this season and understanding his current team as well as possible as he heads into the summer.
The only rumblings have been this: that James' decision will be entirely about basketball and he will go where he can have the best chance for a championship.
In an attempt to show James he could do that in Cleveland, the Cavaliers remade their roster at the trade deadline, acquiring Larry Nance Jr., Jordan Clarkson, George Hill and Rodney Hood. They were moves trumpeted by owner Dan Gilbert just before Game 1 on Twitter.
Nance and Hill have been the most successful acquisitions of that group. Clarkson has struggled to find a rhythm shooting and Hood doesn't even play.
All this as James expands his game even more. He believes the player he is now is the best version of himself.
"There were parts of my game that you could disrespect early in my career," he said. "You can't do that now."
And while he resists publicly criticizing his supporting cast, he's cognizant of their abilities and limitations. Those limitations have been very visible during the Finals. James scored 51 points in Game 1, making challenging shots few others would even attempt, and it wasn't enough. While he made nearly 60% of his shots, the rest of his team made only 37%.
He scored 29 points, the second-most of any player in Game 2, and it wasn't enough. The rest of his team made less than 40% of their shots and had only 12 assists combined, one fewer than James himself. Kevin Love has scored more than 20 points in each game, but beyond him, the Cavaliers haven't produced at the level of the Warriors as a group.
"It's a gift and a curse," Cleveland's JR Smith said of playing with James. "You play on his team, and you're playing with the best player in the world and you get to witness some great historic things and be a part of it. Then, on the other side, if you don't help that person win, they're looking at you too. So, it's a lot of pressure, depending on how you look at it."
The pressure isn't just about each individual moment or individual game, either. The quality of his supporting cast could weigh heavily on James this summer. They could lead to the end of this era for James.
Follow Tania Ganguli on Twitter @taniaganguli
Get our high school sports newsletter
Prep Rally is devoted to the SoCal high school sports experience, bringing you scores, stories and a behind-the-scenes look at what makes prep sports so popular.
You may occasionally receive promotional content from the Los Angeles Times.