Kansas City Chiefs get big test when they travel to Denver on Sunday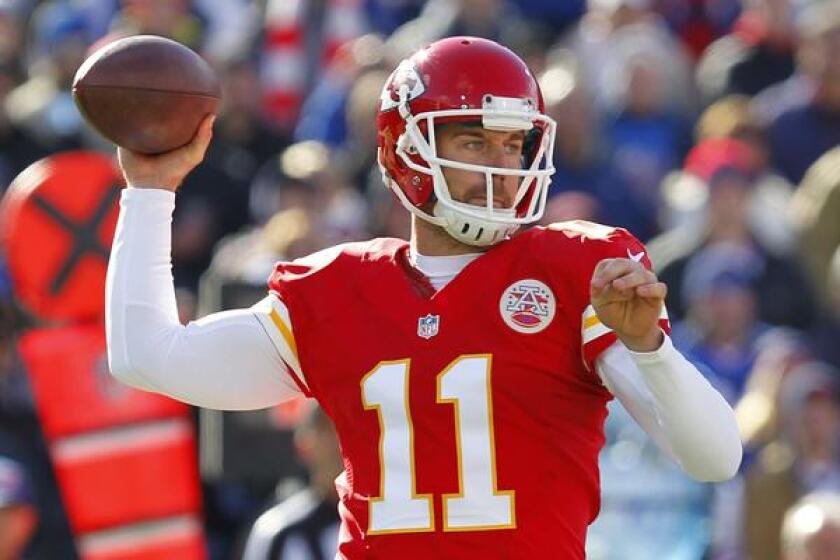 The Kansas City Chiefs are 9-0 and the NFL's only undefeated team.
But how good are they, really?
We'll know a lot more Sunday when the Chiefs play at Denver in a pivotal AFC West showdown.
None of the teams the Chiefs have beaten have a winning record, but the Broncos are 8-1 and have Peyton Manning, who is in good position to win an unprecedented fifth most-valuable-player award.
Manning took a physical beating in Sunday's victory at San Diego and had an MRI exam on his sore right ankle Monday, but the examination revealed no new damage. He will start against the Chiefs.
"I'm pretty sore," Manning said Sunday. "They kind of got me twice in kind of that lower area."
Interim Denver Coach Jack Del Rio said Monday the Broncos sent those low hits to the league for clarification.
"We turned it in, thought it was questionable and they'll provide their answer," Del Rio said. "Of course, I won't share that with you, but that's just part of it. There are a number of plays throughout the game that you put in there and ask for clarification — that's one of them that we'll be looking for."
The Chiefs had Week 10 off, and Coach Andy Reid gave his players a break from practices. That's not to say they checked out entirely, though.
Said quarterback Alex Smith: "I think every guy in this locker room, in the back of their head [was] thinking about Denver."
Broncos cornerback Chris Harris said Monday that he expects Smith to play it safe and try to chip away at Denver's defense, rather than look for big plays.
"He's definitely a guy that, he doesn't want to make mistakes," Harris said. "He doesn't want to put their team in bad situations — kind of how [San Diego Chargers quarterback] Philip [Rivers] played yesterday. He kind of took the short pass, didn't really want to take a lot of shots. That's the kind of guy — people's game plan versus us now is to try and keep Peyton off the field."
State of shock
Indianapolis plays at Tennessee on Thursday night, and who would have dreamed both teams would be coming off losses?
The Colts were crushed by St. Louis, 38-8, and the Titans became the first team this season to lose to Jacksonville, falling at home, 29-27.
If the feeling of losing to the league's worst team is familiar to the Titans, it's because they lost to the 0-13 Colts two years ago.
"We've been part of this crap for the last three years — two years ago against the Colts, then the Jags last year and the Jags today," Tennessee tackle Michael Roos told reporters Sunday. "I don't know if guys think it's just gonna happen because of their record, but every Sunday there is an NFL you're playing in, despite what their record is."
The Colts still have a two-game lead in the AFC South, but they weren't making excuses after being pounded by the Rams.
"Certainly we're not going to bury our head in the sand on this past ballgame," Coach Chuck Pagano said Monday. "We'll address the issues like we always address them. We know there's things that need to be fixed and we'll go to work on fixing those things. Again, we have a short week. We don't have much time in front of us."
Quick return
Houston Coach Gary Kubiak was back to work Monday and is expected to coach the Texans in Sunday's home game against Oakland.
Kubiak suffered a mini-stroke while walking off the field at halftime of a game against the Colts eight days earlier, and sat out Sunday's game at Arizona. The Texans lost to the Cardinals, 27-24, with Wade Phillips filling in as coach.
Kubiak, 52, dropped in on practice Thursday. The Texans could use some inspiration. They have lost seven in a row since winning their first two games.
The last time the Raiders played at Houston was the day after owner Al Davis died, and that 2011 game proved to be an emotional victory for Oakland.
Bear down
Chicago plays host to Baltimore, and there's a good chance the Bears won't have quarterback Jay Cutler, who is week to week with a high ankle sprain. Coach Marc Trestman conceded Monday that he might have kept Cutler in too long Sunday in a loss to Detroit. Josh McCown has proved he's perfectly capable of running the Chicago offense and putting points on the board.
The Bears also lost cornerback Charles Tillman for at least the rest of the regular season. He suffered a triceps injury and Monday was placed on short-term injured reserve, meaning he would be eligible to return in eight weeks, which means he could come back only if the Bears were in the playoffs. At this point, that sounds like wishful thinking.
No mercy from Percy
As if the Minnesota Vikings haven't had enough headaches this season, now they have to prepare to face one of their old stars, receiver Percy Harvin.
It looks as if Harvin will make his debut with the 9-1 Seattle Seahawks on Sunday when they play host to his former team. He missed the first 10 games recovering from a torn hip muscle.
Safety dance
Who got the better safety in last spring's draft, San Francisco or New Orleans?
We probably won't be able to answer that Sunday when the 49ers play at the Saints, because both players could be sidelined with concussions. San Francisco's Eric Reid suffered his second reported concussion of the season Sunday on a big hit against Carolina. That night, New Orleans' Kenny Vaccaro took a knee to the head against Dallas.
---
Get our high school sports newsletter
Prep Rally is devoted to the SoCal high school sports experience, bringing you scores, stories and a behind-the-scenes look at what makes prep sports so popular.
You may occasionally receive promotional content from the Los Angeles Times.