L.A. Rams plan to keep current uniforms until 2019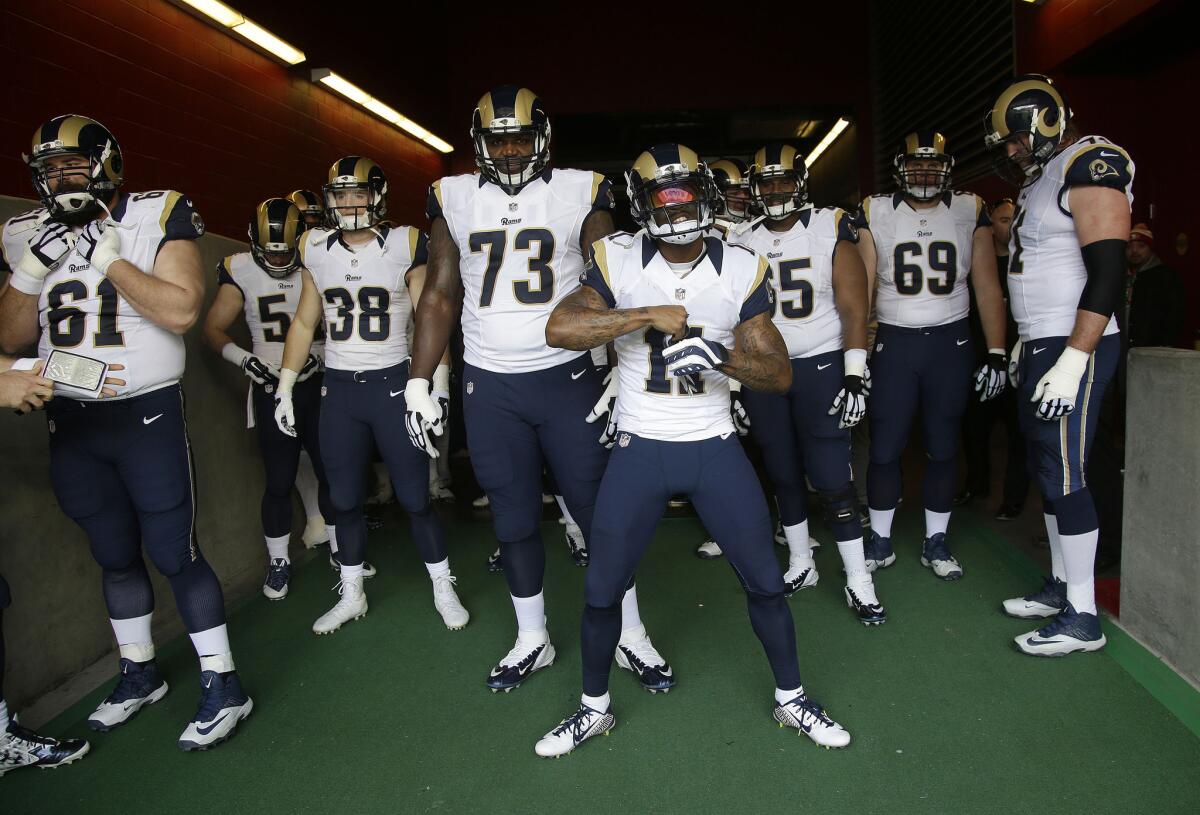 Reporting from BOCA RATON, Fla. —
Deals to secure office space for the Rams in Agoura Hills, a training-camp facility at UC Irvine and a temporary practice site at Cal Lutheran for the next three seasons are nearing completion.
The club, as expected, also is close to finalizing details of playing at the Coliseum until its Inglewood stadium is ready to open in 2019.
New locations, however, won't initially inspire a new on-field look for the reborn Los Angeles Rams after more than two decades in St. Louis.
Kevin Demoff, the Rams' executive vice president of football operations, said Monday that the team does not plan to change uniforms until the 2019 season.
"I know there are fans that want to see us go back to our old L.A colors," Demoff told The Times. "It's not as simple as that."
The Rams had blue and white uniforms in the mid-1960s and then changed to blue, yellow and white in the '70s. The St. Louis Rams colors were blue, gold and white.
The NFL requires teams to submit permission to overhaul uniforms between January and March of a given year for implementation two years after that, Demoff said.
See more of our top stories on Facebook >>
The Rams' uniform issue will be officially discussed for the first time Tuesday at the NFL owners' meetings. But Demoff said the team would not apply for a change until 2017, putting it on track for implementation in 2019.
"Our focus has always been on introducing new uniforms the year we open a new stadium," he said. "That's the opportune time to shape your brand."
The Rams can wear throwback uniforms for two home games and so-called "color-rush" uniforms for Thursday night games. Demoff said the process for changing throwback uniforms requires only one year, so there is a possibility the Rams could explore that.
"I don't particularly love our current uniforms — I know there are a lot of fans who feel that way," he said. "But the thing that makes the most sense is to keep them in place for now…
"The good news is our fans don't lack passion or input on the uniforms, so when we go to ask for it over the next year, I expect that same passion to come through."
Next month, the Rams will begin conducting off-season workouts in Oxnard at a training-camp site used by the Dallas Cowboys.
Full Coverage: The NFL's return to Los Angeles
Demoff said the office space lease in Agoura Hills, UC Irvine training camp situation and temporary practice facility at Cal Lutheran would "hopefully" be completed "by the end of March and certainly by mid-April."
The Rams intend to construct a modular complex at Cal Lutheran.
Coach Jeff Fisher, who oversaw the Houston Oilers' move to Tennessee in the 1990s, has experience dealing with temporary quarters.
"Nowadays the module structures are better, if you will," Fisher said Monday in a television interview with ESPN. "These temporary facilities can be quite impressive."
The NFL and USC agreed to a term sheet about the Coliseum before the Rams' move was approved by NFL owners in January. The Rams and USC have "both kind of tweaked" the term sheet, but "there have been no material changes to it," Demoff said.
"We're very close to finalizing it," he said, adding, "We're essentially 98% of the way there."
The Rams have said they took more than 56,000 deposits for season tickets at the Coliseum, with depositors entitled to request a maximum of eight seats. Demoff said the Rams hoped to begin processing requests — prioritized in the order they were received — the first week in April.
Twitter: @latimesklein
MORE SPORTS NEWS
Lakers' Nick Young denies he and Jordan Clarkson harassed two women
Struggling Los Angeles Clippers are still searching for an identity
Indian Wells tennis tournament CEO resigns after saying women are lucky to 'ride on the coattails of the men'
Get our high school sports newsletter
Prep Rally is devoted to the SoCal high school sports experience, bringing you scores, stories and a behind-the-scenes look at what makes prep sports so popular.
You may occasionally receive promotional content from the Los Angeles Times.