Rams' Todd Gurley makes his case for NFL MVP against Titans
Reporting from NASHVILLE —
Gurley. Gurley. Gone.
The Rams' Todd Gurley was a runaway train against the Tennessee Titans on Sunday — and the guy who deserves to run away with the NFL's most-valuable-player award.
Until Gurley, the Titans hadn't allowed a 100-yard rusher in more than a year.
Gurley ran for 118 and finished the day with a staggering 276 all-purpose yards, and that's against a team that was desperately fighting to keep its own playoff hopes alive. He's the third player in NFL history to have at least 100 yards rushing and 150 yards receiving in a single game, joining Ollie Matson (1954) and Herschel Walker (1986).
As he has all season, Gurley came through huge, and the Rams sauntered away with their first NFC West title since 2003.
It was the clinch that saved Christmas.
With a game to go, Gurley leads the NFL in rushing with 1,305 yards and 13 touchdowns.
"He's the most complete back I've ever played with, and he's having the best season of any back I've ever played with," Rams center John Sullivan said.
Wait a second. Rewind the tape. Sullivan blocked for Adrian Peterson in Minnesota in 2012, when that future Hall of Famer ran for 2,097 yards and won league MVP — the only non-quarterback to win that award in the last decade.
"The thing about Todd is, he's able to do it all," Sullivan said. "He's equally adept at every single phase. He's great catching the ball out of the backfield. He's amazing in the run game. He's one of the smartest players I've ever played with. He's got a great natural feel for the game, and he works at it. Great in blitz pickup. In protection, he's second to none. In every single phase of the game, the guy is an absolute superstar."
Regardless, it would be an upset if Gurley were to win, considering how disproportionately often the award goes to a quarterback. With Philadelphia's Carson Wentz out with a knee injury, it could certainly go to New England's Tom Brady or Seattle's Russell Wilson.
But there's no question Gurley has made a compelling case.
"A lot of people have been comparing him to Marshall Faulk," said Rams guard Rodger Saffold, referring to the 2000 MVP winner. "Shoot, look across the league and the way he's been able to be the most complete back in the NFL is just amazing."
Gurley's signature play Sunday — and maybe for his season — came midway through the second quarter when his team was on the ropes. The Titans had just scored a strip-sack touchdown, taken their first lead, and stuffed the Rams for a one-yard loss when they got the ball back.
Then, on second down, Jared Goff retreated quickly under blitz pressure, dumped off a pass to Gurley in the left flat, then watched him go. Gurley turned upfield and tore through the heart of the Tennessee defense for an 80-yard touchdown, outrunning a pair of defensive backs the final 20 yards.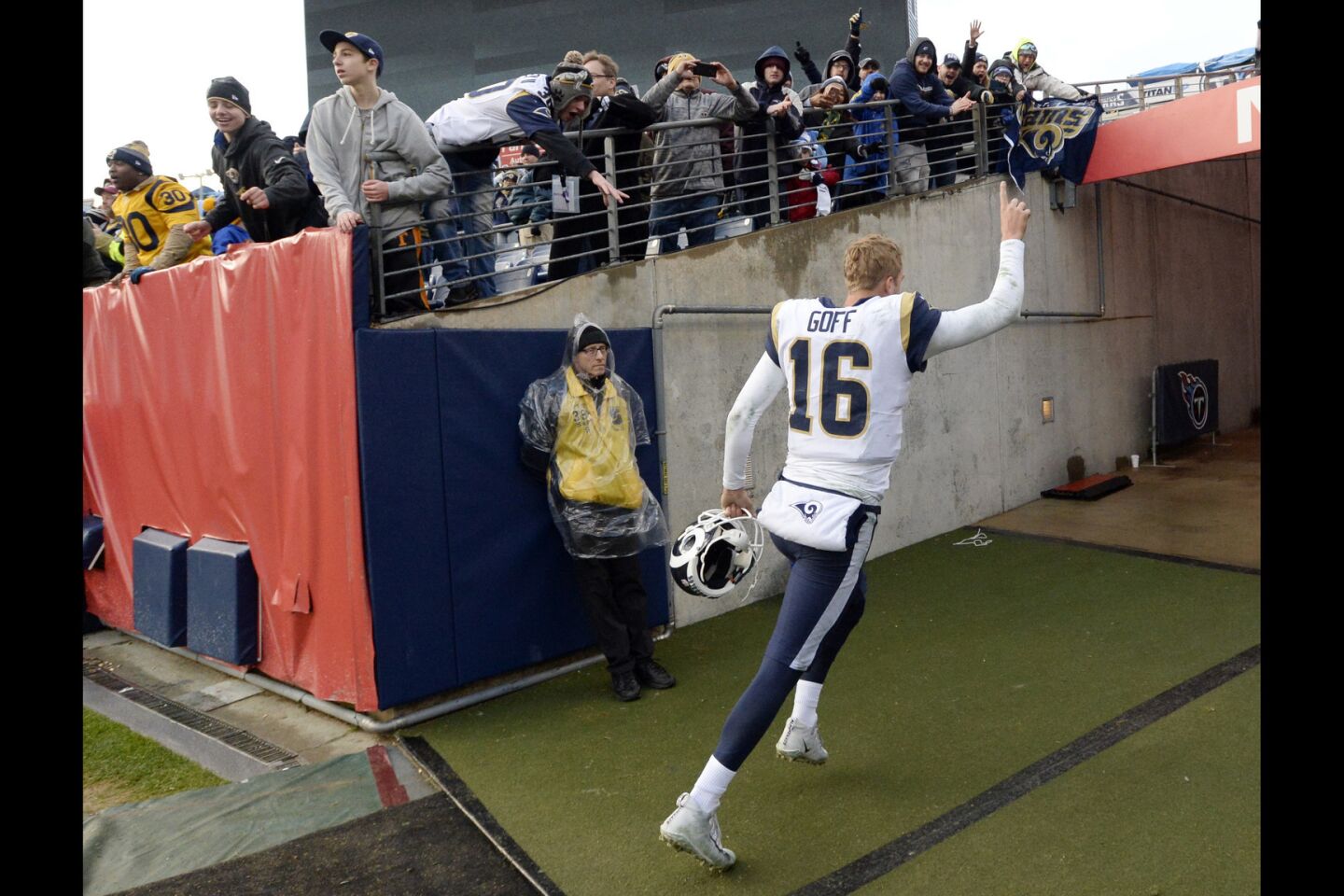 Quarterback Jared Goff waves to fans as he leaves the field following the Rams victory over the Titans.
(Mark Zaleski / AP)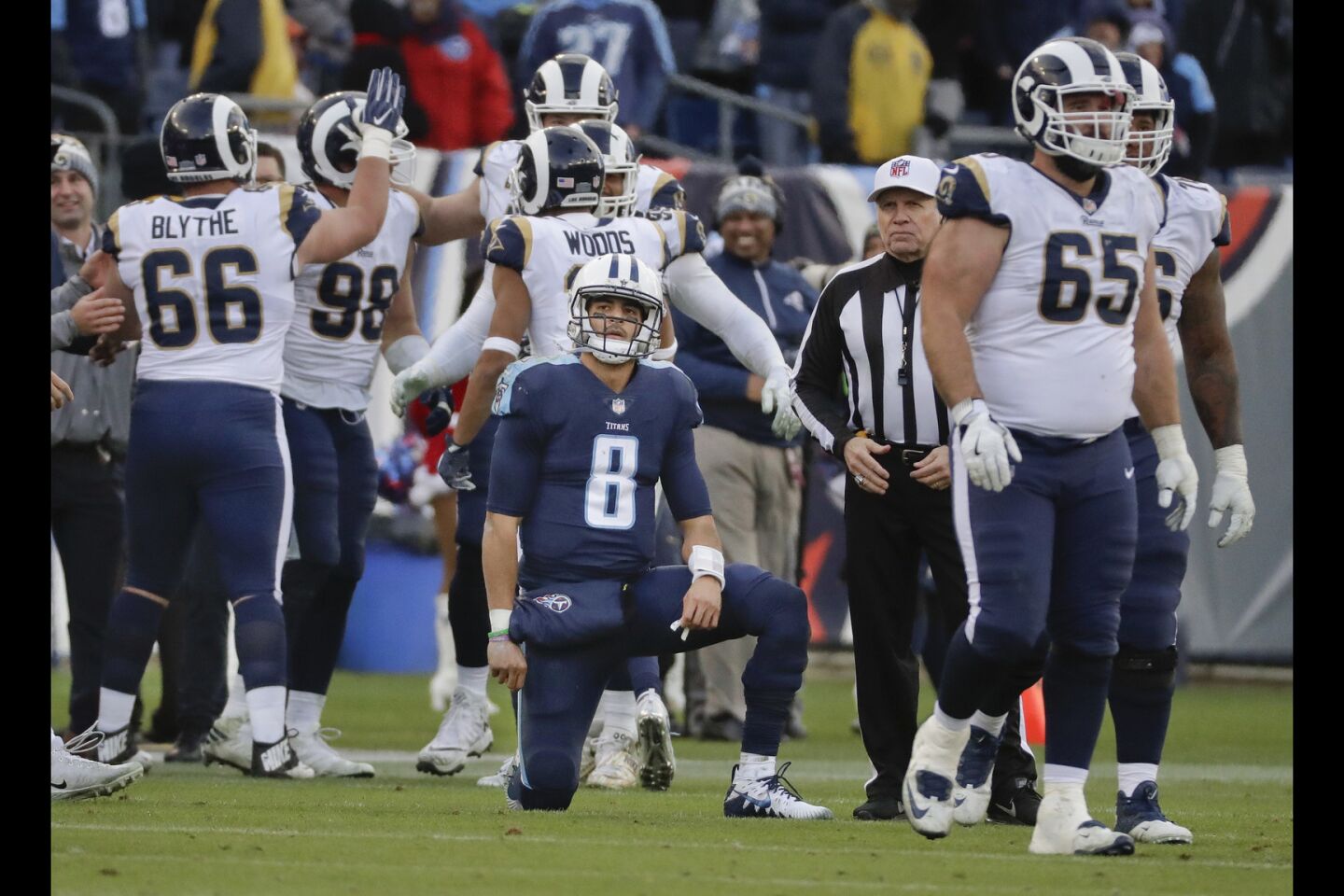 Tennessee Titans quarterback Marcus Mariota looks up at the scoreboard as Los Angeles Rams players celebrate after Mariota threw an incomplete pass to end the Titans' final drive in the last minutes of the fourth quarter.
(James Kenney / AP)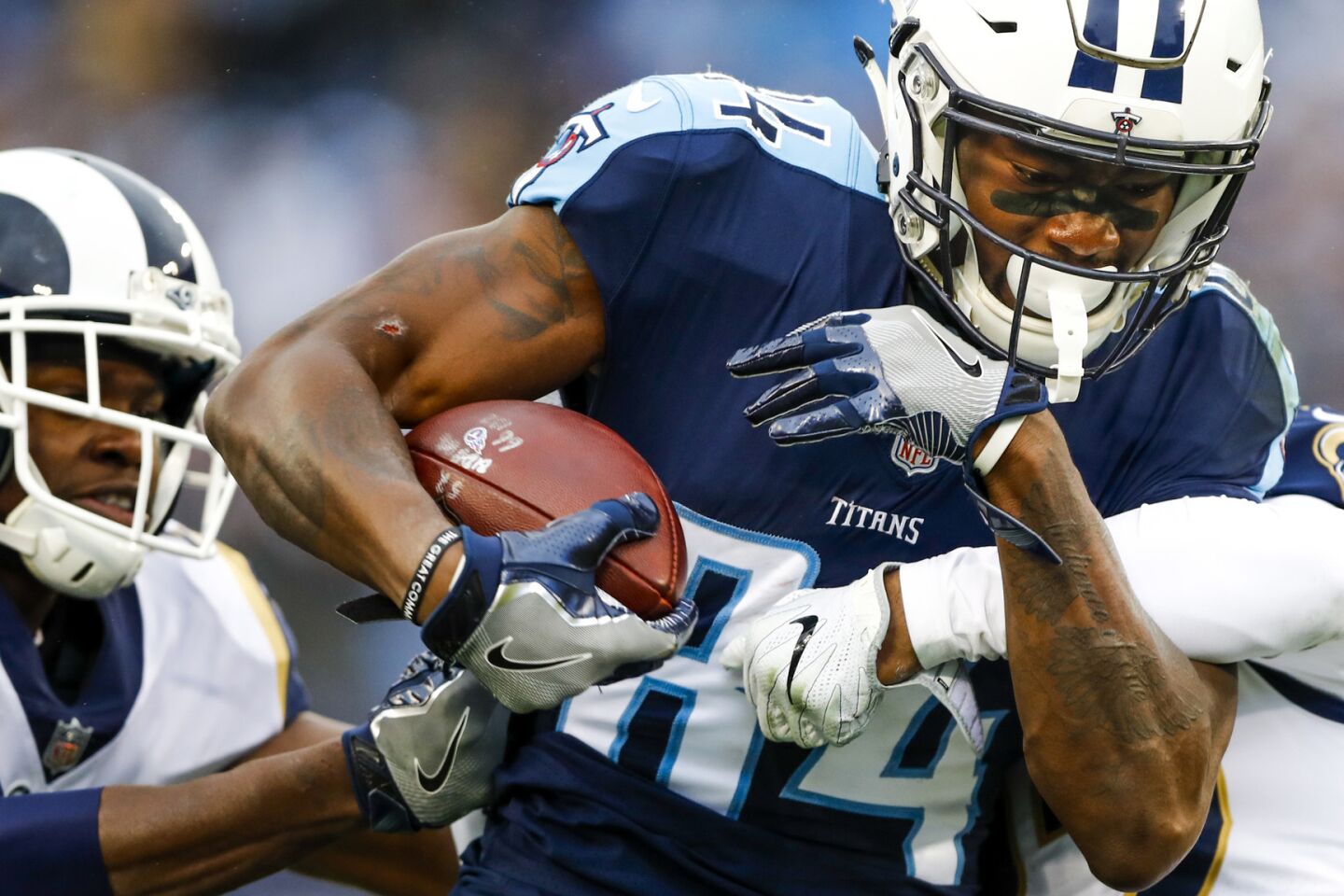 Titans wide receiver Corey Davis carries the ball against the Los Angeles Rams.
(Wesley Hitt / Getty Images)
Rams Todd Gurley II jumps over safety Kevin Byard of the Titans.
(Wesley Hitt / Getty Images)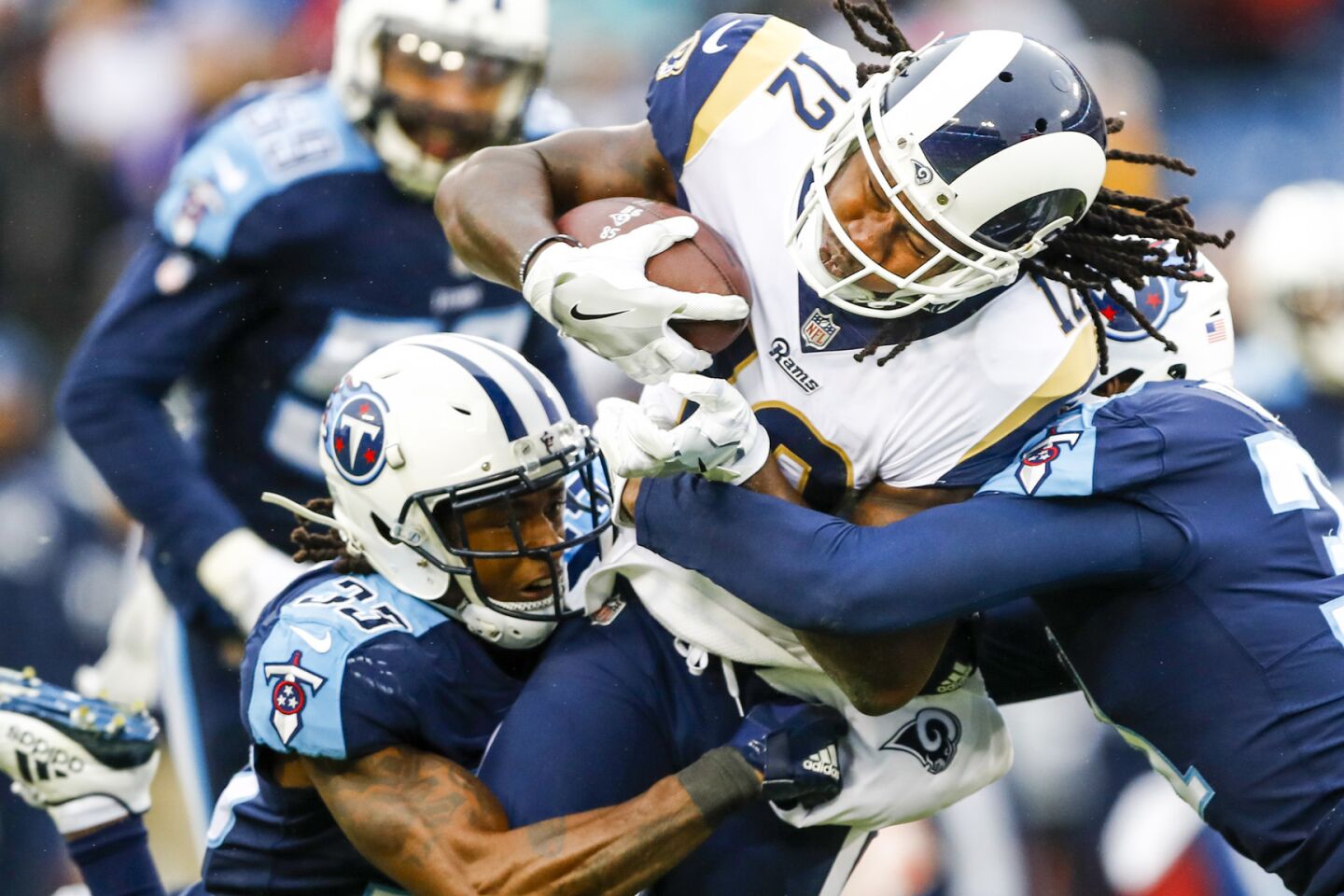 Rams Sammy Watkins carries the ball against the Titans.
(Wesley Hitt / Getty Images)
Titans safety Kevin Byard tackles Rams' Cooper Kupp.
(Wesley Hitt / Getty Images)
Titans wide receiver Eric Decker is tackled by Rams cornerback Troy Hill.
(Wesley Hitt / Getty Images)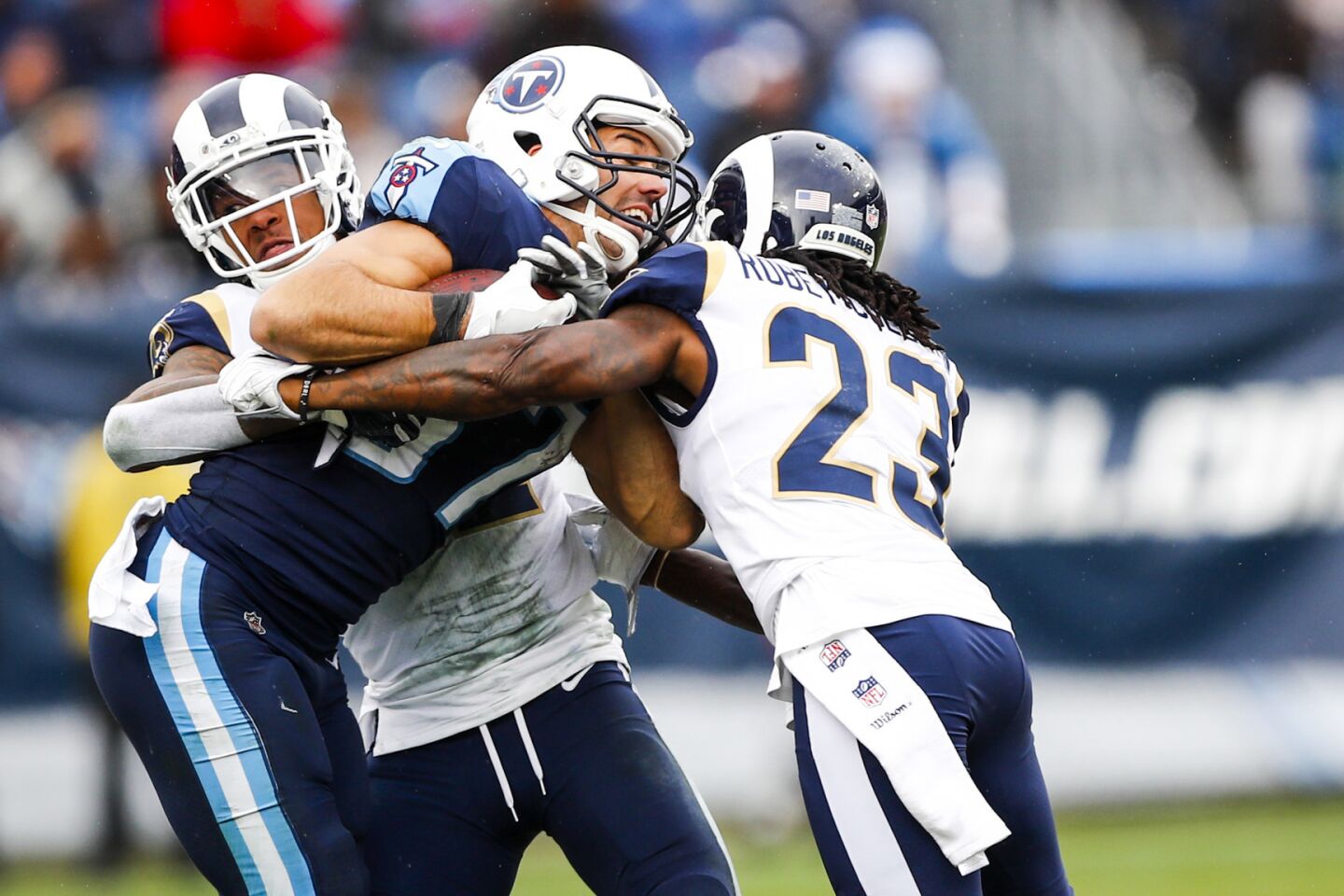 Titans Eric Decker is wrestled down by Rams Trumaine Johnson and Nickell Robey-Coleman.
(Wesley Hitt / Getty Images)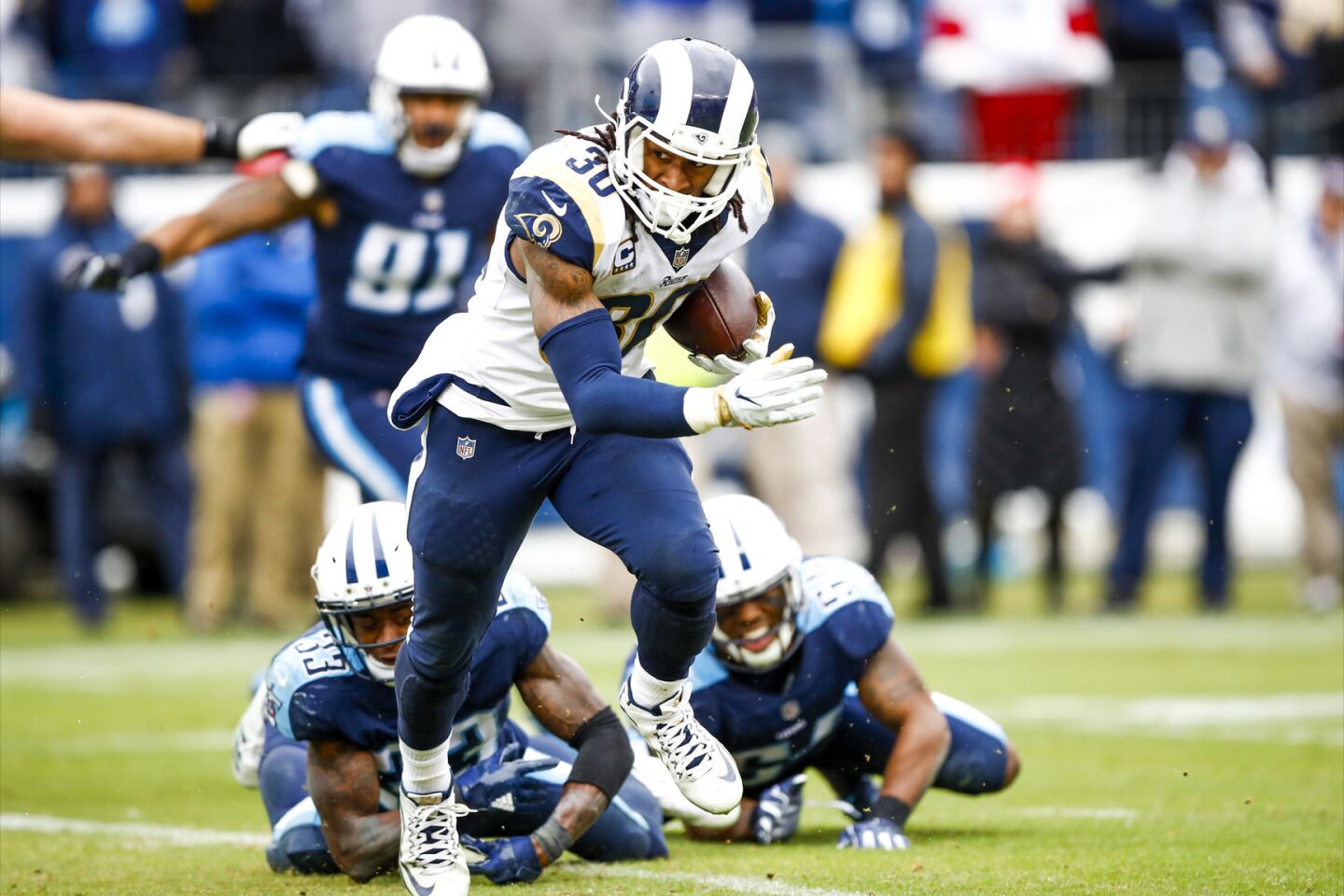 Rams running back Todd Gurley II carries the ball against the Tennessee Titans.
(Wesley Hitt / Getty Images)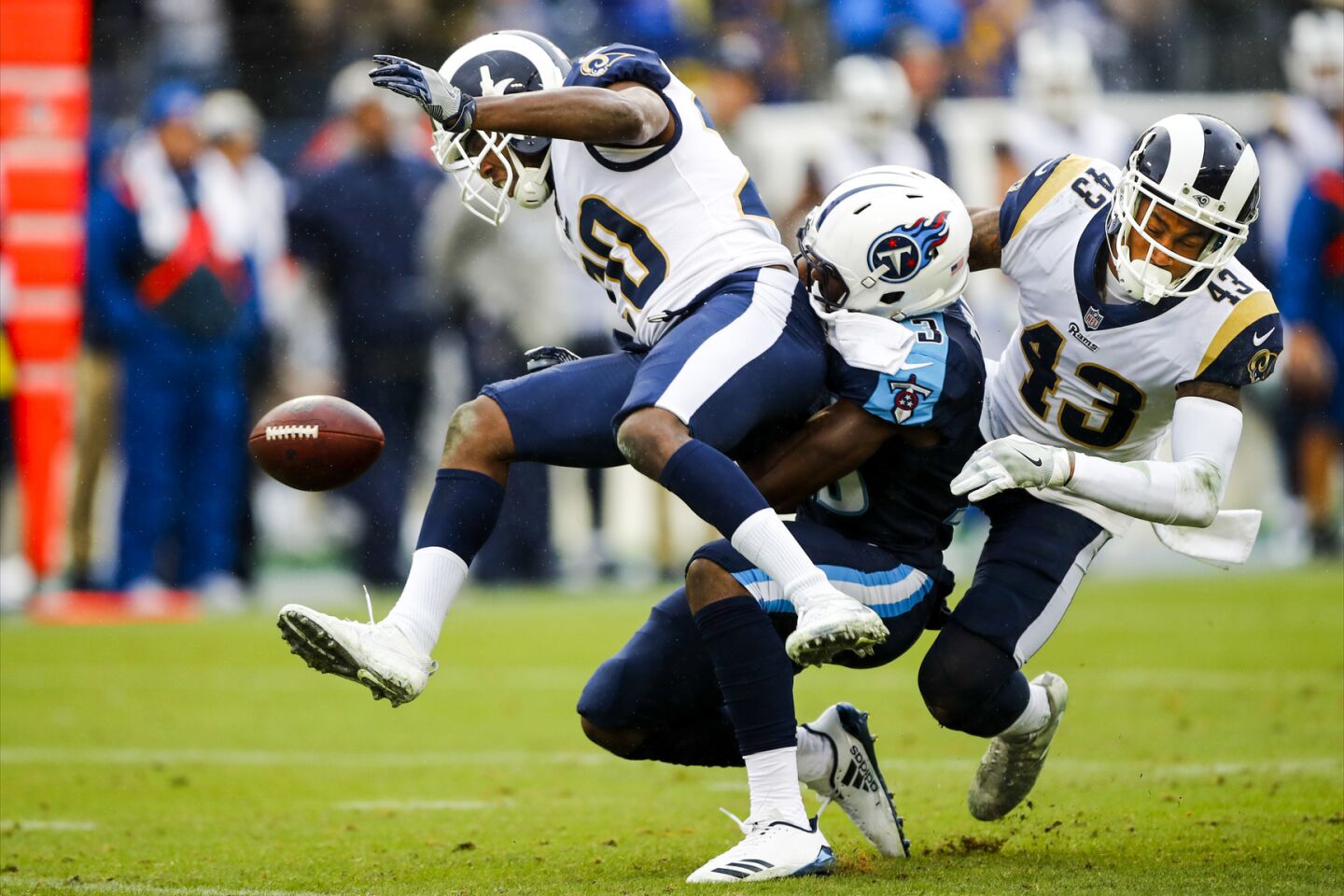 Titans Taywan Taylor is hit by Rams safeties Lamarcus Joyner and John Johnson III.
(Wesley Hitt / Getty Images)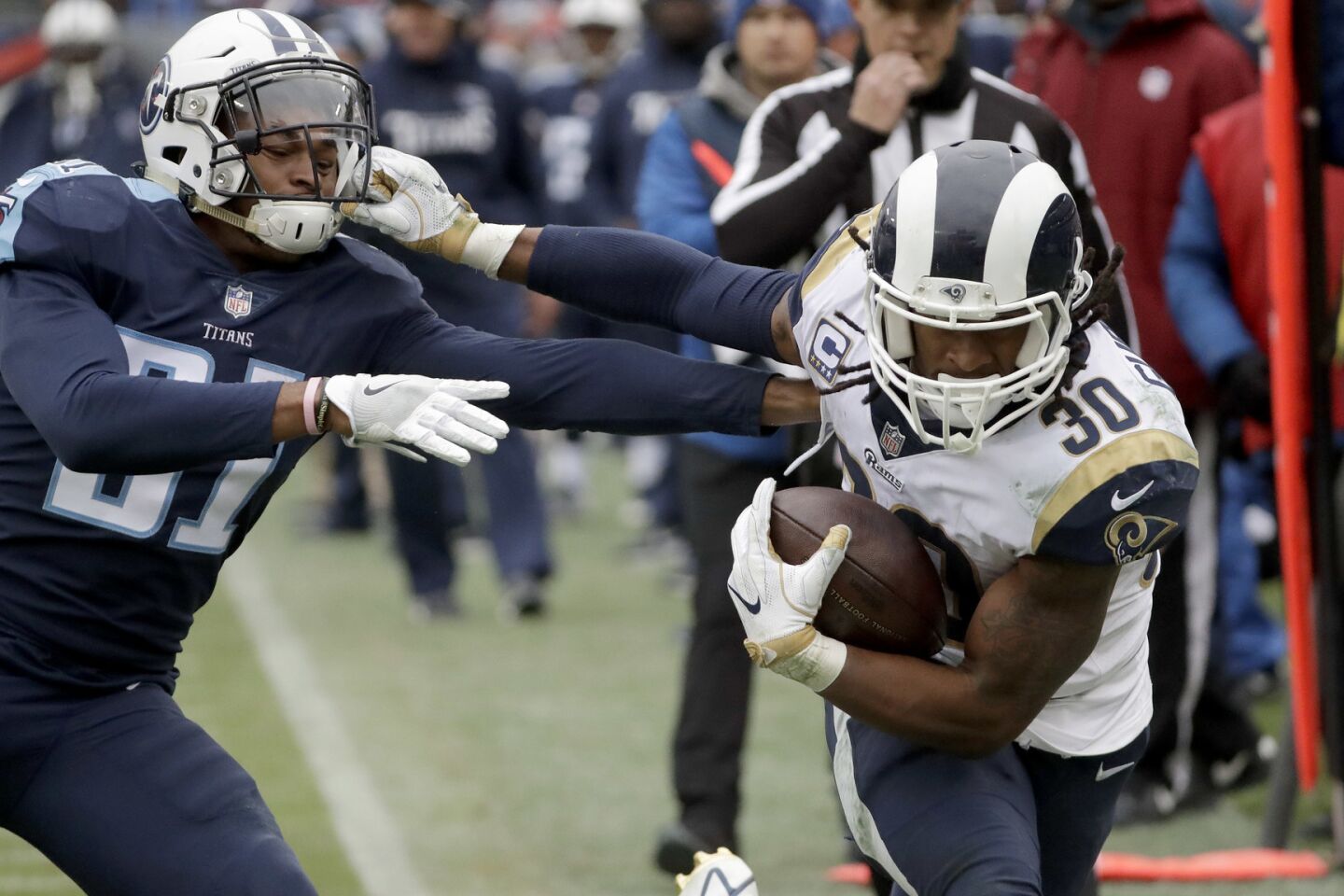 Los Angeles Rams running back Todd Gurley tries to push away from Tennessee Titans free safety Kevin Byard in the second half.
(James Kenney / AP)
Rams Todd Gurley is congratulated by head coach Sean McVay after Gurley scored a touchdown against the Tennessee Titans on an 80-yard pass reception in the first half.
(Mark Zaleski / AP)
"You could tell that their PA announcer was excited to announce that they were winning the game," Sullivan said. "And then a minute later, they weren't. It was great to kind of flip the script on them real quick like that."
Two particularly memorable parts of that jaw-dropping play were Gurley shooting up his hand in a No. 1 sign just before he crossed the goal line, and that in his final steps he mistakenly veered toward former USC cornerback Adoree' Jackson, among the fastest players in the league.
Gurley was using the giant video board as a rear-view mirror as he ran.
"I started looking up at the screen, and that's when I turned because I saw [safety Kevin Byard] behind me," he said. "A didn't know I was running into one of the fastest dudes, Adoree' right behind me. It was a struggle those last couple of yards, but I got it done."
The NFL releases miles-per-hour statistics that aren't terribly useful absent context, but Gurley's 21.23 mph on that play was his fastest speed as a ballcarrier this season.
Tennessee hadn't allowed a 100-yard rusher since the Chargers' Melvin Gordon on Nov. 6, 2016. The most they had surrendered this season was 78 yards to Oakland's Marshawn Lynch in the opener. They put the clamps on a parade of backs, among them Leonard Fournette, Jay Ajayi, and Le'Veon Bell.
"Man, that guy is shifty and explosive," Titans defensive tackle Jurrell Casey marveled of Gurley. "You don't see too many running backs like him… We had a visual on him, but he was just making plays."
Gurley caught some eyes as he made his way to the team bus, too. He was breaking in a pair of cobalt-blue Christian Louboutin high tops, covered in studded spikes but for the smooth red soles — with a phone case to match. Nobody else had shoes like that.
On his head, Gurley wore a freshly minted NFC West champions cap. Everyone around him had one of those, and he wouldn't have it any other way.
Follow Sam Farmer on Twitter @LATimesfarmer
Get our high school sports newsletter
Prep Rally is devoted to the SoCal high school sports experience, bringing you scores, stories and a behind-the-scenes look at what makes prep sports so popular.
You may occasionally receive promotional content from the Los Angeles Times.