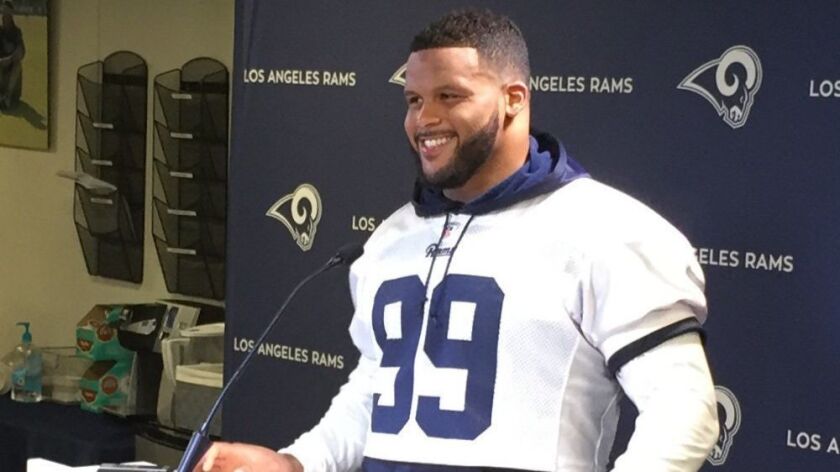 His status as the NFL's highest-paid defensive player lasted one day.
That was fine with Rams' defensive tackle Aaron Donald, who signed a $135-million extension last week, and then saw Chicago Bears linebacker Khalil Mack sign for $141 million the next day.
"I'm just happy that, you know, my situation got done and that I'm here playing football," Donald said after practice Thursday. "That's all that matters."
Donald, the reigning NFL defensive player of the year, has gone through several workouts since ending his holdout and signing a deal that includes $87 million in guarantees.
Donald will be in the starting lineup Monday night when the Rams open the season against the Oakland Raiders.
"I feel good, in shape," he said. "The rust is getting knocked off just right."
Donald, a four-time Pro Bowl selection, sat out training camp for the second year in a row. In 2017, he reported on the eve of the opener and did not play in the first game. He still finished with 11 sacks, increasing his career total to 39.
"You kind of knew what to expect," he said of returning to practice after a long time away from football. "Got the opportunity to come back and get six practices under my belt before the first game, so I think that's going to be a bigger help for me as far as getting adjusted."
Donald's transition has been smooth, fellow defensive linemen said.
"A.D. is a pro," Michael Brockers said. "He's been studying the playbook, he's been watching film.
"We plugged him in and he knew everything he was supposed to do. So, I mean, we haven't skipped a beat. We actually, honestly, picked up the tempo. ... He's done a phenomenal job and I think we'll be ready for Monday."
Said Ethan Westbrooks: "It's an exciting feeling to know that everybody is back. There's no distractions, nothing to worry about."
Etc.
Quarterback Jared Goff, running back Todd Gurley, offensive lineman Andrew Whitworth, defensive lineman Michael Brockers, cornerback Aqib Talib and punter Johnny Hekker were named team captains.... Linebacker Mark Barron did not practice. Running back Justin Davis (hamstring) was limited. Receiver Josh Reynolds, who had been sidelined because of an ankle injury, practiced and said he would be ready to play against the Raiders.... Safety Isaiah Johnson, who was waived Wednesday, re-signed with the Rams on Thursday.... During the week of Sept. 17, the Rams will begin selling their next wave of season tickets for the 2020 season at their new Inglewood stadium, the team announced. Premier seats require a seat license ranging from $7,500 to $15,000, and game tickets are $150 to $200. Reserved seats require a seat license ranging from $1,000 to $5,000, and game tickets are $60 to $125 per game. Current season-ticket holders and those on the deposit list will have priority to purchase tickets first.
Follow Gary Klein on Twitter @latimesklein
---