Todd Gurley has M.A.D.E. difference on field with Rams and kids at football camps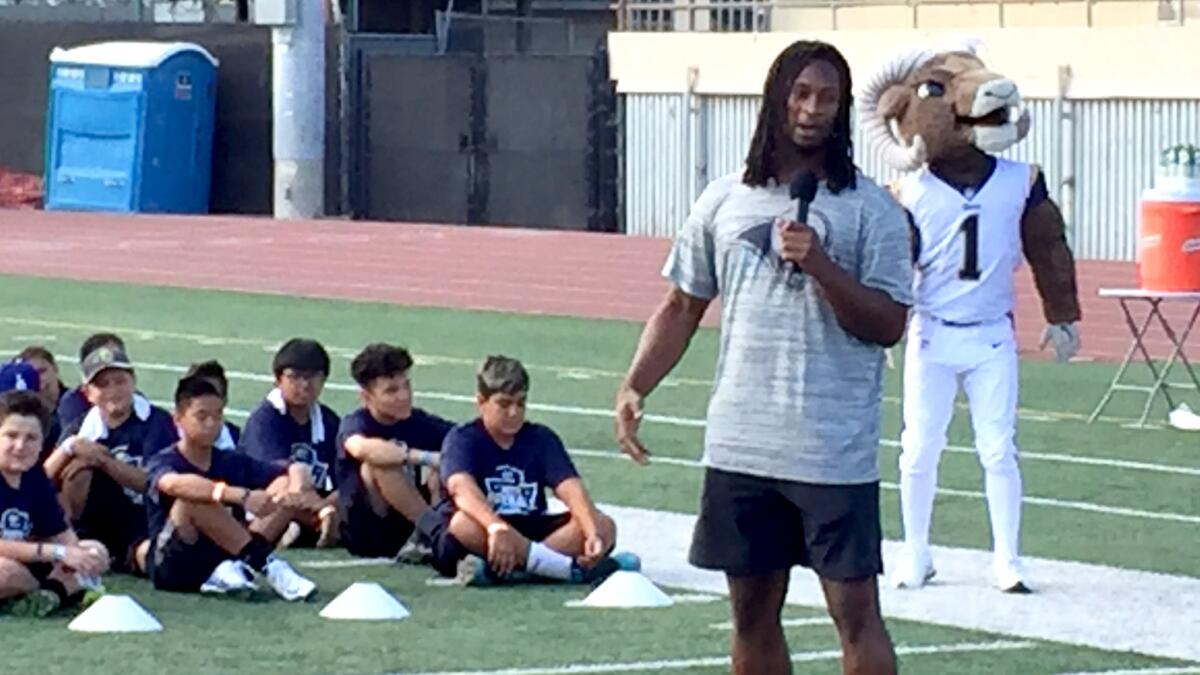 The voice, coming from high in the stadium bleachers at Santa Monica College, boomed across the football field and, presumably, throughout the nearby neighborhood.
"Thank you, Todd Gurley!" a woman yelled.
Nearly 250 kids seated on the turf, and adults on the perimeter, burst out laughing and into applause.
Gurley, the Rams' star running back, grinned broadly as he gripped a microphone.
He had just completed the first session of a youth football camp last Saturday with some words of wisdom.
"Definitely listen to your parents," he told his rapt audience, a comment that triggered the exclamation from the stands.
This is how Gurley has spent much of the last few months.
After producing one of the most prolific performances in Rams history in 2017, and earning the NFL's offensive player of the year award, he did not take an elaborate vacation to a faraway destination.
Instead, he has crisscrossed the country, overseeing his own camps and dropping in to help other NFL players such as Tampa Bay Buccaneers quarterback Jameis Winston with theirs. Before training camp begins at the end of this month, Gurley said he planned to help Denver Broncos cornerback Bradley Roby, Seattle Seahawks running back Mike Davis and possibly Carolina Panthers receiver Devin Funchess as well.
"You just want to go support other guys," Gurley said. "Go to their hometown, see how it was with them growing up, see their background and meet their family."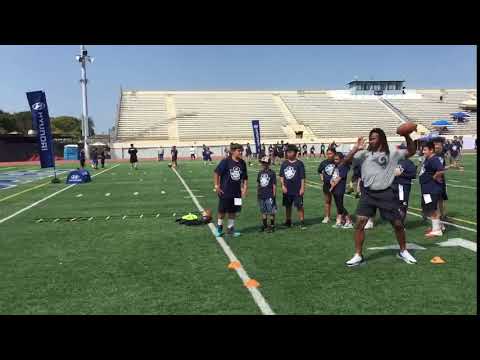 Todd Gurley trains with youth players at his camp in Santa Monica.
Some of Gurley's camps require a fee to attend. For others, such as last Saturday's sponsored by Hyundai, the campers attend at no cost and Gurley receives an appearance fee.
But several, including one in April in Gurley's hometown Tarboro, N.C., and another last month in Calabasas for the Los Angeles County Alliance for Boys & Girls Clubs, were free.
"It's for the kids," Gurley said as he got ready to go onto the field at the Calabasas camp. "That's just how it's supposed to be."
Gurley, 23, is one of the key players for a Rams team that won the NFC West last season under first-year coach Sean McVay and is generating Super Bowl buzz.
The Rams added defensive lineman Ndamukong Suh, cornerbacks Marcus Peters and Aqib Talib and receiver Brandin Cooks to a team that led the league in scoring and made its first playoff appearance since 2004.
Gurley, the NFL's offensive rookie of the year in 2015, bounced back from a disappointing 2016 season to score a league-leading 19 touchdowns and amass 2,093 yards from scrimmage.
Can he repeat that performance?
"You don't want to be able to do it one year, take a year or two off, and do it again," he said. "You want to be consistent. That's how players become great in this league, is doing it on a consistent basis."
If Gurley needed another role model in consistency, albeit in a different sport, he said he got it when LeBron James announced he would sign with the Lakers. James joins a Southland sports landscape that features Gurley, Dodgers pitcher Clayton Kershaw and Angels outfielder Mike Trout among others.
"You know greatness is coming … and you want to be part of that," Gurley said. "It's like motivation. It kind of makes you want to work harder and get to that point too where he is."
Gurley, the 10th pick in the 2015 NFL draft, is entering the fourth year of his rookie contract. He carries a salary-cap number of $4.4 million this season. The Rams have exercised their fifth-year option at about $9.6 million for 2019 — if Gurley does not receive a lucrative extension before then.
Gurley caused a bit of a stir this month when TMZ asked him if all NFL players deserved guaranteed contracts, and what it would take for the league to do that. Gurley responded by saying it would take a lockout.
A few days later, Gurley chuckled when asked about the exchange.
"Us NFL players, we're just mad about NBA contracts right now, that's all," he said. "I just want like $80 million. Those guys are getting like $150 [million]. It's crazy. It's insane."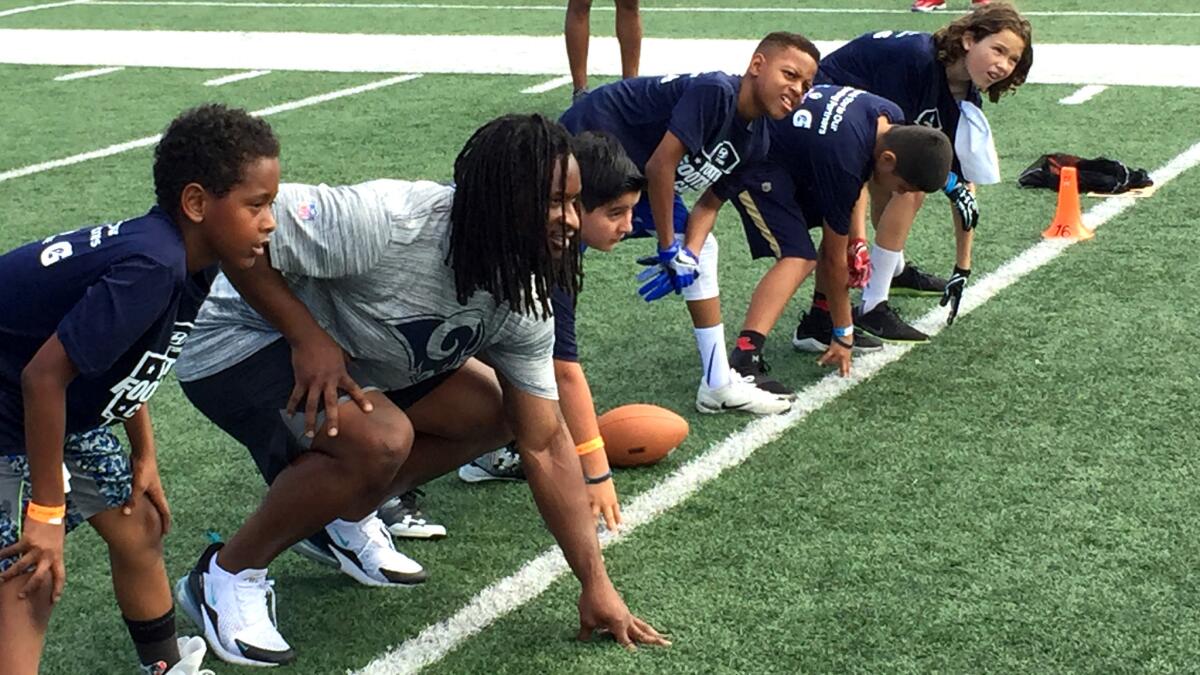 Gurley will begin to make his case for an extension when the Rams open the season on Sept. 10 in a "Monday Night Football" appearance against the Oakland Raiders.
The Rams, and perhaps Gurley, already have suffered a potential setback. Right guard Jamon Brown is suspended for the first two games for violating the NFL's substance abuse policy.
Brown tweeted that he owned the "mistake" and he apologized to the Rams and their fans. Gurley said he would miss Brown but the Rams would be fine until he returned.
"Always want a starter out there, but hopefully that will be some motivation," he said. "A lot of guys put themselves in a bad position, but it kind of makes a player come back even hungrier to be able to prove to his team and his coaches, so he'll be fine."
Gurley has maintained the offseason workout regimen that prepped him for his Pro Bowl season in 2017, but has broken it up with camps. He and childhood friend Jameon Willis started their "Make a Difference Everyday (M.A.D.E.)" camps as a way of giving back.
The two met in sixth grade, after Gurley moved to North Carolina from Baltimore. On the first day of school, Gurley wore his favorite Carmelo Anthony Syracuse basketball jersey, fashionable capri-style pants and pair of Air Jordan Dub Zero sneakers.
The boys bonded over the fashion and over sports. Now they are combining on the camps.
"We don't care if we have 70 kids or 300," said Willis, a senior at Liberty University. "As long as you can reach one kid, I feel like that pretty much makes sense."
During the camps, Gurley seemingly engages every participant after they break into groups with coaches. He performs more reps in drills with the kids than he does during a typical Rams practice. If he's not taking handoffs, he's faking them and delivering passes.
"Oops, that was on me," he says after misfiring on one. "Bad quarterback."
A few weeks before, during Gurley's camp in Calabasas, a small boy wandered on the field, apparently smitten by the sight of former Rams defensive back Trumaine Johnson performing a drill with another group. Gurley gently corralled the boy and later dueled with Johnson in a footwork agility drill, delighting the campers.
And the players.
"I used to be one of those kids at these camps," Johnson said, "so it's a good feeling for sure."
Ultimately, Gurley said, that is the goal.
"Hopefully," he said, "you make memories that last forever."
Follow Gary Klein on Twitter @latimesklein
Get the latest on L.A.'s teams in the daily Sports Report newsletter.
You may occasionally receive promotional content from the Los Angeles Times.