Portugal stuns France, 1-0, in extra time to claim first European Championship title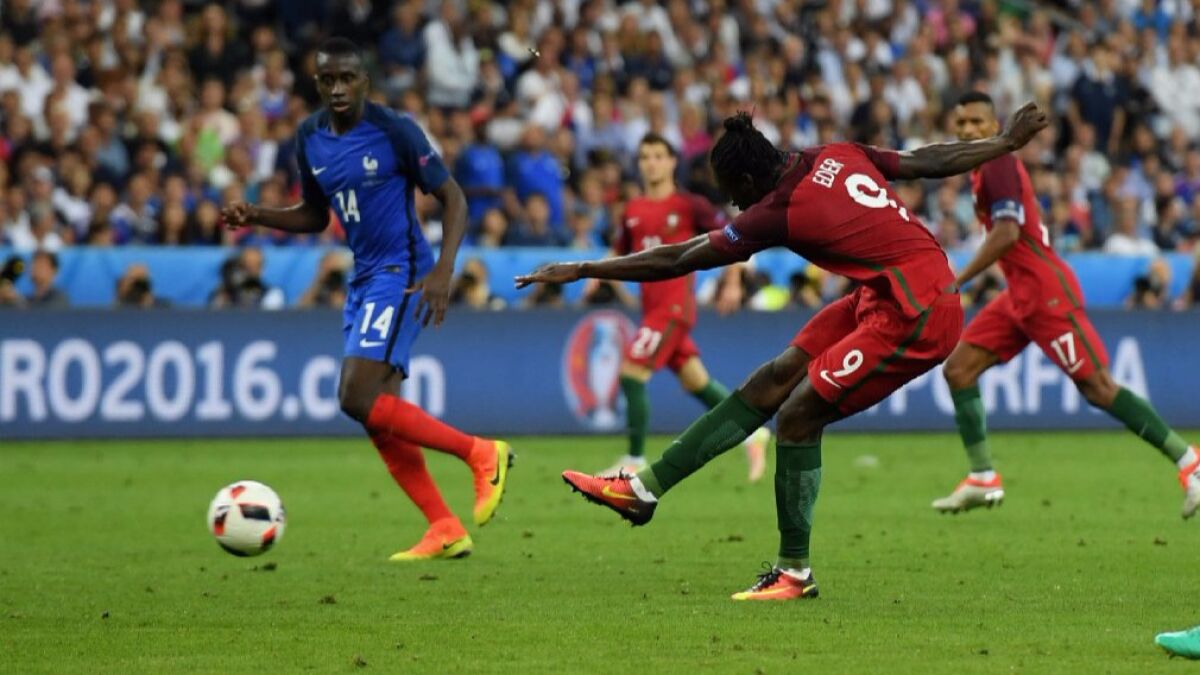 Reporting from PARIS —
Portugal's European Championship hopes seemed to disintegrate before its tear-filled eyes when talismanic star Cristiano Ronaldo was carried off the field on a stretcher after suffering a badly injured knee midway through the first half of Sunday's final.
France, the host and heavy favorite, was already dominating the final game of the monthlong, 16-team tournament in front of a frenzied home crowd of 75,868 at Stade de France when Portugal's all-time leading goal scorer and captain, whose brilliance had carried the team that far, sat down on the field and then rolled over on his back before being taken off in tears.
But in a remarkable showcase of the human spirit, Portugal and its lesser-known players rallied from the shock of that desolate moment to upset France, 1-0, thanks to a long-range goal near the end of extra time from little-used substitute Eder.
After Ronaldo, one of the best soccer players of all time, left the field, the Portuguese first managed to start holding their own against wave after wave of French attack, gradually gaining confidence as they wore down a high-powered team that had outscored its three knockout-round opponents by a total of 9-3. France incongruously seemed to lose the plot as well after Ronaldo was gone.
Eder's magnificent shot to the lower left corner from 25 yards out to the lower left corner slithered past the outstretched fingertips of goalkeeper Hugo Lloris in the 109th minute, sending the indefatigable fan contingent in Portugal's corner of the cavernous stadium into a state of ecstasy.
Eder had played just 13 minutes of the tournament before coming on in the 79th minute, and it was his first competitive goal for the national team — a team that had been given only scant hopes of winning in Paris even with Ronaldo on the field. Portugal had finished third in its group and won only one of its previous six tournament games during the regulation 90 minutes of play.
And just 11 minutes after Eder's goal, the country had its first European soccer championship. It was sweet redemption for Portugal, which had unexpectedly lost the 2004 final at home to underdog Greece by the same 1-0 score.
It was also a most bitter defeat for France, which had beaten Portugal in their last 10 competitive matches going back to 1975. The team and its supporters had been hoping for a third European Championship as a tonic for a nation that seven months earlier had endured a series of terror attacks, just outside this stadium in north Paris and elsewhere in the city, that left 130 people dead. France had last won a major tournament in 1998 — the World Cup, at home in the same stadium.
But France wasted its many chances in front of the Portugal goal Sunday, although in fairness, Portugal goalkeeper Rui Patricio had a truly outstanding game.
France's leading scorer, Antoine Griezmann, picked the wrong time to have an off night. After almost single-handedly beating Germany in the semifinal with two goals — giving him six in the tournament to earn the Golden Boot award — Griezmann was notable only for missing his chances Sunday. He was open in front of the goal in the 67th minute when he inexplicably headed Kingsley Coman's superb cross over the crossbar.
In fact it was Ronaldo, even after he left, who seemed to have the greatest impact on the game.
"He told me I'd score the winning goal," Eder said, referring to the three-time FIFA world player of the year. "He gave me this strength, this energy and it was vital." Indeed, Ronaldo returned to the sideline late in the game, hobbling around with a heavily bandaged knee as he cheered his teammates on into extra time.
Ronaldo was hurt in a hard challenge by France's Dimitri Payet in the eighth minute but tried to continue on, limping forward without any speed.
"It was tough to lose our main man — the man who could score a goal at any moment," Portugal defender Pepe said.
Portugal, a team that used to light up tournaments with its flashy attack, switched tactics for this Euro with a focus on tight defense, and it paid off. It played three draws in the group phase and barely squeaked into the knockout round, advancing only when Iceland scored a stoppage-time goal against Austria. Portugal then defeated Croatia in extra time, Poland on penalty kicks and Wales in the semifinals.
Ronaldo scored three goals in the tournament and has a total of nine in European Championship finals, equaling a record set by France's Michel Platini. His most memorable score was Portugal's opening goal in the 2-0 win over Wales, a brilliant header fired into the goal with velocity.
France Coach Didier Deschamps struggled to come to grips with defeat in a game his team was dominating until Ronaldo departed.
"We missed a chance, a great chance to become European champions," said Deschamps, who erupted at one point late in the game when Griezmann sent yet another poor corner kick away from any French teammates.
"Our disappointment is immense and it will take a long time to digest," he added. "It would have been magnificent to offer this trophy to our supporters here at home."
---
All about the beautiful game
Go inside the L.A. pro soccer scene and beyond in Kevin Baxter's weekly newsletter.
You may occasionally receive promotional content from the Los Angeles Times.