Galaxy facing a key stretch in their playoff push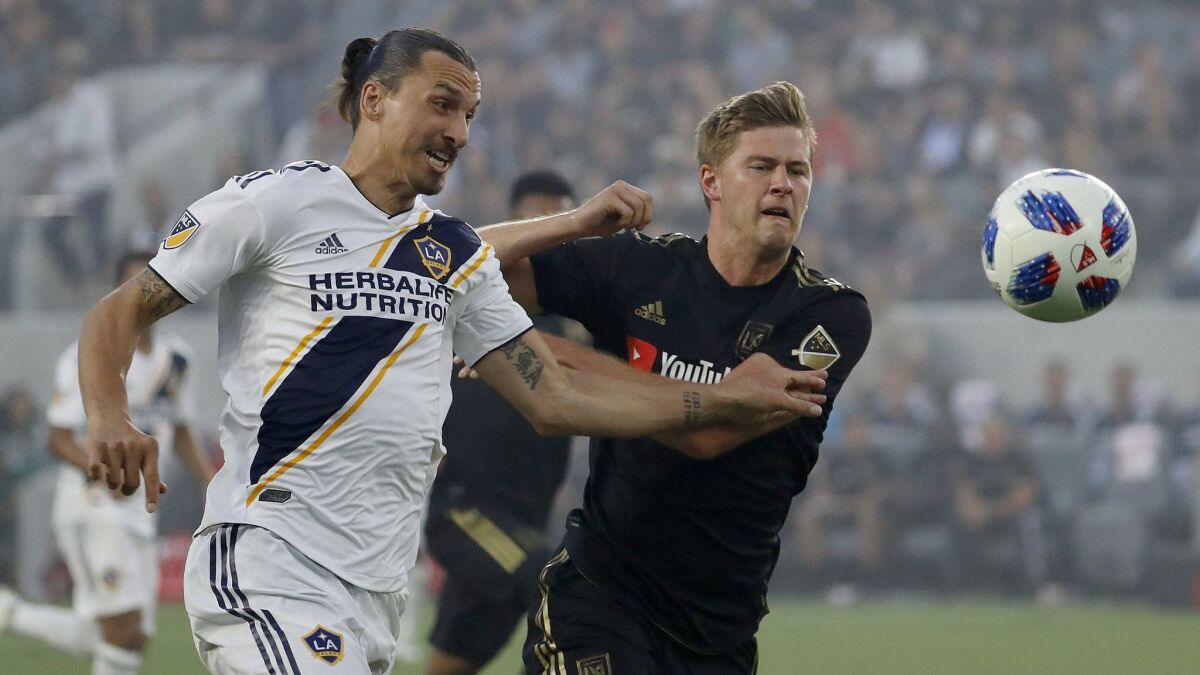 If the Galaxy are to continue their rapid climb in the standings, the next month looms large.
Beginning Sunday evening against Orlando City at StubHub Center, the Galaxy's next five matches come against teams that entered the weekend a combined 18 games under .500. The Galaxy (9-7-5), meanwhile, are unbeaten in MLS play since May, going 4-0-4 in their last eight, their best streak in nearly two years, to rise to fourth in the Western Conference.
Among MLS teams, only the Portland Timbers have a longer unbeaten streak.
But to keep that going, the Galaxy need to refocus quickly following Thursday's passionate performance in a 2-2 draw with the rival Los Angeles Football Club.
"It was very emotional," said midfielder Romain Alessandrini, whose goal in the 82nd minute started a rally that erased a 2-0 deficit in the final eight minutes. "But we have to forget this. Now it's [in] the past."
The Galaxy will have to move on without Alessandrini, at least temporarily, because a first-half yellow card against LAFC leaves him suspended for the Orlando City match. And that's a significant loss since Alessandrini has been the Galaxy's most productive player in July, with three goals and four assists for a team that leads the league with 24 goals in its last 10 games.
It shouldn't matter against Orlando City (7-13-1), which has lost 11 of 12 while averaging less than a goal a game and will be without center back Shane O'Neill, who is serving a one-game red-card suspension.
Orlando City hasn't won on the road since April and its 13 losses are the most in MLS.
But the game is the third in nine days for the Galaxy and that worries forward Zlatan Ibrahimovic, who fears both fatigue and complacency after the dramatic comeback against LAFC.
"You don't focus on the mistakes. You only focus on the fact that we have a good spirit and that we came back," said Ibrahimovic, who has nine goals and two assists in his late seven starts. "But that is not what we should focus on. We should focus on the mistakes. We should not close our eyes from that. We should focus on the real things."
Alessandrini agreed.
"We missed a lot of passes, a lot of crosses," he said. "We have to learn from our mistakes and move forward."
After Sunday's match the Galaxy play Colorado (4-11-5) twice, Minnesota (9-11-1) and Seattle (6-9-5) before a reunion with LAFC in what figures to be another emotional game — one that's already circled on a lot of calendars around StubHub Center. But if the Galaxy can take care of business now, it's a game that could be a lot less important in the playoff race.
"We know what we have to do," midfielder Jonathan dos Santos said in Spanish. "There is still a lot of time until that game and we also have to think about the difficult game that we have this Sunday."
kevin.baxter@latimes.com | Twitter: @kbaxter11
---
All about the beautiful game
Go inside the L.A. pro soccer scene and beyond in Kevin Baxter's weekly newsletter.
You may occasionally receive promotional content from the Los Angeles Times.