Column: Ashley Cole's quiet excellence deserves to be appreciated — and rewarded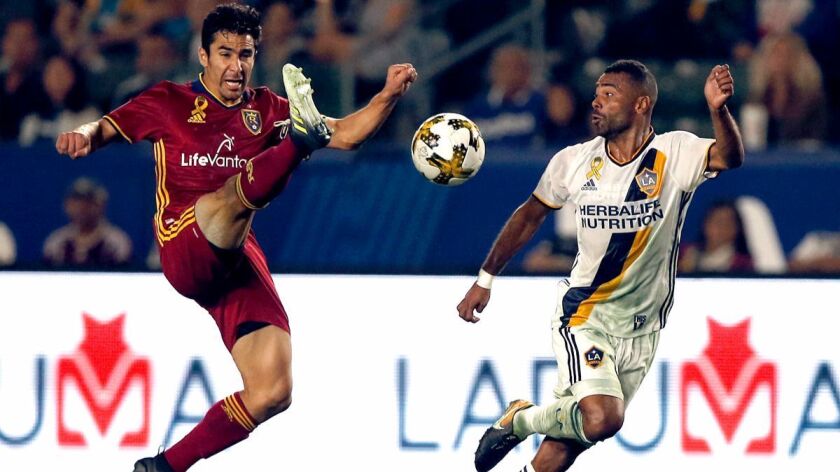 Mercifully, the Galaxy's disaster of a season will come to an end Sunday when the league's worst team staggers to the finish line at FC Dallas (SpecSN, Spectrum Deportes, 1 p.m. PT).
For defender Ashley Cole, however, it's an end that's coming perhaps a bit too soon. Because when Sunday's game ends, so does Cole's contract. And there's no guarantee he'll be offered another.
"In terms of the life and enjoying my football, L.A. gave me the chance to come back and play," he said in the run-up to the game. "I'm just enjoying the time while I can."
But have Galaxy fans — and Major League Soccer in general — taken the time to enjoy Cole?
Last season, Steven Gerrard and his balky hamstring limped to the bench in stadiums all over the country and he was greeted by thousands of fans wearing his No. 8 Liverpool shirt in tribute. Cole, meanwhile, made 26 solid appearances and was fourth on the team in minutes. Yet he rarely got so much as warm applause.
This season, as Jelle Van Damme went from captain to catastrophe and Gio dos Santos went from designated player to disappointing player, Cole was a rock again, leading the team in minutes and starts while anchoring a back line that went through more candidates than the last Republican presidential primary.
And he did that at the age of 36.
Not that anybody noticed. Cole is arguably the best left back of his generation, a three-time World Cup starter who played more games at this position than anyone in English national team history. Yet he could have been in the witness protection program for all the attention he's gotten in MLS.
"It's a little bit the nature of the position," said his coach, Sigi Schmid. "Ashley's always been a workman left back. He's done his job, he's done his business, he's completed his assignment on the field. But it hasn't been done with a lot of splash."
It has been done with a great deal of skill and efficiency though.
"Is he one of the top 100, one of the top 200 that's ever played?" Schmid asked. "He's certainly somebody who has to be bandied about in this sort of situation."
Schmid aside, the Galaxy themselves can be lumped in with those who haven't fully appreciated Cole's brilliance and legacy. When Bruce Arena, the team's former coach and general manager, signed Cole to a $300,000 contract 22 months ago, it was a steal for a guy who made that much every 10 days when he played for Chelsea in the English Premier League.
Cole will earn $377,625 in salary and bonuses this year, according to the MLS players union, still good by MLS standards but by way of comparison, former Chelsea teammate Frank Lampard, a midfielder whose career accomplishments are similar to Cole's, made $6 million playing for New York City FC last season.
Cole insists money won't be the deciding factor in determining whether he comes back to the Galaxy next year. It will be considered, though.
"I don't really want to speak of the money situation," he said. "It's not that I'm asking for millions of dollars anyway."
But, he added "if you play well, sometimes you've got to get what you deserve. They've been great with me. I'm thankful for what they've given me. If the contract is there and everyone is happy, then for sure we can make a deal."
If there is a deal, it likely will be one that benefits the Galaxy more than Cole, who is all but certain to play somewhere next season. Yet it makes sense for everyone that he return to Los Angeles.
On a team that struggled for locker room leadership, Cole's was a soft but effective voice. And on a rebuilding team with several young defenders, he was both a mentor to be listened to and a model to be followed.
"You pick up on different things watching him, playing next to him. Just the way he moves, the little things that he does," said center back Daniel Steres, who has joined teammate Dave Romney on frequent golf outings with Cole. "It's an experience most people don't get.
"If he's saying something to me, I'm taking every bit of it in."
That's a role Cole has embraced.
"If I see something I think they maybe should have done different, I speak to them. And hopefully it's going to help in the long run," he said. "You try to get them to understand certain movements — positioning and tactics.
"One good thing about here is the kids want to learn. If I do stay, hopefully I can take a bigger role in that."
That's the benefit to the club. For Cole, returning to L.A. would benefit him in mind and body, if not so much financially. After two lost seasons at Roma, he has clearly reinvigorated his career in MLS, a league he once derided.
"A lot of ex-players have said to me, 'You have to play as long as you can because once you're retiring, that's it. You're done,'" he said.
Whether he's done in L.A. will be Schmid's decision. Whether he's someone the team can afford will be the front office's decision.
So now it's time for those decision makers to step up and reward Cole by making sure he's in a Galaxy kit next season. And that will give the rest of us a chance to appreciate a once-in-a-generation player while we still can.
Follow Kevin Baxter on Twitter @kbaxter11
---
All about the beautiful game
Go inside the L.A. pro soccer scene and beyond in Kevin Baxter's weekly newsletter.
You may occasionally receive promotional content from the Los Angeles Times.