Galaxy begin front-office shuffle in an effort to keep Ibrahimovic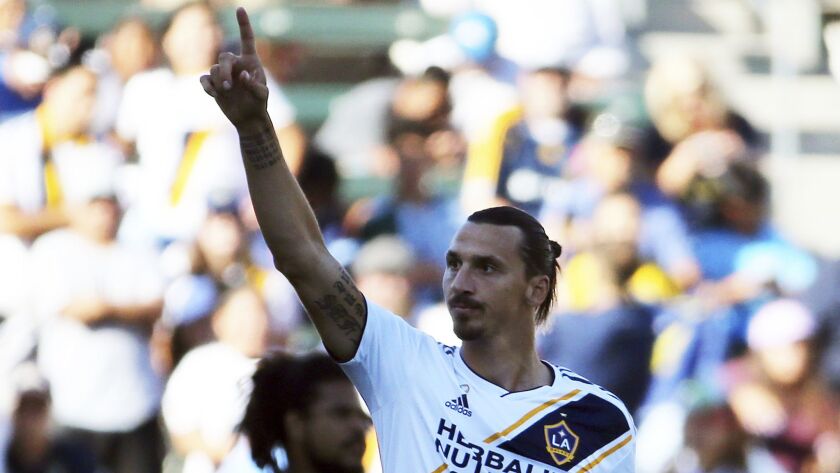 Zlatan Ibrahimovic wants to return to the Galaxy next season, but he made it clear Tuesday that won't happen unless the team meets his demands.
And a new contract is only one of the things on that list.
"I want to be able to challenge for the trophy," he said. "I'm not here for vacation. I'm here for the challenge. I want to feel I have a chance to be the best in MLS. My team, not me.
"The club knows all my wishes, all my demands. It's up to them what they want."
Consider that message received, because just hours before Ibrahimovic spoke to the media the Galaxy announced it had fired Pete Vagenas, the vice president of soccer operations, which president Chris Klein said was the first step in front-office reorganization.
Klein said the team will replace Vagenas with someone who will have complete control over soccer operations, including the hiring of a new coach, the appointment of a full-time academy director and the makeup of the first-team roster.
"Certainly we don't rest this at the feet of one person," Klein said of a Galaxy team this has lost 30 games and missed the playoffs the last two seasons, the worst two-year stretch in franchise history. "We have to look at ourselves and take responsibility.
"We have some good people. The biggest thing that it needs, it needs structure and organization."
The team also needs Ibrahimovic, who scored a Western Conference-leading 22 goals and added a team-high 10 assists in his first MLS campaign. But it was a roller coaster year, one that included a nine-game unbeaten streak, a seven-game winless streak and a 13-12-9 record, the worst Ibrahimovic has endured since he left Sweden as a teenager.
"It's not a one-man show. It's a collective. And we didn't make it to the playoffs. We failed in the objective we had," Ibrahimovic said. "I have some wishes. I have some demands. Simple things. I had a meeting with the club and they know about it. I want a championship."
He also wants more money, and that might be even harder to find.
With the Galaxy's three designated-player spots locked up, Ibrahimovic played this season for $1.5 million, the most the team could pay him under MLS salary guidelines. And even though there is one year left on his contract, Ibrahimovic has indicated he won't come back at that price.
That probably leaves the Galaxy needing to move one of their DPs, either through a trade or by buying out a contract. As for a winter loan to Italy's AC Milan, Ibrahimovic said European clubs have expressed interest, but "I belong to the Galaxy. If I belong to one club I stay in one club and I focus on that club."
Ibrahimovic also gave an unqualified endorsement to interim coach Dominic Kinnear, who replaced Sigi Schmid with six games left in the season and nearly took the roster he inherited to the playoffs. He is a candidate to get the position full-time.
"He showed he should have a possibility, a chance to show himself under his team," Ibrahimovic said.
Vagenas, 40, a Pasadena native and an NCAA champion at UCLA, spent most of his soccer career with the Galaxy, playing nine seasons as a midfielder and winning two MLS Cups in uniform before heading up the youth academy as an executive. He then replaced Bruce Arena as the team's general manager in 2016 and was named vice-president of soccer operations last winter.
kevin.baxter@latimes.com | Twitter: @kbaxter11
---
Get our high school sports newsletter
Prep Rally is devoted to the SoCal high school sports experience, bringing you scores, stories and a behind-the-scenes look at what makes prep sports so popular.
You may occasionally receive promotional content from the Los Angeles Times.