Galaxy buy out final season of Giovani dos Santos' contract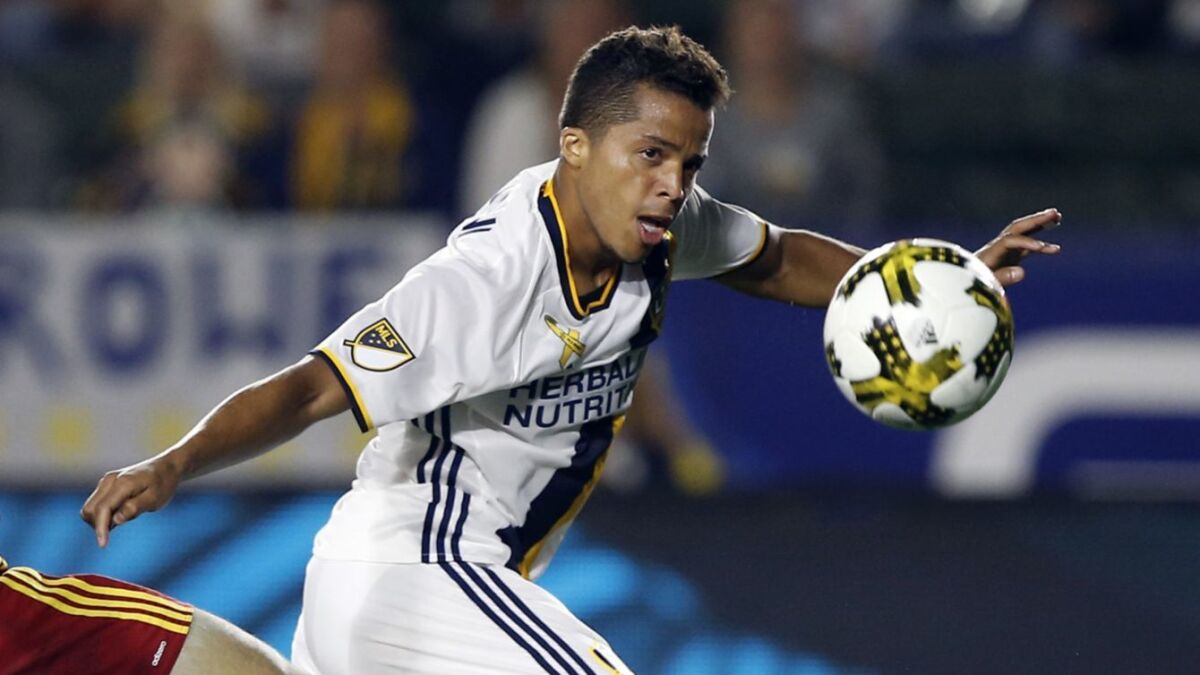 With the deadline for setting their roster for the MLS season ticking down, the Galaxy swallowed hard Friday and bought out the final year of Giovani dos Santos' designated-player contract, ending the Mexican international's up-and-down 3½-year stay with the club.
"It's obviously a difficult decision," Galaxy general manager Dennis te Kloese said. "He's very talented. But in the end I think it's the best decision for all parties involved."
Buying out the final year of Dos Santos' contract will cost the Galaxy more than $6 million, but it brings the team into compliance with MLS rules ahead of Saturday's regular-season opener with the Chicago Fire. With Dos Santos on the roster, the Galaxy were carrying four designated-player contracts — contracts with an annual value that exceeds the maximum $530,000 allowed under the league's salary cap — one over the league limit.
It also eases the distractions Dos Santos brought the team over the last two seasons and gives the Galaxy roster flexibility and a deep war chest of money to spend going forward.
"It's something done with consensus and with thought," Te Kloese said. "We create a lot of opportunities to strengthen our roster and go in a direction that our coaching staff is comfortable with."
The Galaxy acquired Dos Santos, 29, in the summer of 2015 on a transfer from Spanish club Villarreal, a deal the club valued at $34 million, including the transfer fee. And in his first season and a half, he appeared to be worth that, scoring 17 goals and dishing out 17 assists in 38 games, helping the Galaxy reach the playoffs both years.
The Galaxy teamed him with his brother, Jonathan, in 2017, but he scored just six times in 25 starts and last year, between injuries and international duty with Mexico, he made only 14 appearances, scoring three times. The Galaxy missed the playoffs both years, losing 30 games, a franchise record for consecutive seasons and Dos Santos, as the team's highest-paid player, drew the brunt of the blame for that over what appeared to be a lax attitude and uneven commitment to the team.
Dos Santos made $6 million last season, fifth highest in MLS. However when the Galaxy signed Zlatan Ibrahimovic in December for a league-record $7.2 million, MLS rules required the Galaxy to trade, rework or buy out one of its DP contracts and Dos Santos' falling production made him an obvious target.
Te Kloese discussed a range of options with Dos Santos that would have allowed him to stay — and less than three weeks ago, Te Kloese thought an agreement was close. But that optimism faded as Saturday's opener approached.
"We wanted to do the right thing, both for player and club, and that took us a little bit more time maybe than expected," said Te Kloese, who through working with the Mexican soccer federation has known Dos Santos and his family for years.
Dos Santos did not play in any of the Galaxy's preseason games and rarely trained with the first team, citing a knee injury.
The Galaxy separated from Dos Santos' guaranteed contract by exercising an offseason buyout clause, allowed under league rules. However Dos Santos still has a contract with MLS, meaning the league could arrange a transfer. He also could be waived and wind up with another MLS club or the league simply could let the contract expire.
Despite the cost of Dos Santos' buyout, the most expensive in MLS history, the Galaxy suddenly are sitting on a deep pile of cash. The team won't be penalized for the portion of Dos Santos' salary that would have counted against the cap. And with Ibrahimovic assuming the DP spot Dos Santos vacates, the $1.5 million in allocation money they used to sign the Swedish superstar last year also comes off the books.
Add that to the salary the team saved from Ola Kamara's move to the Chinese Super League this week and the portion the team receives from the $3.5-million transfer fee Shenzhen paid for Kamara, and the Galaxy either made or got credit for $5 million in the last three days — although MLS rules limit how and when that money can be spent.
"This obviously frees up some funds," Te Kloese acknowledged. "We need additions. We need to strengthen and deepen our roster in certain positions. And we're very actively doing that. Hopefully soon."
Sign up for our daily sports newsletter »
GALAXY ROSTER
GOALKEEPERS
1 David Bingham
28 Matt Lampson
41 Justin Vom Steeg
DEFENDERS
3 Diego Polenta
4 Dave Romney
5 Daniel Steres
16 Jorgen Skjelvik
20 Tomas Hilliard-Arce
21 Hugo Arellano
22 Julian Araujo
25 Rolf Feltscher
MIDFIELDERS
2 Perry Kitchen
6 Servando Carrasco
7 Romain Alessandrini*
8 Jonathan dos Santos*
17 Sebastian Lletget
18 Uriel Atuna
19 Juninho
24 Emmanuel Boateng
26 Efrain Alvarez
27 Emil Cuello
FORWARDS
9 Zlatan Ibrahimovic*
12 Chris Pontius
* designated player
kevin.baxter@latimes.com | Twitter: @kbaxter11
---
All about the beautiful game
Go inside the L.A. pro soccer scene and beyond in Kevin Baxter's weekly newsletter.
You may occasionally receive promotional content from the Los Angeles Times.