U.S. to meet Costa Rica in Gold Cup semifinal, eight months after lopsided loss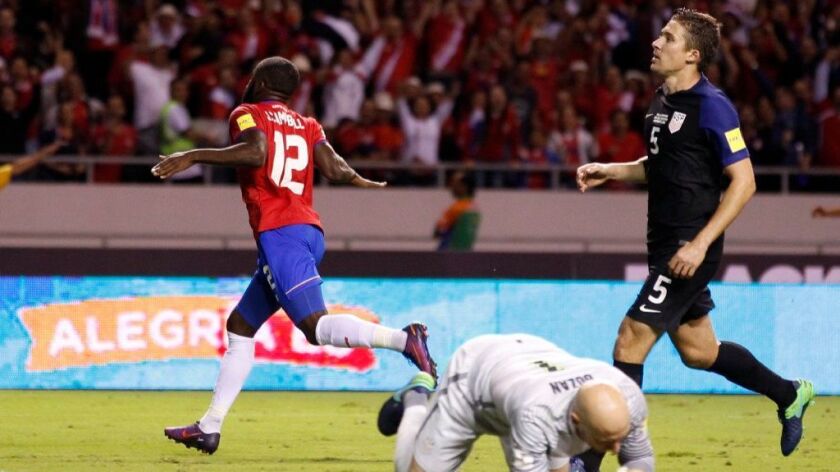 Reporting from ARLINGTON, Texas —
The last time the U.S. national team lost a soccer game, Jurgen Klinsmann was the coach, Bruce Arena still worked for the Galaxy and Donald Trump had been the president-elect for only a week.
Eight months and 12 games have passed since that match in Costa Rica, the Americans' most one-sided loss in World Cup qualifying in 36 years. On Saturday, the teams will meet for the first time since then, facing off in a CONCACAF Gold Cup semifinal at AT&T Stadium. And Arena, who replaced Klinsmann as coach after that game, isn't above using the embarrassment of the result as fuel for the rematch.
"They beat the U.S. by four goals in November, right?" Arena asked. "Hopefully we can remember that."
Thursday was a travel day for both teams, who flew from Philadelphia to Texas after posting Gold Cup quarterfinal wins Wednesday, the U.S. over El Salvador and Costa Rica against Panama. So when they take the field again for the semifinal there will be more than revenge at stake, since the winner earns a spot in the continental championship game next week in Santa Clara. That's a match the U.S. has played in five times in the last six Gold Cup events.
For Costa Rica, reaching the semifinals marks its best performance in the tournament since 2009. It hasn't reached the final since 2002, when it lost to Arena and the U.S.
That 15-year-old game isn't likely to be on the Costa Ricans' minds this week, just as U.S. defender Omar Gonzalez said last November's loss isn't something he's spent a lot of time stressing over despite Arena's urging.
"Some people on this team can use that for motivation. That's in the past for me," he said. "I don't think about that game. Ever. For me [Saturday] is just another game."
Gonzalez's last game isn't one he's likely to forget as easily. Not only did his goal late in the first half spark the U.S. to a 2-0 victory, but also he was involved in a bizarre incident with less than 10 minutes to play when Salvadoran captain Darwin Cerin bit him on the left shoulder.
"I was a bit shocked," Gonzalez said.
Twenty minutes earlier Salvadoran defender Henry Romero had bitten U.S. forward Jozy Altidore, then twisted his nipple, as both players jockeyed for position ahead of a corner kick.
"You can't go around biting people," U.S. goalkeeper Tim Howard said. "That's crazy."
Canadian referee Drew Fischer, who called 45 fouls in the sloppy match, missed both assaults, however CONCACAF can still punish the players after reviewing videotape of the incidents. The Washington Post reported Thursday that the CONCACAF disciplinary committee already has reached out to U.S. Soccer for assistance in its investigation, reportedly receiving a photo showing the marks on Gonzalez's shoulder.
In the 2014 World Cup, Uruguay's Luis Suarez got away with a bite to the shoulder of Italian defender Giorgio Chiellini, only to receive a record nine-game suspension from FIFA two days later.
"CONCACAF never ceases to amaze me," said Altidore, adding he had never been bitten in a game before. "It is what it is. I shouldn't be saying, 'These things happen.' But they do."
Both the U.S. and Costa Rica head into the semifinal unbeaten after each won its respective group with 2-0-1 records. Costa Rica's quarterfinal victory was far less dramatic than the U.S. one, though, with the Central Americans winning 1-0 on a late own goal by Panama's Anibal Godoy.
Twitter: kbaxter11
---
All about the beautiful game
Go inside the L.A. pro soccer scene and beyond in Kevin Baxter's weekly newsletter.
You may occasionally receive promotional content from the Los Angeles Times.