U.S. faces 'massive game' against Portugal in World Cup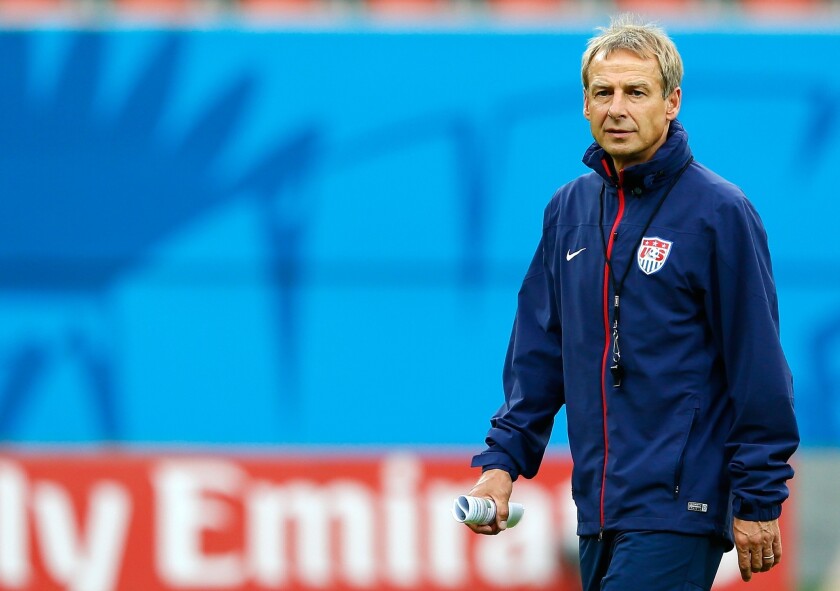 REPORTING FROM MANAUS, Brazil —
Both the U.S. and Portugal will go a long way toward determining their World Cup fates when they meet Sunday in the heat and humidity of the Amazon.
For the U.S., it's win and go on. For Portugal, it's win or go home.
And a tie? Well, then it gets complicated.
UPDATE: U.S. earns a point with 2-2 draw against Portugal
Although the math can get muddled, after Germany's draw with Ghana in the other Group G game Saturday, this much is certain: With a victory Sunday, the U.S. not only assures itself of a spot in the second round but jumps to the top of the four-team group with one game left. For Portugal, a loss leaves it winless and pointless — and with no hope of advancing.
A draw, meanwhile, leaves open the possibility both the U.S. and Portugal could be among the two teams to survive group play or be the two that are eliminated, depending on what happens in their final first-round games Thursday afternoon.
"This is a massive game. A turning point for us," goalkeeper Tim Howard said. "If we win, we've taken care of business."
Coach Juergen Klinsmann agreed. "It's a huge opportunity," he said.
To take advantage of it the U.S. will have to play better than it did in its opener, when it escaped with a 2-1 win over Ghana. In that game the U.S. was dominated in virtually every significant offensive category except goals scored.
"We talked five minutes after the game ended about being excited and proud of the way we started off but also realizing that one game doesn't mean anything," midfielder Michael Bradley said. "If you're not able to follow up the first game with a good result, then the first game goes right out the window and all of a sudden you're going into game three needing a result or looking at the other game.
"At this point, it's all about Sunday."
Same for Portugal — only for different reasons.
"From now on we're not going to talk anymore. We're going to play," Coach Paulo Bento said. "Either we win or we start packing out suitcases.'
Both teams come into the game banged up. The U.S. is without striker Jozy Altidore, who strained a hamstring midway through the first half against Ghana. Defender Matt Besler also left that game at halftime with a hamstring problem of his own, although he is expected to play.
Meanwhile Portugal, ranked No. 4 in the world, is missing four players: striker Hugo Almeida, goalkeeper Rui Patricio and defender Fabio Coentrao, all of whom are injured, and defender Pepe, who was suspended one game after drawing a red card in the opening 4-0 loss to Germany.
In addition, the availability of Bruno Alves, the team's most experienced defender, will be a gametime decision, Bento said.
But Portugal does have reigning world player of the year Cristiano Ronaldo and even short-handed, that makes the team dangerous.
"He's a strong player. Physically he's a fast runner; the best in the world with the ball at his feet. Good striker left and right foot. Dominant in the air. The list goes on and on," said Howard, a former teammate of Ronaldo's at Manchester United.
"We're going to try to do our best to bottle him up, which hasn't been done for four or five years."
But Ronaldo is limping too and has been limited in training by tendinitis in his left knee.
"He trains every day with all of us. So Cristiano is fit to play," Portugal midfielder Raul Meireles said Saturday. "That's all I can say."
And as if all that wasn't challenging enough, there's the weather: a temperature of 79 degrees with 87% humidity and a chance of thunderstorms is forecast for kickoff.
"It's just huge. And now it's here," Klinsmann said of the game. "We want to get three points tomorrow. We want to qualify for the next stage."
---
All about the beautiful game
Go inside the L.A. pro soccer scene and beyond in Kevin Baxter's weekly newsletter.
You may occasionally receive promotional content from the Los Angeles Times.