Column: NFL draft helped lead Julie Ertz to starring role on women's soccer team
Reporting from SAN DIEGO —
When the Philadelphia Eagles selected tight end Zach Ertz in the second round of the 2013 NFL draft, it's unlikely anyone with the women's national soccer team noticed.
But they should have. Because while Ertz's signing netted the Eagles a sure-handed receiver that has taken them to Sunday's NFC title game, U.S. Soccer wound up with something of arguably greater value: his soon-to-be-wife, Julie, a versatile midfielder and defender who won a World Cup in 2015 and last year was named the nation's female player of the year.
And Ertz (née Johnston) owes at least part of that success to her decision to follow Zach from Northern California to Philadelphia. The couple, who married last year, settled less than 30 minutes from Carli Lloyd's New Jersey home. Lloyd invited Ertz, then just beginning to break into the national team, to work with her and James Galanis, her unconventional coach.
That would never have happened had her then-boyfriend signed with the Green Bay Packers.
"When I first moved to the Philly area, I didn't really know anyone," said Ertz, who will likely be in the midfield alongside Lloyd on Sunday when the U.S. opens its 2018 schedule against Denmark, the runner-up in last year's European Championships, at SDCCU Stadium (formerly Qualcomm) in San Diego (4:30 p.m. PST, ESPN).
"It was great to have a familiar face but [also] to be able to train with someone at such a world-class level. And to have a trainer out there to kind of really focus on my foundation and technique."
However it was what Galanis said to her, not how he coached her, that had the biggest impact.
"James asked her, 'What's it going to take for you to get into the starting mix?' " Lloyd remembers. When Ertz answered by sheepishly saying she was going to have wait her turn, Galanis pounced.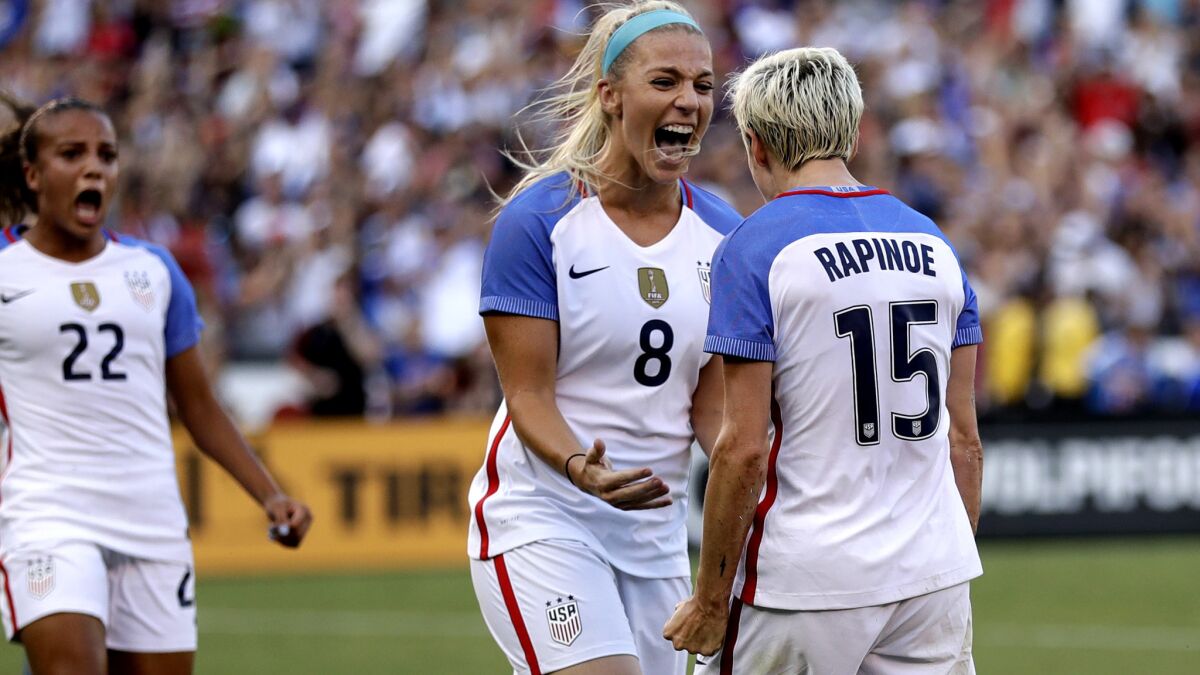 Lloyd said he challenged her: "You should be in there every single day fighting for a starting spot!".
Eight months later, she had that spot won, playing every minute in the 2015 World Cup. She hasn't looked back since.
"Just the change in attitude made a world of difference for Julie," Galanis said. "The mindset was wrong. Because at the top, everybody has the tools. Everybody's fast. Everybody's strong. Everyone's skilled. Everyone knows the game.
"But the ones that make it are the ones that have the mental toughness and the character skills that carry them that extra distance."
And with qualifying for the next Women's World Cup coming up this fall, Ertz's role on the U.S. team may be changing again. Because of her versatility, experience and status as the reigning U.S. player of the year, Ertz will be expected to fill a leadership role.
"She's obviously matured within the team," coach Jill Ellis said of Ertz, who captained the U.S. to the championship of the U-20 Women's World Cup in 2012. "Julie brings a battle-tested, hard mentality. She is a worker. I don't think she's ever going to take her foot off the gas.
"It's obviously her talent, but it's also her inner drive, that has been propelling her to this point."
Yet Ertz, 25, still sees herself as the young player trying to break into the team.
"There's a lot that I want to still develop in. I want to continue to get better and continue to grow. And that's a huge part of now being that veteran," she said after being rousted from an afternoon nap at the team's Manhattan Beach hotel between the twice-daily workouts at StubHub Center.
"What we did collectively to win the World Cup in 2015 isn't going to win us a World Cup in 2019. We have to do more. The game continues to grow. And we know that."
To address that global improvement, Ellis has upgraded her team's schedule over the last two years. Gone are friendlies against the likes of Thailand, Romania and Ireland — all teams the U.S. beat by at least five goals — and in their place are games against Denmark, ranked 12th in the world by FIFA, and the four-nation She Believes Cup in March against Germany, England and France, who are ranked second, third and sixth, respectively.
"If we had taken a down year or a less-competitive schedule, then I think we fall behind," Ellis said. "The European leagues are 10-month leagues. Ours is a six-month league. So every opportunity we can take to have competitive games for our players is what we have to do."
Ellis also has development in mind with the roster she put together for January's 15-day training camp. Half the 24 players called in have fewer than 20 appearances with the national team, and half are 25 or younger. Two are teenagers.
However, she also called in players such as Lloyd, Alex Morgan, Megan Rapinoe and Kelley O'Hara to provide guidance and take questions. That's a group Ertz now finds herself part of — even as she admits she doesn't have all the answers.
"The environment is very unique," she said. "When you're young coming in from college, you're still developing. And you ask questions. You get asked a lot of questions.
"I continue to ask questions. It's interesting. Collectively, we all kind of ask questions because we all want to get better."
Follow Kevin Baxter on Twitter @kbaxter11