BCS standings: Alabama, Florida State hold top two spots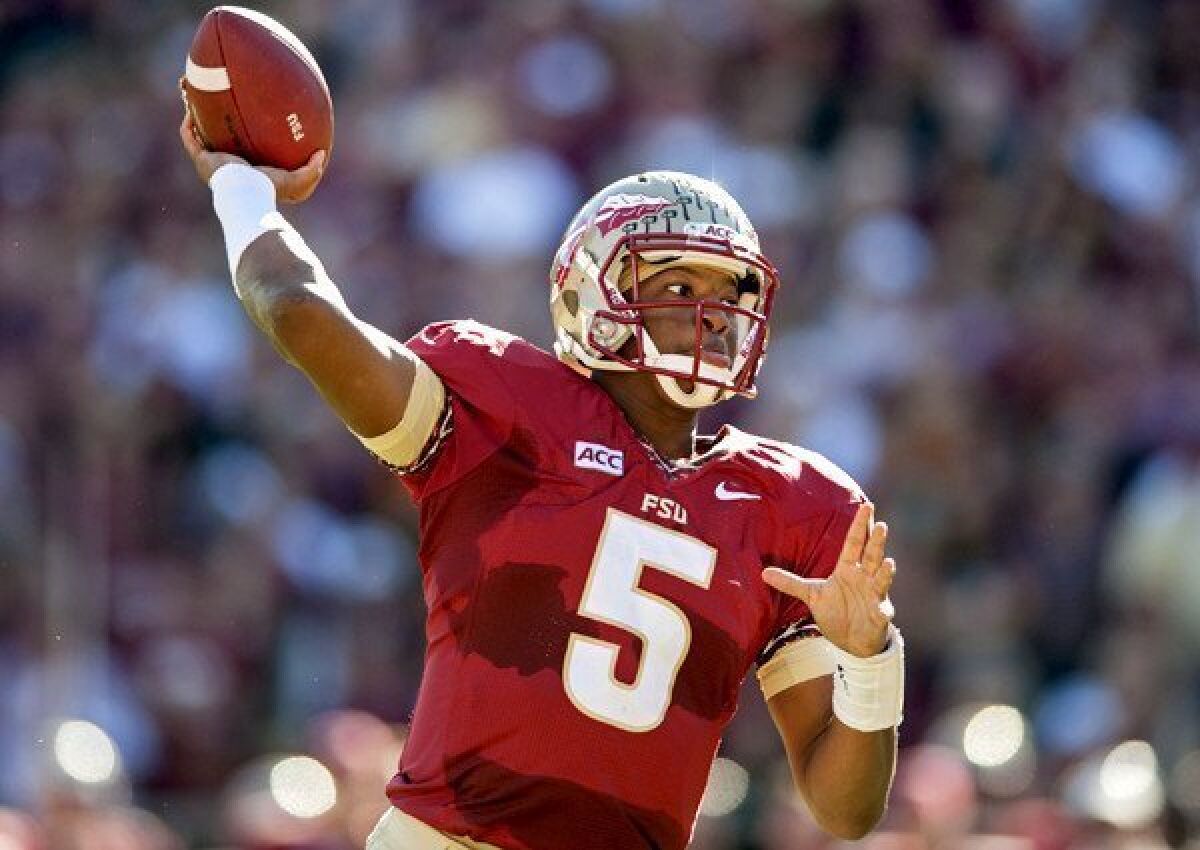 This story has been corrected. See below.
The Bowl Championship Series is sort of like what Mark Twain once said about the weather in New England. If you don't like it now, just wait a few minutes.
Two weeks ago, Florida State fans were panicked that their No. 3 Seminoles would go undefeated and not make the title game.
There was nothing they could do so long as front-runners Alabama and Oregon remained undefeated.
Well, guess what?
Oregon did not beat Stanford on Thursday and Florida State remained at No. 2 in Sunday's release of the BCS standings.
Alabama retained its choke hold on No. 1 after a resounding weekend defeat of Louisiana State.
The Crimson Tide leads the BCS with an average of .996, followed by Florida State at .962.
Unbeaten Ohio State at .893 moved up to No. 3, the official worry position, while one-loss Stanford (.869) is No. 4, just ahead of undefeated Baylor (.862) at No. 5.
Stanford is in fine position for next year's four-team playoff but needs help to reach the last BCS title game.
Rounding out the BCS top 10 are Oregon at No. 6, followed by Auburn, Clemson, Missouri and South Carolina.
Nothing has changed in this respect: last week, Alabama and Oregon controlled their fates, and this week it is Alabama and Florida State.
Ohio State likely needs No. 1 or No. 2 to lose to avoid finishing undefeated for a second consecutive year without reaching the title game. Last year, the Buckeyes were ineligible because of NCAA probation.
Alabama and Florida State will be favored in their remaining games, but, as we have often seen in the BCS, anything can happen. Oregon was a double-digit favorite over Stanford.
Alabama's remaining schedule: at Mississippi State, Chattanooga, at Auburn, SEC title game.
Florida State hosts Syracuse and Idaho and then closes at Florida in advance of the ACC title game.
In the battle for a BCS spot for non-automatic qualifier champions, Fresno State of the Mountain West is No. 14 ahead of No. 15 Northern Illinois of the MAC.
A bid will go to the highest-ranked non-AQ team in the top 12, or top 16 if it is ranked ahead of a major-conference champion.
As it stands, both Fresno State and Northern Illinois are ranked ahead of No. 17 Central Florida of the American Athletic Conference.
The top two teams in the final BCS standings on Dec. 8 will meet in the BCS title game at the Rose Bowl on Jan. 6.
ALSO:
Injury woes might be mounting for the Kings
Clippers' DeAndre Jordan becomes rebounding machine

Richie Incognito blames NFL locker-room culture for his behavior
For the record: An earlier version of this story said that Florida State moved to No. 2 in Sunday's release of the BCS standings after Oregon's loss to Stanford. Florida State was ranked No. 2 entering last week, although it was projected to be bumped from the spot if Oregon beat Stanford.
---
Get our high school sports newsletter
Prep Rally is devoted to the SoCal high school sports experience, bringing you scores, stories and a behind-the-scenes look at what makes prep sports so popular.
You may occasionally receive promotional content from the Los Angeles Times.