St. Louis city leaders say Rams owner Stan Kroenke won't talk to them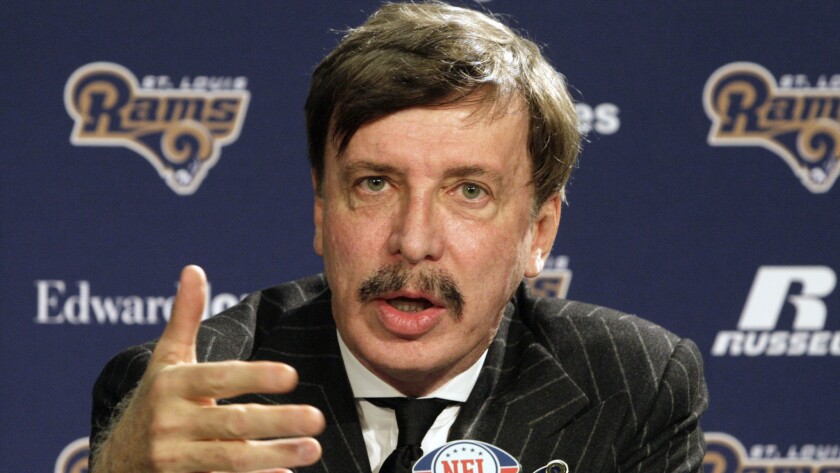 St. Louis city leaders say they're prepared to deal directly with the NFL in their quest to make sure the Rams stay in town, claiming billionaire team owner Stan Kroenke is not returning their calls.
Kroenke announced plans Monday first reported by The Times that he is part of a venture to build an 80,000-seat stadium in Inglewood on the site of the former Hollywood Park racetrack. Since then, St. Louis city leaders say they have been unsuccessful in trying to communicate with Kroenke on orchestrating a plan to keep the Rams from moving, the Associated Press reported Wednesday.
"He hasn't responded, he hasn't called back, he hasn't done anything," said Maggie Crane, spokeswoman for St. Louis Mayor Francis Slay.
A Rams spokesman declined to comment on the matter.
Jeff Rainford, the mayor's chief of staff, says St. Louis remains a viable location for a successful NFL franchise, and hinted the city could try luring another team if the Rams were to leave.
"The NFL can make money in St. Louis," Rainford told the AP. "It may end up being the Rams with this owner, the Rams with a different owner, a different team with a different owner."
The Rams, who haven't had a winning record since 2003, moved to St. Louis in 1995 after playing in the Los Angeles market for 49 years.
It remains to be seen whether Kroenke's involvement on the proposed stadium project is a hard-line tactic to pressure the city into helping finance a new stadium for the Rams in St. Louis or a legitimate push to move the franchise back to the NFL's biggest untapped market.
---
Get the latest on L.A.'s teams in the daily Sports Report newsletter.
You may occasionally receive promotional content from the Los Angeles Times.