After Tiger Woods withdraws from Dubai tournament, could his return to L.A. be in jeopardy?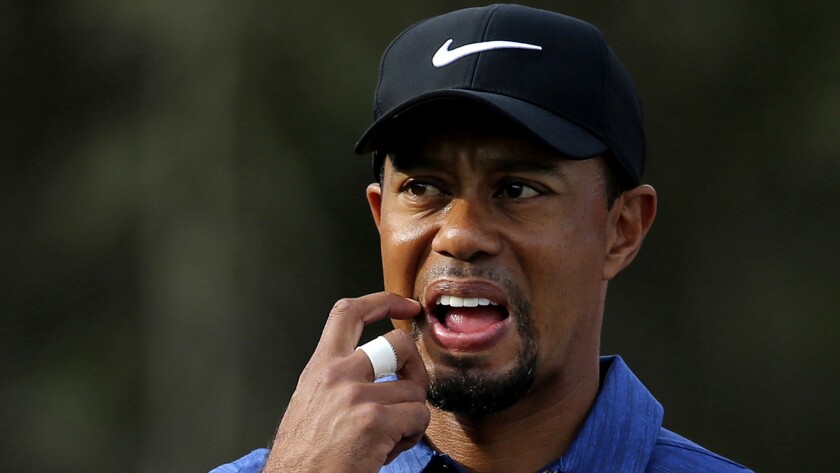 Tiger Woods return to Los Angeles' annual PGA Tour stop after nearly a quarter-century's absence may be in jeopardy.
On Friday, he withdrew from the Dubai Desert Classic, citing back spasms as the reason. This follows an opening round of 77 in what would likely have been the second consecutive tournament for which he would miss the cut. Last week, he failed to advance to the third round at the Farmers Insurance Open in San Diego.
Neither Woods nor his representatives have given any indication that he would not play in the Genesis Open on Feb. 16-19 at Riviera Country Club. Woods' foundation now runs the Genesis tournament and his charity benefits from it.
But, persistent back problems combined with his shaky play could be viewed as a harbinger of his participation.
"Tiger Woods went into a spasm in his lower back fairly late [Thursday] night, got treatment done early [Friday] morning for 3½ hours, but can't get it out," Woods' agent, Mark Steinberg, told the Associated Press. "He says it's not the nerve, but back spasms, and he can't get the spasms to calm down. He can move around, but he can't make a full rotation in his swing."
Steinberg, speaking with tigerwoods.com, indicated this was possibly a short-term problem.
"The fact that he feels that it's not the nerve pain, that's very encouraging for him," Steinberg said.
Still back problems are very unpredictable, including recovery time.
"Nobody knows [how fast a recovery he can make]," said Dr. David R. McAllister, chief of the sports medicine service at UCLA's Geffen School of Medicine. McAllister could only speak in a general sense because he has never examined Woods.
"It's day-to-day, week-to-week," he said. "One thing is he's a pretty tough competitor. Guys like him, if there is a chance he can play he will. But his body may not comply with his mind's wishes."
McAllister stressed that back problems are very common among golfers, even at the recreational level.
"Nobody knows how he's going to play," McAllister said of Woods. "I'm sure he'll try and get ready and play a practice round before he knows."
After his birdie-less first round in Dubai, Woods said he was fine, even though he appeared to be uncomfortable at times.
"I wasn't in pain at all. I was just trying to hit shots and I wasn't doing a very good job," Woods said.
Woods was upbeat when he met the media last week at a news conference to promote the Genesis Open.
He explained his absence from the L.A. tournament this way: "I've always loved playing Riv. I just never played it well. It's the only reason."
The optimism surrounding his return after nearly 18 months was soon replaced by reality when he shot an opening round 76 at Torrey Pines and followed it up with an even-par 72.
Woods seemed to have trouble hitting fairways and he was consistently missing putts that used to be routine. His short game, however, seemed to be fairly sharp.
After the Genesis tournament, Woods is also scheduled to compete in the Honda Classic, the start of the Florida stretch of the PGA Tour schedule. The Honda in Palm Beach Gardens is about 30 minutes from Woods' home on Jupiter Island.
---
UPDATES:
9:35 a.m.: This article was updated throughout with staff reporting.
4:50 p.m.: This article has been updated with information about back injuries.
This article was originally published at 2:20 a.m.
---
Get the latest on L.A.'s teams in the daily Sports Report newsletter.
You may occasionally receive promotional content from the Los Angeles Times.