UCLA's Paul Perkins makes the offensive line look good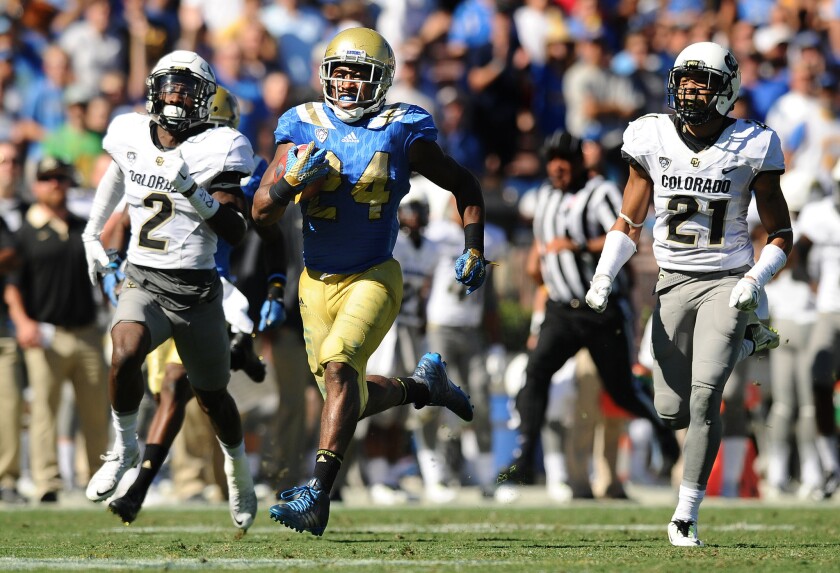 UCLA running back Paul Perkins is like comfort food. He can make the Bruins feel better when things aren't going so well.
Offensive linemen like it when he has the ball. The head coach is even a little happier when Perkins is running.
"When you can hand off and the ball doesn't have to travel through the air, and you can count on getting some yards, that's a nice thing," Coach Jim Mora said.
Perkins has done a lot of nice things for the Bruins the last two seasons.
His 121 yards against Washington State last Saturday put him in an exclusive UCLA club. He is the sixth Bruins running back to have back-to-back 1,000-yard seasons, joining DeShaun Foster (2000-01), Skip Hicks (1996-97), Karim Abdul-Jabbar (1994-95), Gaston Green (1986-87) and Freeman McNeil (1979-80).
Perkins has 1,082 yards this season. He led the Pac-12 with 1,575 yards in 2014.
Where Perkins' play resonates most is with an offensive line that he so often praises.
"There are no stats for offensive linemen," guard Caleb Benenoch said. "So the things we take pride in are sack numbers allowed and rushing yards. Those are our stats."
UCLA has given up only 10 sacks in 10 games after 40 last season, 36 in 2013 and 52 in 2012.
Running is different. Pass protection can involve variables — the quarterback releasing the ball, receivers getting separation, running backs picking up a blitz. The run game provides a measuring stick for linemen.
"The one good thing about having a successful running back, a lot of it gets attributed to the offensive line," center Jake Brendel said.
Perkins has 3,230 yards rushing in his career, third on UCLA's all-time list behind Johnathan Franklin (4,403) and Green (3,731).
"I am definitely blessed to be in the position I am now," Perkins said about the consecutive 1,000-yard seasons. "Only a small group of guys have done it here. Looking back on this, I'll see it as a great accomplishment. Right now, I have to be focused on the next game."
Sack attack
Junior nose tackle Kenny Clark does a lot of dirty work. It comes with the position. So he said it was particularly sweet to produce a career-high three sacks against Washington State.
"It was relentless pressure by us," Clark said. "The outside guys did a good job of pressing the pocket. The quarterback stepped up and I was there."
Usually it works the other way around. Clark applies the pressure and defenders approaching from the outside reap the benefits. Clark had only two sacks before this season. He has five this season.
"It's a team game," Clark said. "We help each other."
Considered one of the top defensive linemen in the Pac-12 Conference, Clark has improved to the point where NFL teams would certainly be interested should he declare for the draft after this season.
"I wanted to do a lot of things with my power this season," said Clark, 6 feet 3, 310 pounds. "I'm a strong, powerful guy. There is no reason not to use that."
Payton's place
Receiver Jordan Payton could be one average game from becoming UCLA's all-time leading receiver.
Payton's 14 receptions against Washington State, which tied a UCLA single-game record, left him in second place on the career list with 187 catches. Craig Bragg (2001-04) holds the school record with 193 receptions.
"It would be cool to leave a legacy," Payton said. "You come here with dreams and for one to come true would be unbelievable."
Payton also has 2,499 yards receiving in his career, fourth in school history. Danny Farmer (1996-99) has the UCLA record with 3,020 yards.
Twitter: @cfosterlatimes
---
Get the latest on L.A.'s teams in the daily Sports Report newsletter.
You may occasionally receive promotional content from the Los Angeles Times.