UCLA cruises to victory over Stanford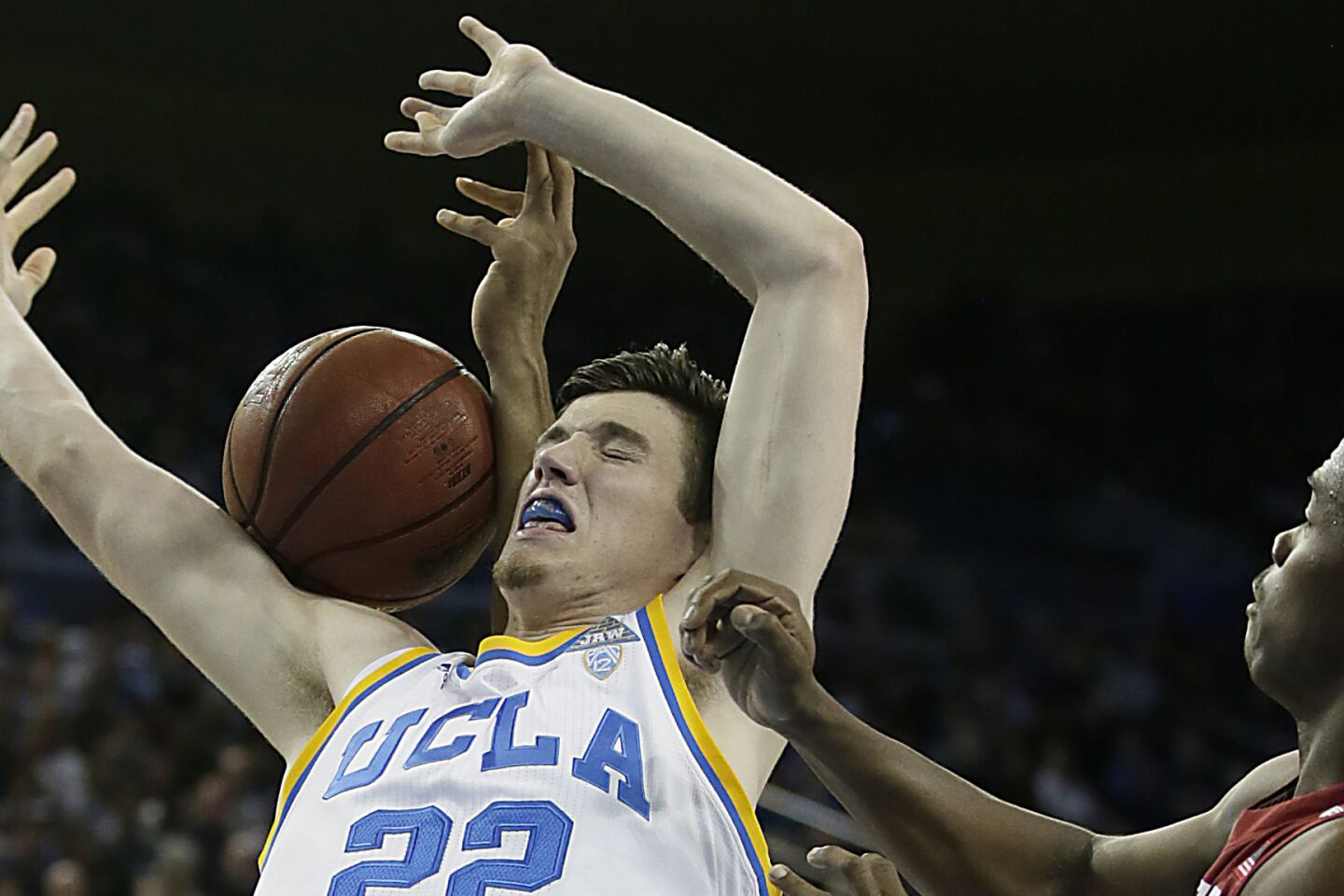 UCLA forward TJ Leaf can't pull in a rebound against Stanford guard Marcus Allen during the first half.
(Robert Gauthier / Los Angeles Times)
UCLA guard Bryce Alford and Stanford center Grant Verhoven battle for a loose ball during the first half.
(Robert Gauthier / Los Angeles Times)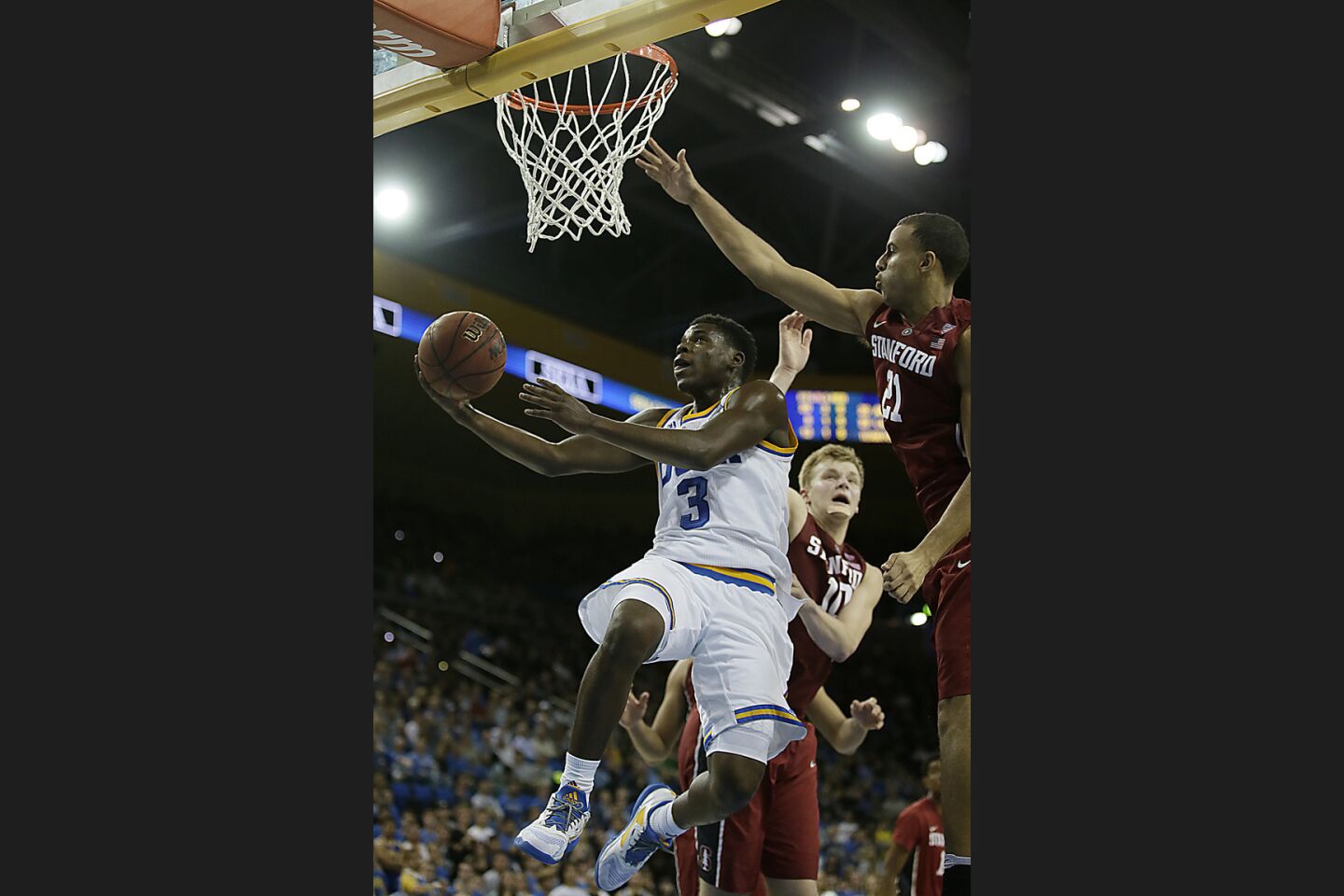 UCLA guard Aaron Holiday slips past Stanford forward Cameron Walker for a second-half basket.
(Robert Gauthier / Los Angeles Times)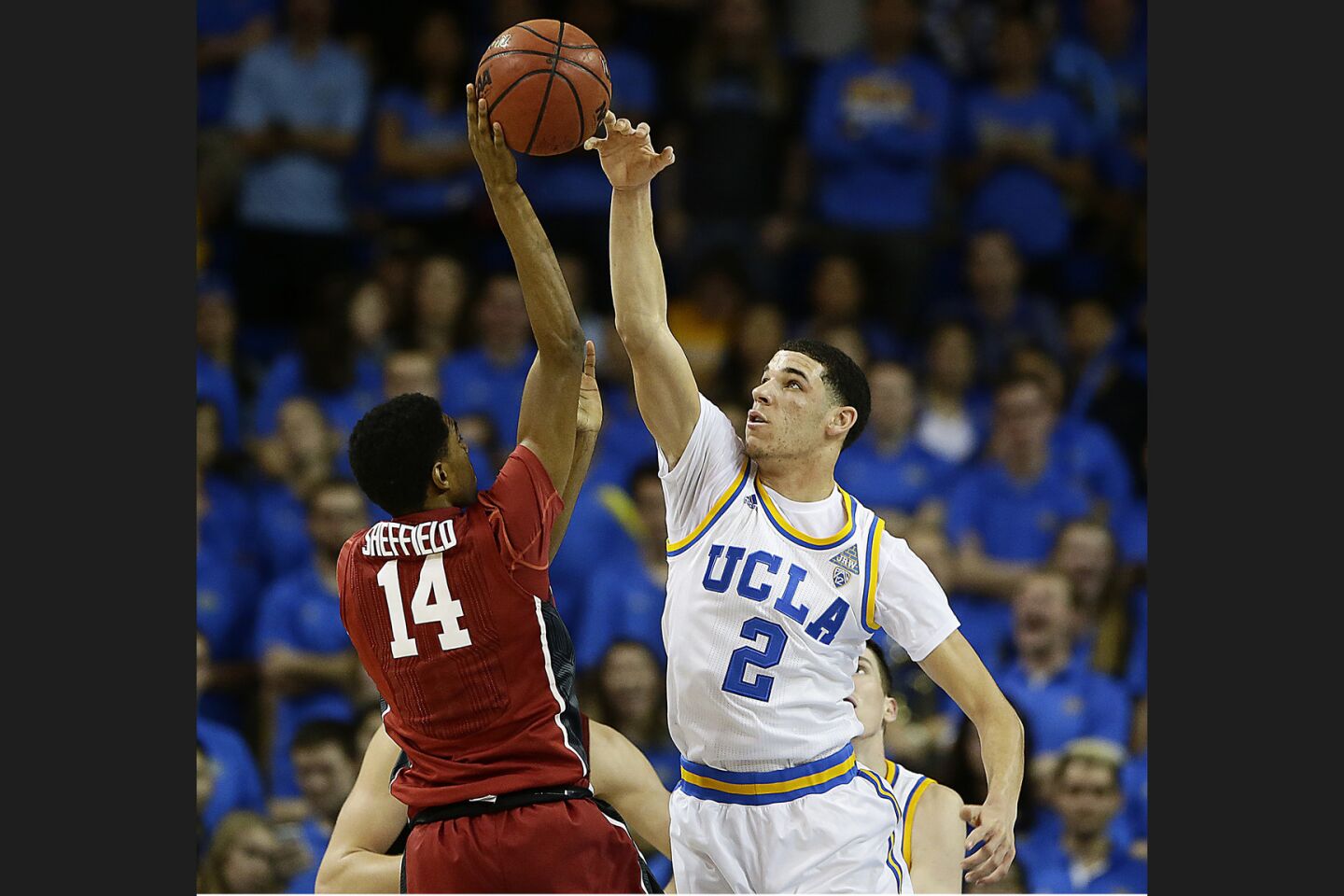 UCLA guard Lonzo Ball blocks the shot of Stanford guard Marcus Sheffield during the second half.
(Robert Gauthier / Los Angeles Times)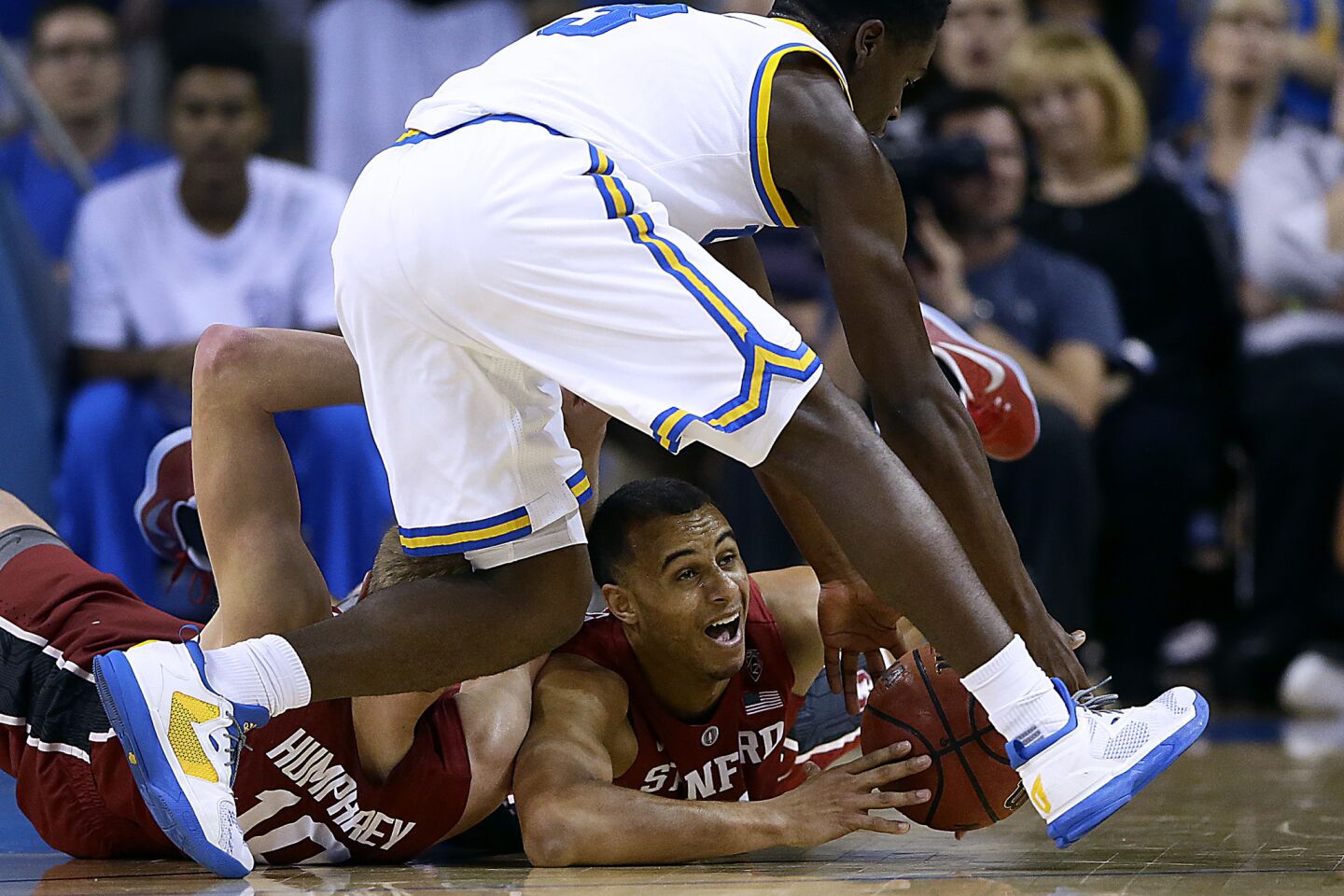 Stanford forward Cameron Walker tries to keep the ball away from UCLA guard Aaron Holiday during first-half action.
(Robert Gauthier / Los Angeles Times)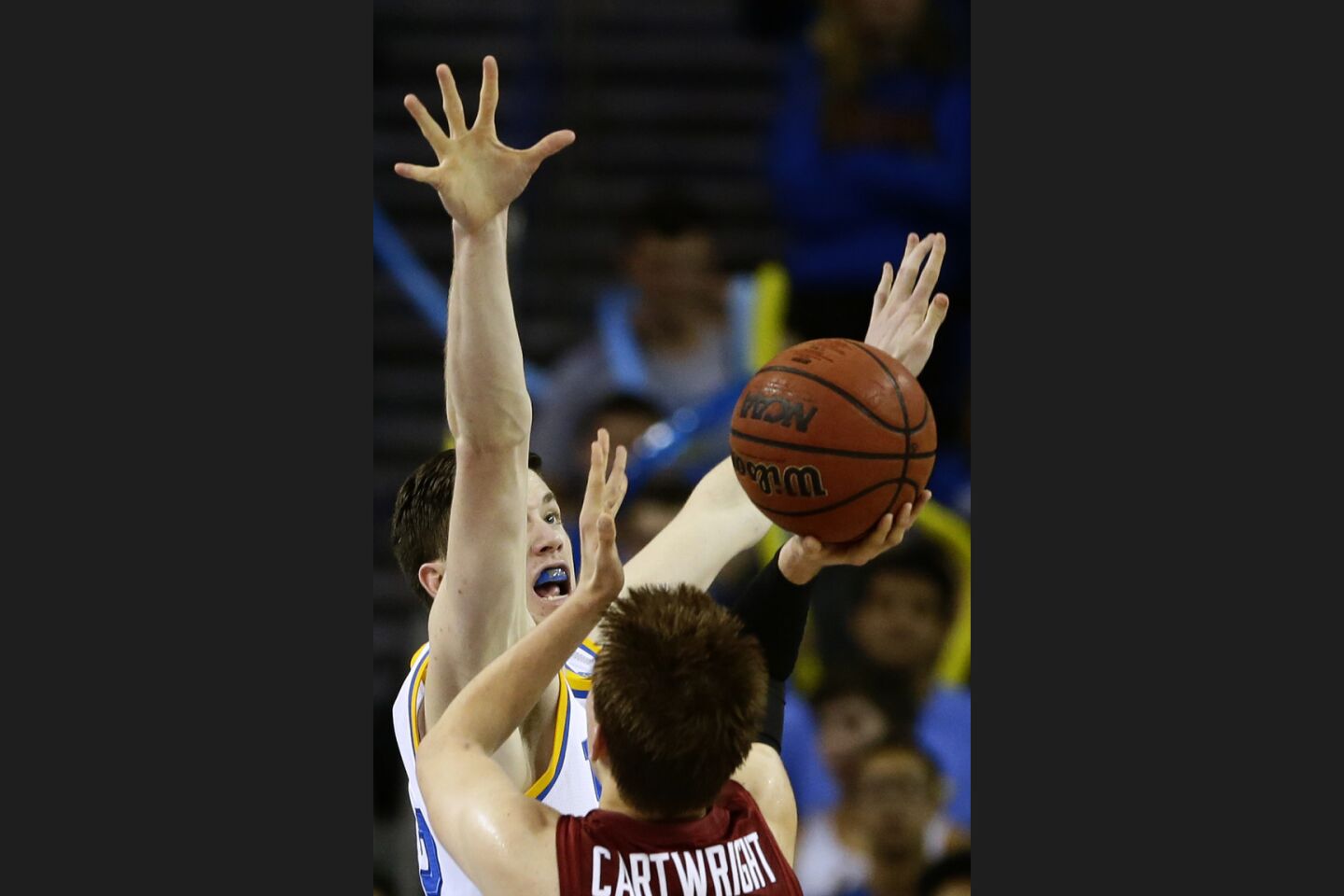 UCLA forward TJ Leaf elevates to block the shot of Stanford guard Robert Cartwright during the second half.
(Robert Gauthier / Los Angeles Times)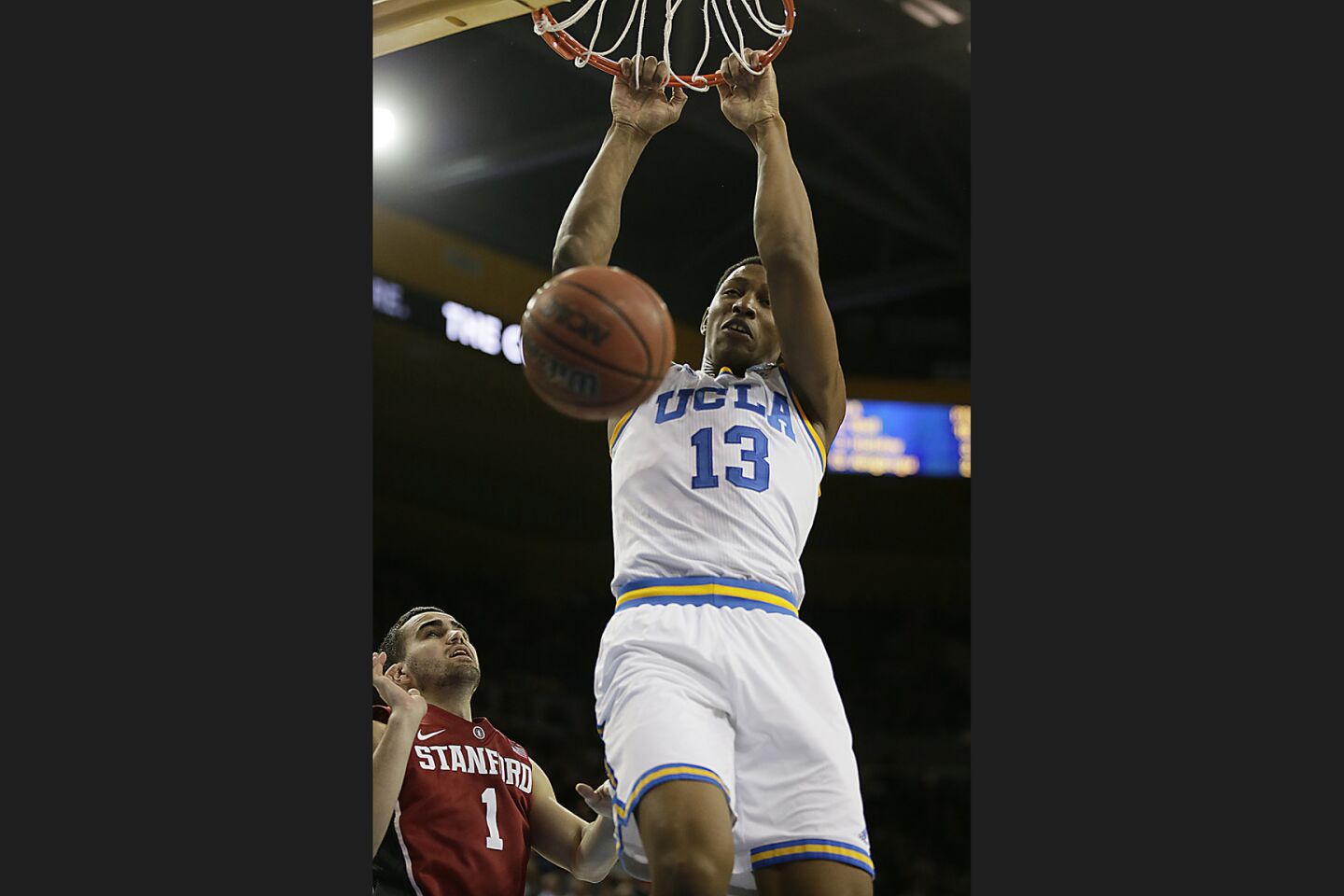 UCLA center Ike Anigbogu dunks the ball as Stanford guard Christian Saners looks on during second-half action.
(Robert Gauthier / Los Angeles Times)
There was a retro feel inside Pauley Pavilion on Sunday evening, as if UCLA had flipped the calendar backward for another mid-November game against an overmatched opponent from some lesser conference.
The Bruins were only too happy for the reminder of what a relatively stress-free evening of basketball felt like. There was little drama even with another second-half slide, No. 4 UCLA's lead never sinking below double digits over the final 20 minutes of an 89-75 victory over Stanford.
"To be able to control a game for 40 minutes, that's a testament to our guys, that's a testament to the coaching staff and how they prepared us," Bruins shooting guard Bryce Alford said after making four of five three-pointers on the way to 17 points. "It's nice to have some of those nights."
It was even sweeter considering UCLA (16-1 overall, 3-1 Pac-12 Conference) reached a milestone of sorts in front of its third home sellout crowd of the season. The Bruins exceeded their victory total from all of last season with at least 16 games to play, assuming they qualify for the NCAA tournament.
UCLA Coach Steve Alford said he wasn't as interested in using his team's record to determine its potential to win more meaningful games later in the season.
"You're at 16-1 and yet you can see an awful lot of growth that we've still got ahead of us and things that we've got to work on to get better and improve, and that's a positive," Alford said. "If we were 16-1 and can't do things any better, then I think we can plateau out. But I think the ceiling for this team is still very, very high and that's exciting."
Improving their offensive efficiency is not on the Bruins' to-do list. They scored 48 points in the first half Sunday, made 11 of 20 three-pointers (55%) overall and logged 22 assists on their 31 baskets.
Much of that competence can be pegged to freshman point guard Lonzo Ball, who contributed in every category with 21 points, eight assists, six rebounds, three steals and two blocks to go with his two turnovers.
"In my opinion," Steve Alford said, "there's not another player in the country that can play at the pace that he plays at."
UCLA freshman power forward TJ Leaf was also strong across the board with 15 points, 10 rebounds, six assists and two blocks. Senior guard Isaac Hamilton scored 15 points, an encouraging sign even if he did need 15 shots to get there because it broke his streak of scoring in single digits in three consecutive games.
Stanford (8-8, 0-4) might have felt like it was behind before tipoff considering leading scorer Reid Travis missed a second consecutive game because of a shoulder injury that is expected to sideline him indefinitely.
The Cardinal needed more than 10 minutes in the first half to score 10 points and got there thanks in part to a questionable goaltending call. UCLA's Ike Anigbogu appeared to block Dorian Pickens' layup while the ball was still rising toward the rim but was called for a violation that gave Stanford the basket.
Forward Michael Humphrey finished with 27 points and 14 rebounds for the Cardinal, who closed to within 59-48 early in the second half before back-to-back three-pointers from Ball and Aaron Holiday restored a more comfortable cushion for the Bruins.
Stanford's 16 offensive rebounds were one of the areas that Steve Alford said his team needed to target for improvement. The Bruins also gave up 16 offensive rebounds against Oregon and 17 against California.
"It's just learning to close that defensive possession," Alford said. "You do things right and a guy takes a contested shot, you're not done yet. You have to secure the rebound and it's something we have to continue to work on."
Steve Alford also said the Bruins needed start second halves stronger, something that has plagued them in the early portion of conference play. It's not like they don't have some time to solve their issues.
"We're not going to be perfect in January, that's not the goal," Bryce Alford said. "The goal is to be as good as we can be come March, so we'll just continue to watch film and figure stuff out."
Twitter: @latbbolch
Get the latest on L.A.'s teams in the daily Sports Report newsletter.
You may occasionally receive promotional content from the Los Angeles Times.