Former USC cornerback Jack Jones to enroll in junior college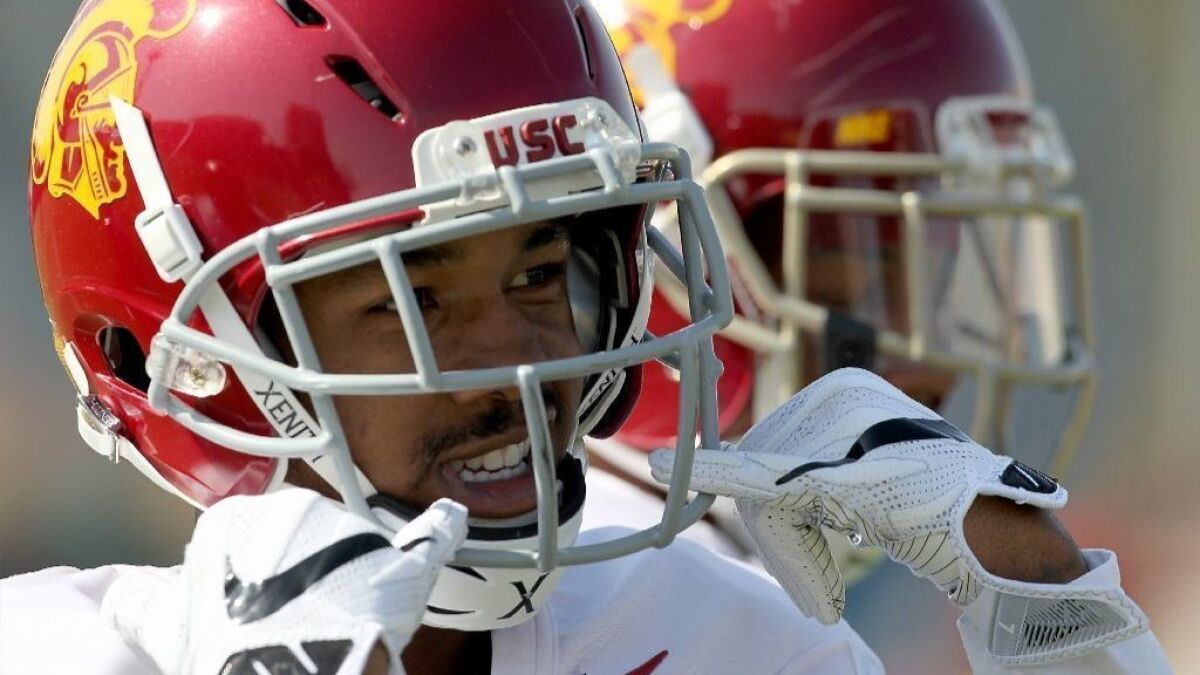 Jack Jones walked onto USC's campus as a true freshman and told anybody who would listen that he was going to win the Heisman Trophy later that season. Tuesday night, even as he discussed with The Times his dismissal from the USC program because of academics, he kept his goals lofty.
"I want to be on the front page," Jones said. "Posted big. I want everybody to know about it."
Before Jones can return to relevancy and a perch on college football's big stage, though, the talented cornerback has some work to do. He said he plans to enroll in junior college — either Mt. San Antonio College in Walnut or West Hills College in Lemoore — to become academically eligible and then return to the field in 2019.
Jones, who had four interceptions and 31 tackles as a sophomore starter for the Trojans last season, was noncommittal about where he would want to play if he gets his grades in order.
Asked if his intention would be to return to USC, he said, "I'm just taking it day by day. My main focus is to get into a junior college. I don't know where I'm going to go after that. I still have a whole year to decide."
Jones, who was a coveted five-star recruit out of Long Beach Poly, has hit a detour at the wrong time. With one more season at USC, he would have had the chance to build momentum toward the NFL draft. Instead, he said he was told at the beginning of the second semester that he would be dismissed if he didn't get his grade-point average up.
Jones sat out spring practice to focus on his grades, and USC announced that he would be suspended for the opener against Nevada Las Vegas. At the end of the semester, he was informed he didn't earn the marks that he needed to become eligible for 2018.
"It was just a surprise," Jones said. "I'm like, I thought I had the grades. I thought I was solid."
Jones' departure from USC leaves the Trojans looking for answers in the secondary. For his part, on Tuesday, he expressed no frustration or remorse about his situation.
"I'm feeling good about the future," he said. "I feel like God's got a plan for everybody. I'm going to bounce back. It's a little bump in the road."
Get the latest on L.A.'s teams in the daily Sports Report newsletter.
You may occasionally receive promotional content from the Los Angeles Times.