Newsletter: California Inc.: Mayor to make case for investing in Los Angeles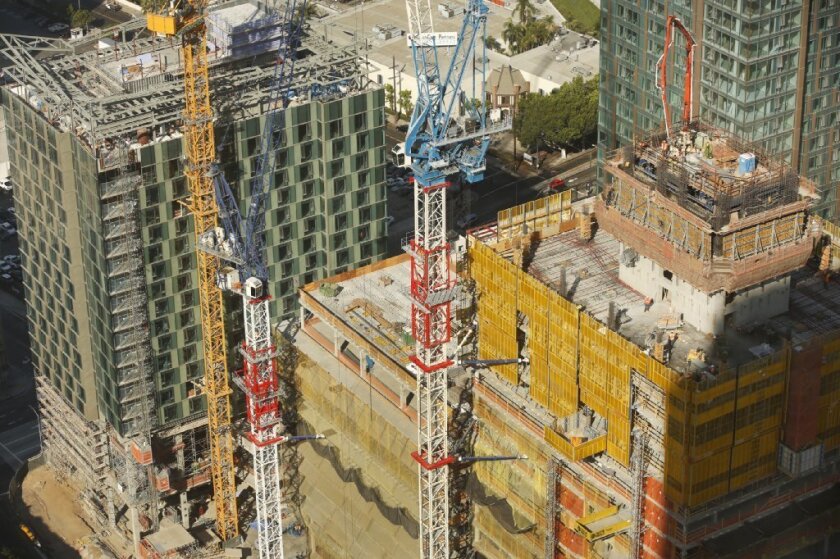 Welcome to California Inc., the weekly newsletter of the L.A. Times Business section.
I'm Business columnist David Lazarus, and here's a rundown of upcoming stories this week and the highlights of last week.
Bank stocks are poised for continued gains after the House voted along party lines last week to repeal many of the stricter regulations enacted after the 2008 financial crisis — the first step in a long-held Republican desire to roll back the landmark Dodd-Frank rules they complain are hurting banks, restricting consumer credit and slowing economic growth. Consumer advocates say GOP lawmakers are ignoring the needs of ordinary people.
LOOKING AHEAD
Money for homeless: The Los Angeles County Board of Supervisors is scheduled to vote Tuesday on how to spend about $1 billion aimed at helping the homeless. The money will come from Measure H, approved in March, which increased the sales tax. Measure H will provide an estimated $3.5 billion over 10 years for rent subsidies and services to the homeless. This week's vote will address the first three years of spending.
Interest rates: On Wednesday, Federal Reserve policymakers are expected to announce another small increase in its key interest rate. Fed Chairwoman Janet Yellen will hold a news conference after the announcement. At their May meeting, Fed officials indicated they were ready for another increase in the short-term federal funds rate if the economy showed signs of strengthening.
Film fest: The 2017 L.A. Film Festival, featuring 48 feature-length productions from 32 countries, kicks off Wednesday with the world premiere of Colin Trevorrow's "The Book of Henry." Also highly anticipated is the North American premiere of South Korean filmmaker Hong Sang-soo's "On the Beach at Night Alone." The festival runs through June 22 and will take place mostly at the ArcLight Culver City, with some events at other venues.
Spending plan: Thursday is the deadline for the Legislature to approve a 2017-18 state budget and send it to Gov. Jerry Brown. Both the Assembly and Senate are pushing for more spending in the coming year than the cautious Brown desires. The two sides also are debating how to spend proceeds from the state's newly increased tobacco tax. The budget deadline has not been missed since voters changed the rules almost seven years ago.
Investing in SoCal: L.A. Mayor Eric Garcetti will give the keynote speech Thursday at the Select LA Investment Summit at the downtown Sheraton Grand Hotel. The event, which ends Friday, will address Southern California investment opportunities. Conference sessions will be devoted to such fields as entertainment, computer technology, bioscience, aerospace, electric vehicle development and Los Angeles real estate.
THE AGENDA
Monday's Business section serves up a profile of Rep. Jeb Hensarling, the Texas Republican who chairs the House Financial Services Committee. The libertarian-leaning congressman is the leader of a drive by Republicans to roll back tougher federal oversight of the financial system. He also was among the rebellious conservatives who helped torpedo the first attempt to create the Troubled Asset Relief Program on Sept. 29, 2008, triggering a record stock market plunge.
STORY LINES
Here are some of the other stories that ran in the Times Business section in recent days that we're continuing to follow:
Nominated: President Trump nominated Joseph Otting, the former chief executive of Pasadena's OneWest Bank and an ally of Treasury Secretary Steven Mnuchin, to be comptroller of the currency, a powerful regulator who oversees federally chartered banks. The move drew fire from consumer advocates and Democrats, who pointed out that Otting would be in a position of regulating banks even though one he headed has run into trouble with regulators.
Up in the air: Saying the current U.S. air traffic control system is broken, President Trump called for a plan to put the system into the hands of a private, nonprofit company that could modernize and improve air travel. Under the concept outlined by supporters, the Federal Aviation Administration would turn control of the system over to a panel that would include representatives from airlines, pilot and flight attendants unions, and local leaders.
Movie house: Alamo Drafthouse Cinema, a quirky beer-selling theater chain, has formally agreed to open an outpost in downtown Los Angeles — news that produced a sigh of relief for a local real estate developer laboring to overhaul an aging mall. It's been almost three years since the Texas-based cinema group said it was coming to help anchor the transformation of the Bloc from a bunker-like indoor mall into an open outdoor center.
Market Center: L.A.'s biggest marketplace for apparel industry insiders will soon open its doors to tenants outside of the rag trade. Office landlord Brookfield, the king of high-rises in downtown Los Angeles' financial core, has taken over the hulking California Market Center in the fashion district. The $440-million deal further expands downtown L.A.'s office market from the gleaming skyscrapers of Bunker Hill and Figueroa Street to newly emerging neighborhoods.
Labor law: Backing away from an Obama-era, worker-friendly approach, the U.S. Labor Department said it has retracted a standard for determining whether companies are responsible as "joint employers" for the working conditions of people employed by franchisees, temp agencies and other contractors. It also rescinded guidance intended to halt the practice by companies of classifying worker as independent contractors instead of employees who would be due benefits, higher wages and other protections.
WHAT WE'RE READING
And some recent stories from other publications that caught our eye:
Plastic bricks: Ten years ago, Lego was in trouble. The Danish maker of toy bricks was burning through cash trying to expand into areas where it had little experience, like clothes, jewelry and theme parks, says the Guardian. Then came CEO Vig Knudstorp who dumped poor-selling products, slashed inventory and encouraged interaction with Lego fans. The result: "The greatest turnaround in corporate history."
Lot of friends: The secret to the success of Brazilian construction giant Odebrecht SA was bribery, and lots of it, reports Bloomberg. The company won contracts to build dams, power plants, airports and refineries across Latin America by making sure government officials were on their side. "Odebrecht had funded plots to elect a half-dozen presidents in Latin America; buy the friendship of heads of state in Angola, Peru and Venezuela; and pay off hundreds of legislators from Panama to Argentina."
College costs: For college students, not graduating on time can be costly, reports the Wall Street Journal. "An additional year of school in a public four-year college will cost $22,826, on average, according to the nonprofit Complete College America. Then there's lost income to consider. Students who stay in school an additional year miss out on about $45,327 in salary, on average. Add it up and that extra year of college can cost around $68,000.
Oops: Elon Musk admitted to investors that he made mistakes in designing some Tesla models, reports Fortune. Musk, chief executive of Tesla, said at the company's annual shareholder meeting that the Tesla Model X SUV was too complex. "We got overconfident and created something great that probably will never be made again, and perhaps should not be." Musk also said the company erred in designing the Model X in the image of the Model S sedan, rather than starting from scratch.
Shark watch: Operators of some Southern California hotels and surf schools are blaming a drop in business on the "shark effect," says the Orange County Register. Great white shark sightings along the coast are making people think twice about going into the water. But other businesses are seizing on the opportunity. "Shark tours" have replaced whale-watching excursions and the boats are selling out.
SPARE CHANGE
Needless to say, sharks make for good movie monsters. Oftentimes, the action can be on the silly side (see: "Sharknado" series), but there are a number of solid examples in the canon. "Deep Blue Sea" was pretty great, and "Open Water" was the stuff of nightmares. Oh, and then there was this modest offering from Steven Spielberg.
For the latest money news, go to www.latimes.com/business. Mad props to Scott J. Wilson for helping put this thing together.
Until next time, I'll see you in the Business section.
---
Your guide to our new economic reality.
Get our free business newsletter for insights and tips for getting by.
You may occasionally receive promotional content from the Los Angeles Times.