Former CEO of OneWest Bank is Trump's pick for key financial regulatory post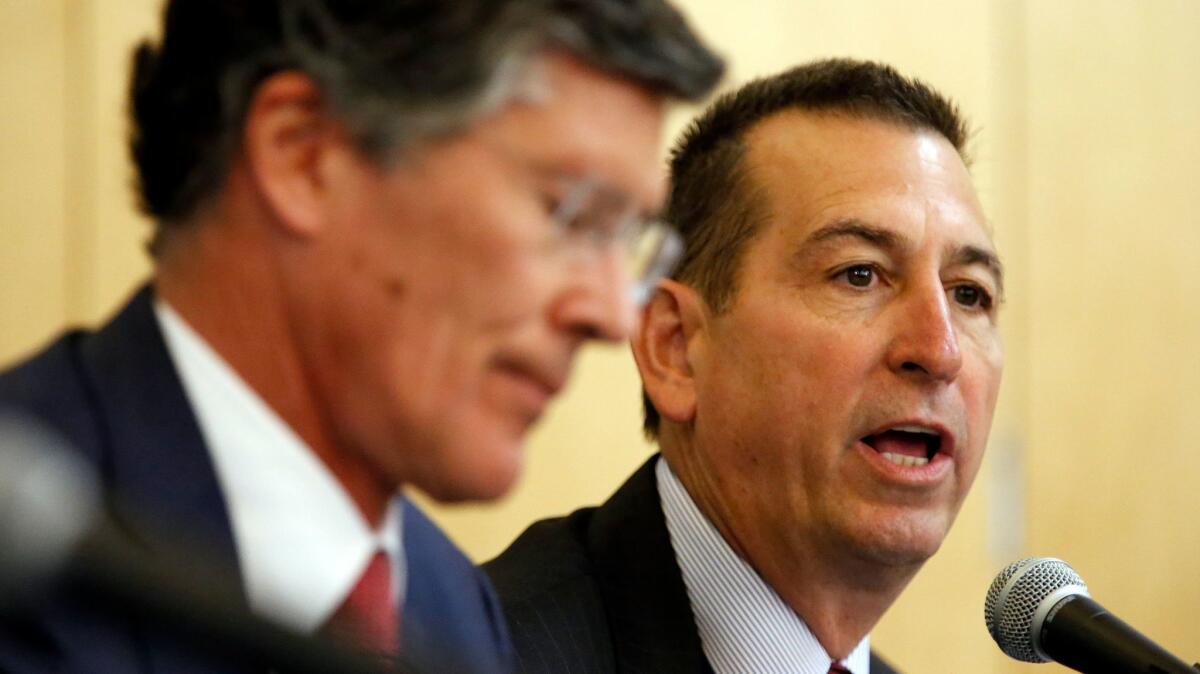 Reporting from Washington —
President Trump on Tuesday nominated Joseph Otting, the former chief executive of Pasadena's OneWest Bank and an ally of Treasury Secretary Steven Mnuchin, to a key financial regulatory position.
The move drew fire from consumer advocates and Democrats, who pointed out that Otting would be in a position of overseeing banks even though one he headed up has run into trouble with regulators.
Otting is being tapped to be the comptroller of the currency, a powerful regulator who oversees federally chartered banks, the White House announced Monday night. Those include the banking arms of some of the largest financial institutions in the country, including JP Morgan Chase & Co. and Wells Fargo & Co.
His role with OneWest, which has been criticized for its foreclosure practices, made Otting's nomination concerning, said Sen. Sherrod Brown (D-Ohio).
"If Mr. Otting didn't deal fairly with the customers at his own bank, it's difficult to see why he's the best choice to look out for the interests of customers at more than 1,400 banks and thrifts across the country," he said.
Brown is the top Democrat on the Senate Banking Committee, which must confirm the nomination.
The Office of the Comptroller of the Currency, which is an independent bureau of the Treasury Department, was a pivotal player in the $185-million settlement last year with Wells Fargo involving its creation of unauthorized accounts.
Otting would replace Keith Noreika, a banking industry lawyer whom Trump appointed last month as acting comptroller of the currency to replace Thomas Curry after his five-year term expired.
Otting's nomination is likely to revive Democratic criticisms of Mnuchin regarding the practices of OneWest Bank. They were a key factor in Mnuchin's narrow 53-47 confirmation in February, the slimmest margin ever for a Treasury secretary.
In 2009, Mnuchin led a group of investors who put up about $1.6 billion to buy the failed IndyMac bank, a leading subprime mortgage lender, and renamed it OneWest. Otting was hired as OneWest's chief executive the following year.
Mnuchin served as the bank's chairman from 2009 to 2015. Democrats accused the bank of being "a foreclosure machine" that helped Mnuchin profit from the 2008 financial crisis, which left many homeowners unable to make their mortgage payments.
The bank was sold to CIT Group in 2015 for $3.4 billion.
Mnuchin denied the allegations, saying the bank was trying to deal with IndyMac's poor mortgage portfolio. Nevertheless, the Office of Thrift Supervision, a savings-and-loan regulator that merged into the Office of the Comptroller of the Currency, chided the bank for its practices during Mnuchin's ownership and Otting's leadership.
In 2011, the agency said in a regulatory order that OneWest had engaged in robo-signing — the practice of having workers sign mortgage- and foreclosure-related documents without reviewing them or verifying they were accurate.
"The president's choice for watchdog of America's largest banks is someone who signed a consent order — over shady foreclosure practices — with the very agency he's been selected to run," Brown noted.
Last month, the Justice Department announced that Financial Freedom, a OneWest subsidiary, agreed to pay $89 million to settle allegations it defrauded the Federal Housing Administration regarding reverse mortgage insurance payments from March 31, 2011 to Aug. 31, 2016.
Like acting Comptroller Noreika, the previous five comptrollers have all been lawyers, and most have a record of public service.
Thomas Curry, whom Noreika replaced, was a state bank overseer in Massachusetts and a director of the Federal Deposit Insurance Corp. before being appointed as comptroller in 2011.
Curry's predecessors, John Dugan and John Hawke Jr., were both attorneys who had worked in private practice as well as for the Treasury Department and for congressional committees, according to the OCC, which maintains a list of all former comptrollers.
Otting, by contrast, has no record of government service and has spent his career in commercial banking. If approved, he would be the first former top bank executive to lead the bank regulatory agency in nearly a century.
That troubles some critics, who say putting Otting atop the regulatory agency would amount to allowing banks to regulate themselves.
"Are bank regulators there to work for the banks, or are they there to ensure banks are safe and sound and not risking the economy?" said Paulina Gonzalez, executive director of the California Reinvestment Coalition and a vocal critic of OneWest. "Putting Joseph Otting in this position is risking the livelihood of everyday Americans."
Bartlett Naylor, financial policy advocate at Public Citizen, a public interest group, said Trump showed he doesn't care about victims of the financial crisis. And Naylor said Otting's relationship with Mnuchin raised ethical questions.
"Will Otting be independent of political interests from the president's Treasury secretary? Or will he reprise his role as Mnuchin's employee?" Naylor said.
Otting butted heads with advocacy groups after CIT announced its plans to buy OneWest. The California Reinvestment Coalition and other groups said the two banks had not made enough commitments to serve low-income and minority communities and urged the OCC and the Federal Reserve to hold a hearing about the deal.
In a rare move, one that analysts at the time called both risky and undiplomatic, Otting started an email campaign through OneWest's website, asking bank customers and others to send form letters to regulators saying that the deal should be approved without a hearing.
Otting would fit in with the Trump administration's preference for appointees that come from the business world rather than from Washington. Mnuchin, too, lacks the inside-the-Beltway experience shared by most of his predecessors. Treasury secretaries appointed by Presidents Obama and George W. Bush all worked for the federal government at some point in their careers.
But while Mnuchin is a creature of Wall Street — he is the son of a former Goldman Sachs partner and spent 17 years at that firm — Otting is a classic main-street banker. He spent the bulk of his career in the business lending divisions of Union Bank and US Bancorp.
Lloyd Greif, a longtime L.A. investment banker, said that he's known Otting since his days at Union Bank and that Otting's experience makes him a shoo-in for comptroller.
"He's been at community banks, he's been at money center banks — he has the experience that really spans the gamut," Greif said. "Steve [Mnuchin] is a Wall Streeter, but Joseph is a dyed-in-the-wool commercial banker."
CIT Group fired Otting in late 2015 as it reshuffled executives following the OneWest acquisition. Otting walked away with more than $12 million in severance.
Since then, he has been spending much of his time in Las Vegas, where he is one of the co-owners of the private Southern Highlands Golf Club.
Otting, who goes by Joseph, not "Joe," earned his undergraduate degree from the University of Northern Iowa, where he worked in a campus pool hall.
Twitter: @JimPuzzanghera
ALSO
The downside to the 16-year-low unemployment rate and other takeaways from the jobs report
U.S. household debt tops 2008 peak, but this time Americans' finances are better
Banks want higher debit-card 'swipe fees,' but an effort to allow them has crumbled
---
UPDATES:
3:30 p.m.: This article has been updated noting that Trump formally nominated Otting, other Democrats raised concerns about his nomination and that a OneWest subsidiary recently paid $89 million to settle an investigation by federal regulators.
1 p.m.: This article has been updated with background and analysis of Joseph Otting and OneWest Bank.
This article was originally published at 6:20 a.m.