Labor Department walks back Obama-era guidance on 'joint employers' and gig workers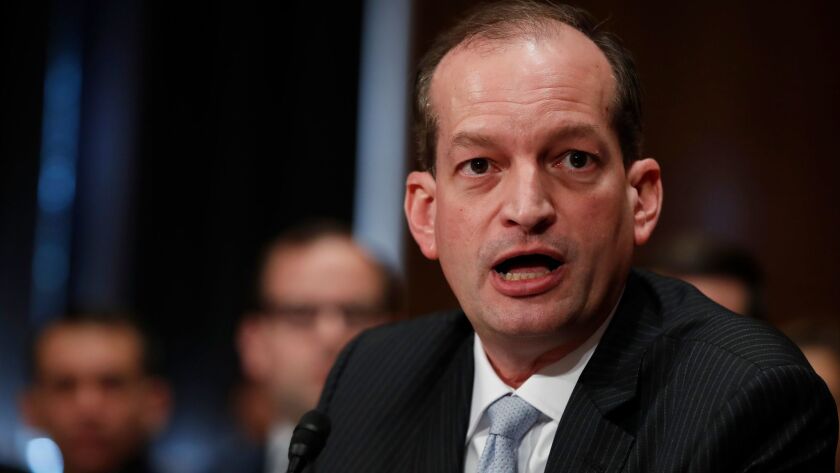 In a departure from the Obama administration's worker-friendly approach to labor violations, the U.S. Labor Department on Wednesday said it has retracted a standard for determining whether companies are responsible as "joint employers" for working conditions of people employed by franchisees, temp agencies and other contractors.
It also rescinded guidance stating that companies often deprive workers of protections by classifying them as independent contractors when they are actually employees.
The move was met with cheers from business groups.
The U.S. Chamber of Commerce said in a statement that the old guidelines were "enforcement traps waiting to spring." The National Retail Federation called it "an important first step" and said the Obama interpretation "created uncertainty that led to more growth-chilling litigation."
But labor experts said employers may do well to temper their excitement.
The National Labor Relations Board has already issued a worker-friendly ruling on the definition of joint employment, they pointed out, though that decision is being challenged in an ongoing court case. President Trump could tip the scales in employers' favor when he fills the board's two open slots.
Discarding the standards alone may not have an immediate impact on employers or employees, because they did not have the force of law — courts are not required to defer to the interpretations in their rulings, said Seth Harris, former deputy secretary of the Labor Department.
"Rescinding it has no effect on the law of joint employment," Harris said. "If anything, it makes it harder for employers, because they don't know clearly what standards they should apply."
President Obama's Labor Department in 2016 issued guidelines that interpreted broadly the meaning of "joint employment," where two or more employers share responsibility for ensuring that workers are paid the minimum wage and overtime.
That followed a 2015 guidance released by the Labor Department noting that often workers who are treated as independent contractors actually are employees who are entitled to an array of wage and hour protections.
One possibility, lawyers said, is that the Labor Department under new Secretary Alexander Acosta is signaling that it will be less likely to crack down on employers who misclassify their workers or hire them from abusive staffing providers.
The Obama administration's Labor Department aggressively investigated those violations and recouped millions of dollars in back wages for underpaid workers.
But the blurred lines in the gig and temp economies also have earned scrutiny from state regulators, who are unlikely to back off, lawyers said.
"What this might change is how much the Department of Labor is going to be out sniffing for these issues ... but there are so many other entities capable of enforcement that it's kind of a trap," said Aaron Goldstein, a labor and employment partner at the law firm Dorsey & Whitney.
State and federal tax authorities can audit companies that it suspects may be avoiding paying unemployment insurance and other payroll taxes for employees who are improperly treated as contractors, Goldstein noted.
And the calculus has not changed for plaintiffs' lawyers, who have brought class-action lawsuits for misclassification against Uber, Lyft and FedEx, among other major corporations, in recent years.
Some states may respond to the Labor Department's softening by ramping up their own investigations into claims of wage theft by companies that misclassify workers.
"This type of activity will create a lot of pressure on blue states like California and Washington through their own enforcement agencies to fill the void," Goldstein said.
And crucial legal battles for franchisees and their parent companies are still being fought. In 2015, the National Labor Relations Board said that a company is a "joint employer" of workers even if it only indirectly controls workers or has the authority to do so, reversing three decades of precedent.
The board ruled that, based on that new interpretation, Browning-Ferris Industries of California Inc. was a joint employer of workers it had hired to work in a recycling plant through a staffing agency.
That decision, unlike the guidance issued by the Labor Department, carries legal weight because courts are required to defer to it "if the board has issued a reasonable interpretation of law," Harris said.
Browning-Ferris appealed the ruling and the case is being hashed out in the District of Columbia Circuit Court of Appeals.
In a separate case in New York, an administrative judge has been conducting hearings to determine whether McDonald's is a joint employer of workers at franchisees across the country. The NLRB's general counsel, Richard F. Griffin, contends that McDonald's is a joint employer along with local franchisee owners, but the board has not yet made a decision on the issue.
Worker advocates said they were unhappy with the direction the new Labor Department appears to be taking on the issue.
Christine Owens, executive director of the National Employment Law Project, slammed the decision as a sign of "the Trump administration's willingness to take symbolic steps to attack workers."
Teamsters General President Jim Hoffa said the move "will only lead to employers manipulating the system to shortchange their workers." Hoffa added that it "raises concerns about the future of the worker rights and protections we have fought so hard to achieve."
Follow me @NatalieKitro on Twitter
---
Must-read stories from the L.A. Times
Get the day's top news with our Today's Headlines newsletter, sent every weekday morning.
You may occasionally receive promotional content from the Los Angeles Times.