After Fox News' public battle with Trump, network stays true to Megyn Kelly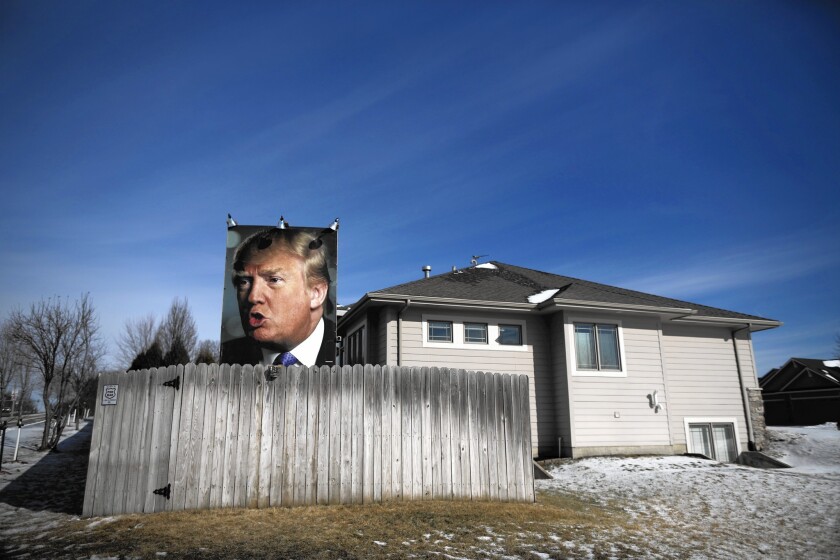 Fox News Channel has long been considered an influential kingmaker in Republican politics. But what happens when it gets into a fight with a possible heir to the party's throne?
The cable news network is about to find out in its public battle with Donald Trump, the front-runner in the race for the 2016 Republican presidential nomination, who has never gotten over his confrontation with FNC anchor Megyn Kelly at the first primary debate on Aug. 6.
Trump — angry over Kelly's question about the real estate mogul and reality TV star's derisive comments about women over the years — attacked the anchor in interviews and on social media. His campaign turned up the heat with anti-Kelly rhetoric in recent days, publicly and privately pressuring Fox News to remove her from the panel of moderators for tonight's GOP primary debate in Des Moines just four days before the Iowa caucuses.
See more of Entertainment's top stories on Facebook >>
When faced with the choice between Trump, the candidate who has become a ratings magnet in the campaign season, and Kelly, its home-grown rising star, Fox News chairman and CEO Roger Ailes never budged in his support for Kelly.
Ailes even personally authored the mocking statement ("We learned from a secret back channel that the Ayatollah and Putin both intend to treat Donald Trump unfairly when they meet with him if he becomes president...") which prompted Trump to announce he will skip the debate.
The statement was seen as unorthodox for a news executive and raised questions about the network's impartiality in its Trump coverage going forward.
Joe Peyronnin, a former CBS News executive and journalism professor at Hofstra University, said the statement "may have crossed the fair and balanced line." But one executive close to Ailes said he had enough of threats by Trump's campaign. Ailes believed it would make Kelly uncomfortable if the two clashed again and believed a humorous approach would take the heat off of her, the executive said.
"Roger will sacrifice the potential ratings for one night to protect the journalistic integrity of the network and its top journalist," said the executive, who was not authorized to speak publicly on the matter.
For weeks, President Obama kept quiet as the Donald helped fuel "birther" conspiracy theories.

"He doesn't have a birth certificate," Trump told "Good Morning America" in spring 2011. "He may have one, but there is something on that birth certificate -- maybe religion, maybe it says he's a Muslim, I don't know. Maybe he doesn't want that. Or, he may not have one." Trump also told a tea party rally that Obama "almost certainly will go down as the worst president in the history of the United States."

But Obama seemed to get the last laugh when, right after releasing his long-form birth certificate, he lampooned Trump at the White House correspondents' dinner. "Now he can get to focusing on the issues that matter," the president said. "Like, did we fake the moon landing? What really happened at Roswell? And where are Biggie and Tupac?" Zing!
But that didn't quiet Trump. The Donald fired back during Obama's 2012 presidential campaign with a "big announcement" goading Obama to release his college transcripts the October before the election so that he would donate $5 million to charity. Turns out the offer was one the president could easily refuse.
(Getty Images)
David Letterman
fired the first shot in this battle when he took Trump to task via "Late Show" guest
Dr. Phil McGraw
about his questioning
President Barack Obama's
entry into Harvard. Letterman told McGraw in late April, "It's all fun, it's all a circus, it's all a rodeo, until it starts to smack of racism. And then it's no longer fun." Trump promptly canceled his May 18 appearance on "The Late Show" and reportedly wrote Letterman a personal note that said he was "disappointed to hear the statements you made about me last night on your show that I was a 'racist.' ... In actuality, nothing could be further from the truth and there is nobody who is less of a racist than
Donald Trump
."
(Getty Images)
"Hello,
Donald
."
OK, so it doesn't quite have the same ring to it as "Hello,
Newman
," the greeting the fictional
Jerry Seinfeld
gave to his arch-nemesis, played by
Wayne Knight
, on the comedian's popular sitcom. But Seinfeld's verbal bout with Trump was unscripted -- and seemingly largely one-sided -- so imperfect phrasing can be forgiven.
Yet should one cross Trump, don't expect a shrug and a handshake. Instead, Seinfeld received a rant after the comedian backed out of a charity benefit hosted by one of Trump's sons, supposedly because of the birther issue. Seinfeld's camp has been relatively quiet, but Trump was quoted as taking a swing at Seinfeld's TV credits.
No, not the beloved "Seinfeld," but instead the unscripted show
"The Marriage Ref."
Said Trump, "What I do feel badly about is that I agreed to do, and did, your failed show, 'The Marriage Ref,' even though I thought it was absolutely terrible."
(Getty Images / Los Angeles Times)
In a peculiar case of "my building is bigger than yours" syndrome, the Donald went after star architect Frank Gehry's Beekman Tower after it was announced that the 76-story residential tower's size would trump Trump's World Tower by one foot, making it the largest residential building in New York.
They exchanged
barbed words
in November 2010 over the project with Trump saying, "I like the developer, but it's always very tough to make something successful at the high-end level with a public school in the building." Gehry said that Trump was just holding a grudge ever since he turned down working on one of his projects, adding, "I don't like his hairdo anyway."
Touché, Frank. Touché.
(Getty Images)
It all started innocently enough when the Donald decided not to fire the troubled Tara Connor, whom he had crowned
Miss USA
. O'Donnell called him a
"snake oil salesman."
Trump called her "a woman out of control." They've both worked their differences for maximum exposure ever since.
(Getty Images)
Robert De Niro has long been notorious as a difficult interview. Often his answers to questions are monosyllabic. Not so when he got on the topic of Donald Trump's birtherism during an onstage interview with NBC News anchor Brian Williams during the Tribeca Film Festival in April. De Niro made no secret he was referring to Trump when he said, "I won't mention names, but there are certain people on the news in the last couple of weeks -- what they're doing is crazy.... It's like a big hustle. It's like being a car salesman. Don't go out there and say things unless you can back them up. How dare you? It's awful. Just go out there and speak and say these terrible things? ... It's crazy." Never one to let a slight go, Trump called in to "Fox & Friends" and fired back: "Well he''s not the brightest bulb on the planet.... I've been watching him over the years and I like his acting, but you know in terms of when I watch him doing interviews and various other things, we''re not dealing with Albert Einstein."
(Getty Images)
When
Rihanna
canceled a Trump charity gig in early 2011, she apparently failed to provide the upper-classman a doctor's note. Or if she did, Trump didn't believe it.
The pop star supposedly backed out of a Trump event due to a lingering battle with bronchitis. Yet the next day Rihanna performed in Los Angeles at the NBA All-Star Game. Trump wasn't too hard on Rihanna, but he was quoted in the Palm Beach Post: "I thought [the cancellation] was insulting to everyone. But for Rihanna to go to the All-Star Game and perform after she told us she was sick, that is just a lack of respect."
(Getty Images)
Trump started it at the Conservative Political Action Conference, boasting that he was "well acquainted with winning" and saying that Ron Paul has "zero chance of getting elected" president. Paul shot back that Trump's "birther" battle showed the Donald was "desperate."
(Getty Images / Associated Press)
It may have started when Bill Cosby, while on the "Today" show, said that Donald Trump was "full of it." Why would Cosby say such a thing? It was in response to Trump's continued assertions that he had evidence of some kind against President Barack Obama's U.S. citizenship. In response, Trump wrote a long letter seeming almost hurt that Cosby, who had been friendly with him, would "denigrate" him to such a degree.
(Getty Images / PBS)
The Donald doesn't take failure well, and when, in 2006, "The Apprentice" showed signs of ratings weakness, he went after
Martha Stewart
. Her show, "The Apprentice: Martha Stewart," was not highly rated, and Trump believed the spinoff dragged down his own show. He blamed her; she was upset and blamed him; then he wrote a scathing letter telling Stewart to take full responsibility for the failed show, talking about her ImClone fiasco, her daughter's "one-word statements" and more. Later, in 2008, though the event seemed to have simmered down, Stewart said Trump's actions were "unforgivable."
(Getty Images / Los Angeles Times)
In 2007, Trump put his reputation -- and his hair -- on the line to start a fued with
WWE
Chairman
Vince McMahon
. In a dramatized dust-up reported on by major media outlets, their storied "hair versus hair" match during
Wrestlemania
23 had both men pick a pro-wrestling representative to fight for them in the ring. The loser had to shave his head. Obviously, we know who came out on top in that challenge. In addition to keeping his golden quaff, Trump made an appearance in the WWE match titled "Battle of the Billionaires" that garnered solid gold ratings.
(Getty Images / Associated Press)
In the Donald's defense, Cher fired first. The openly Democratic "Turn Back Time" singer took to Twitter in November 2012 (on the heels of Trump hounding President Obama during his 2012 campaign) to bash clothing retailer Macy's for carrying Trump's line in its stores and take jabs at his famous 'do.
"I'll NEVER GO TO MACY'S AGAIN!" Cher tweeted. "I didn't know they sold Donald Trump's Line! If they don't care that they sell products from a LOUDMOUTH."
But Trump didn't take the tirade sitting down, firing back about the singer's surgical procedures.
"Cher-- I don't wear a 'rug'--it's mine. And I promise not to talk about your massive plastic surgeries that didn't work."
(Getty Images / Los Angeles Times)
Industry experts say if FNC wants to continue to be considered a real news organization, sticking by Kelly was only proper response.
"Fox has to prove that they can't be pushed around and they have to prove that their primary mission is not to drive ratings for debates, but drive information and exposure for the candidates," said Jonathan Klein, who competed against Ailes when he served as president of CNN from 2004 to 2010. "That's what's at stakes for all news networks. That's what seemed to inform their decision."
Along with being a solid statement of journalistic independence, the defense of Kelly is also good business.
Kelly has only seen the audience for her prime time program "The Kelly File," grow since Trump started attacking her. She is featured on the cover of the current issue of Vanity Fair with a glamorous cover shoot. She signed with the talent agency CAA after her debate performance, which drew positive notices from both sides of the political spectrum.
If Fox News wants to keep Kelly when her contract with the network expires, said to be up in 2017, it had to show unwavering support. Kelly would be in heavy demand by other networks if she became available.
While right-wing Republicans and Trump supporters are said to be upset with Kelly and FNC's treatment of the candidate, any losses are being more than balanced out by the moderate viewers she is bringing in, Fox insiders say.
Still, taking on Trump carries risks for Fox, whose brand is very popular with Republican voters.
Fox News Channel is a massively successful unit of 21st Century Fox with more than $2 billion in annual revenue. It was built by attracting politically conservative-leaning viewers who believed their side was not being adequately represented in established media outlets.
But it has shown a willingness in the past to cut ties with candidates outside the Republican mainstream.
Fox News has given platforms to tea party favorite Sarah Palin — a network contributor after being on the failed 2008 Republican presidential ticket — and libertarian firebrand Glenn Beck. Even with a large audience , Beck's show was canceled over some of his outlandish statements which scared away advertisers. Palin's lucrative deal was dropped when her relevance faded.
The dust-up with Trump is different as it occurs while he is leading in the national polls and gone from novelty candidate to a real contender for the Republican nomination. There will still be heavy news viewers interest in his campaign over the coming months and Fox News has to cover it while being a part of the story.
That doesn't appear to be an issue as Trump is going to appear on other FNC programs. He was a guest on Bill O'Reilly's "The O'Reilly Factor" on Wednesday night — his 133rd appearance on Fox News Channel and Fox Business Network. The candidate is also a pal with Sean Hannity, the most conservative commentator on Fox News Channel's line-up who wears Trump's ties on the air.
There is a long history of candidates picking fights with journalists. In 1988, Vice President George Bush deflected a question from CBS News' Dan Rather by bringing up the time the anchor walked out of his broadcast because it was delayed by tennis coverage. Bush's advisor that day was Roger Ailes.
Twitter: @SteveBattaglio

ALSO
Three more arrests at Oregon refuge as some holdouts leave voluntarily
Alleged gang members arrested in O.C. jailbreak probe, but 3 escapees still at large
Good time turned ugly after teasing for Blake Griffin and Clippers assistant
---
From the Emmys to the Oscars.
Get our revamped Envelope newsletter for exclusive awards season coverage, behind-the-scenes insights and columnist Glenn Whipp's commentary.
You may occasionally receive promotional content from the Los Angeles Times.