Alleged gang members arrested in O.C. jailbreak probe, but 3 escapees still at large
Several alleged gang members were arrested Wednesday as part of the investigation into the jailbreak at Orange County's largest lockup as Sheriff Sandra Hutchens said she believed that the three men who escaped had help from the outside.
Five people were taken into custody, and additional arrests will take place overnight and Thursday, she said as the sprawling manhunt for the fugitives entered its sixth day. Hutchens did not identify those arrested or say why they were taken into custody, but said some had a connection to a street gang.
"They have some kind of connection to the individuals who escaped," she said. "Some of them knew these individuals. Some of them were on probation or have warrants."
She did not say whether authorities believed those arrested directly helped with the escape plot.
Hutchens would not identify the gang that deputies are investigating.
Wednesday's announcement came after Hutchens' agency drew criticism over the escape of the three inmates, who cut their way into a series of plumbing tunnels, climbed through an air duct to the jail's roof and then descended five stories to freedom Jan. 22.
"It is every sheriff's nightmare," she said. "You never want to have an escape from any jail. They do happen. You certainly don't want maximum security prisoners who are a danger to the public to get out of your jail. So it is not a good day."
Hutchens said changes have been made to jail head count policies that some believe enabled the men to gain a 16-hour head start on their pursuers. Jonathan Tieu, Bac Duong and Hossein Nayeri escaped from the jail sometime after 5 a.m. Friday, following the first of two physical inmate counts that are conducted each day. Their escape went undetected until late Friday night, when deputies realized they were missing during a second head count.
Other "paper checks" that involve reviewing records to account for inmate movements to educational classes, medical facilities or court were conducted from 5 a.m. to 9 p.m. that day, but failed to discover the escape. Hutchens said Wednesday that deputies will now be required to conduct more thorough checks by confirming that inmates actually moved to other locations during the day.
"In terms of the count, that was a breakdown, and we are looking at who helped these individuals because they did have help," she said.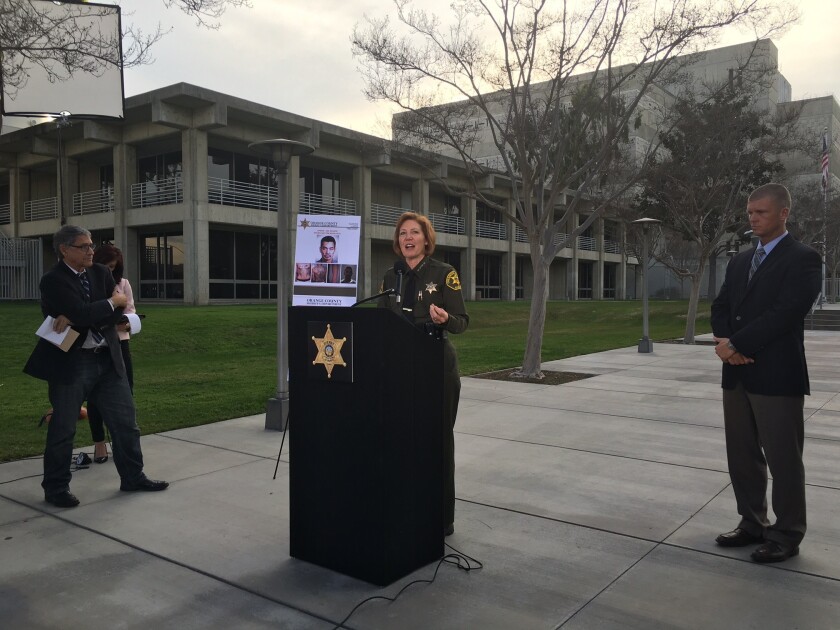 Investigators have yet to recover the tools the men used to cut through four layers of steel, metal and rebar.
Police have not provided an update about the fugitives' possible whereabouts since Monday, but have turned their attention to the Little Saigon neighborhood of Westminster and Garden Grove. Aside from his local gang connection, Tieu lived in the neighborhood, and Duong is a Vietnamese national who entered the U.S. legally in 1991.
The sheriff said she was interviewed on local Vietnamese radio and television stations Wednesday, and police previously made pleas for the public's help in locating the suspects in English and Vietnamese during a news briefing earlier this week.
Hutchens said Wednesday that she believes Nayeri, a 37-year-old awaiting trial in a brutal torture plot, was the mastermind behind the escape.
"Based on his past, he is a little more sophisticated" than the other two fugitives, she said, adding that Nayeri has a military background.

Nayeri once served as a U.S. Marine and also volunteered with the American Red Cross in New Orleans after Hurricane Katrina, according to court records filed in connection with Nayeri's arrest for vehicular homicide in Madera County in 2005. Nayeri was drunk when he was involved in a car crash that claimed the life of his passenger, Ehsan Toussi, according to David Linn, a spokesman for the Madera County district attorney's office.
Nayeri was sentenced to 180 days in prison and probation under a plea agreement in 2006, Linn said. He was arrested after posting bond and fleeing the state, according to an attorney for the Toussi family.
In his most recent case, Nayeri was awaiting trial on charges accusing him of taking part in a violent 2012 plot to extort $1 million from a marijuana dispensary owner in Newport Beach. Prosecutors alleged that Nayeri and several others kidnapped the man, took him to the Mojave Desert and tortured him, burning him and severing his penis in an attempt to make him surrender the cash.
See more of our top stories on Facebook >>
Tieu, 20, had been charged in a 2011 gangland killing, and was awaiting retrial. Duong, 43, was charged with attempted murder in November 2015.
Follow @lacrimes and @JamesQueallyLAT on Twitter for crime and police news in Southern California.
ALSO
Three more arrests at Oregon refuge as some holdouts leave voluntarily
Good time turned ugly after teasing for Blake Griffin and Clippers assistant
Police in errant Dorner shooting won't be charged; memo details how things went wrong
---
The stories shaping California
Get up to speed with our Essential California newsletter, sent six days a week.
You may occasionally receive promotional content from the Los Angeles Times.