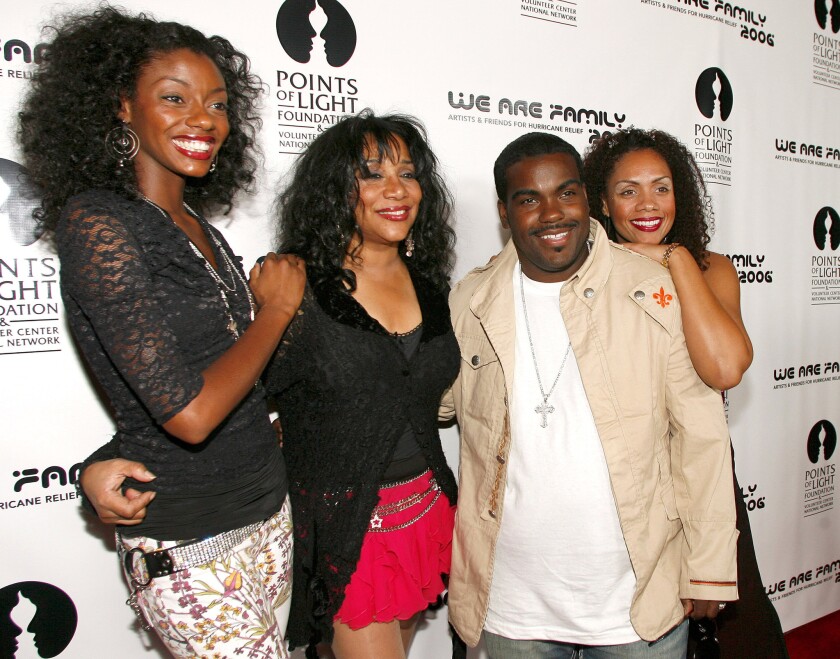 Joni Sledge, who belonged to the four-sister disco-era group Sister Sledge, best known for its No. 1 hit "We Are Family," died Friday at her home in Phoenix, a spokeswoman for the group announced. She was 60.
No cause of death has been announced.
"Yesterday, numbness fell upon our family," said the Sledges in a statement Saturday. "Pray for us as we weep for the loss of our sister, mother, aunt, niece and cousin Joni Sledge. We thank you for privacy as we hurt for her presence, but also for embracing her radiance and the sincerity with which she loved life."
See the most-read stories in Entertainment this hour »
Joni Sledge was born Sept. 13, 1956, to tap dancer Edwin Sledge and actress Florez Sledge. She was the second eldest of the four sisters who formed their group in Philadelphia in 1971, working first as backup singers and then stars in their own right after they connected with Nile Rodgers and Bernard Edwards, the leaders of the disco group Chic.
Rodgers and Edwards wrote and produced the sisters' 1979 album, "We Are Family", which included the title song and another No. 1 smash, "He's The Greatest Dancer." Joni Sledge sang lead on "Lost In Music," another hit on the album.
Edwards and Rodgers in 1980 also wrote and produced the group's second album, 1980's "Love Somebody Today," which contained another Top 10 hit, "Got To Love Somebody." The group's last Top 10 entry was "All American Girls" in 1981.
"We Are Family" has continued to be an R&B staple decades after its departure from the charts. Armed with an insistent rhythm and catchy chorus ("We are family/I've got all my sisters with me"), the song became an anthem of family togetherness, as well as a rallying cry for the Pittsburgh Pirates in 1979 during the team's season -capping World Series triumph that year.
That song, however, became an ironic footnote to the quartet's career after youngest sister Kathy Sledge, who sang lead on "We Are Family," "He's The Greatest Dancer" and "Got to Love Somebody," quit in 1989 to launch a solo career. Her siblings sued her in 2014, claiming she was not authorized to use the group's name, a suit that was settled within a few months.
Kathy Sledge never professionally reunited with her sisters. Upon release of her debut solo album "Heart" in 1992, the youngest Sledge sister logged just two pop hits, the most successful of which, "Take Me Back to Love Again," peaked at No. 24.
Though the remaining members of Sister Sledge continued to tour and perform occasionally with Rodgers, they were never able to replicate the massive success of "We Are Family." The group notched a total of 19 singles on Billboard's Hot 100.
The group recorded a latter-day album, "African Eyes," in 1997 that was well received by some fans, but failed to crack the Billboard 200 Albums ranking.
Joni Sledge is survived by a son, Thaddeus, and her sisters Debbie, Kim and Kathy Sledge. No funeral services have been announced.
Follow @RandyLewis2 on Twitter.com
For Classic Rock coverage, join us on Facebook
---