Neil Young walks with dinosaurs at public preview for new album 'Earth'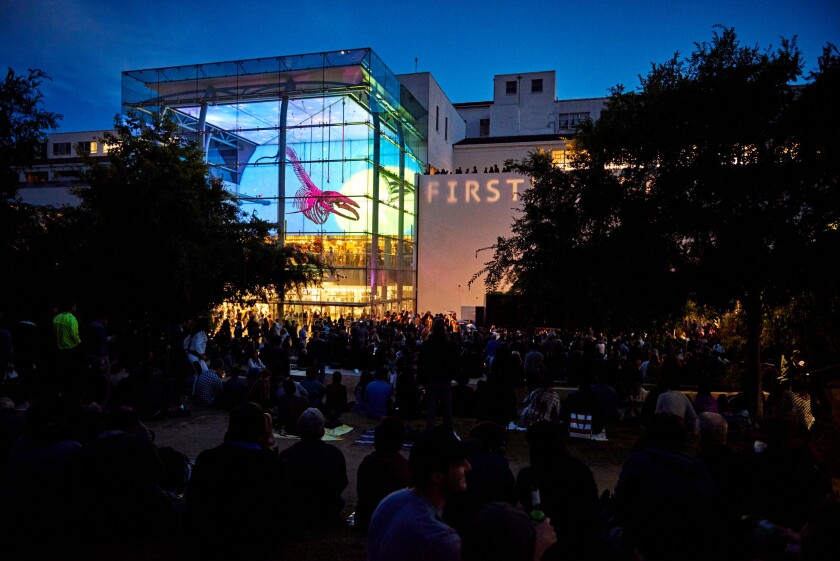 Already on the receiving end of quips about whether he and his rock 'n' roll peers should keep on rockin' in the free world into their 70s, Neil Young seemed to invite even more wisecracks with a public preview of his new album Friday in a repository for the bones of 150-million-year-old dinosaurs: L.A. County's Natural History Museum.
As things turned out, however, the mercurial singer, songwriter and guitarist was in greater danger of waking the dead than joining them anytime soon, what with the volume of the sound system's massive banks of speakers cranked to 11 for the 98 minutes it took for the new album, "Earth," to play from beginning to end in the museum's garden patio.
Sounding combative as ever in a backstage interview, Young said he took the unusual path for getting word out about the new album, which blends live performances recorded largely over the last two years while he's been on tour with the Promise of the Real band with overdubbed sounds from nature, because "the record's not meant to be heard one song at a time, like somebody's marketing something."
"I didn't get the memo when iTunes announced that the LP is finished," he said, a wry smile taking over his expression. "I don't know--it seems restrictive to me....Everything doesn't have to fit into a computer company's idea of what music is."
Clearly frustrated with the iTunes era, in which the individual track reigns supreme, Young still clings tightly to the idea of an album as a valid art form, one that can engage the listener's attention for more than just three or four minutes at a time.
"People are used to computers telling them what they have to do, whether it's a phone or whatever it is: You can have only so many songs [per album] or they can be only so long," he said. "If you want to make a playlist? It's going to be a bunch of songs that are all under seven minutes long or something. I don't know what the length is, but the whole thing is offensive to me--to restrict art.
"It's just not right, but that's been successfully done," he continued. "The form has been changed to fit through the hole. But I'm not going through that hole any more."
Hence, for "Earth," Young has collected songs spanning a large chunk of his 50-year recording career, focusing on those with themes of humanity's relationship with nature. Songs run from four minutes on the short end to the epic album-closing rendition of "Love and Only Love" that stretches out expansively to fill 28 minutes.
"That's one of the great things about free pre-digital, without the restrictions of a format like iTunes," he said. "Not only can it sound as good as it can, it can be as long as you want it to be. It's a 98-minute running time on this record, without a break, so it's like a 98-minute song on iTunes.
"It's up to the artist to take advantage of these things and make things that people want to hear, that don't fit," he said. "That's how the artists can lead us out of this mess: Go somewhere else, where it doesn't fit, and people will go with you. People don't like being told what to do--the way they listen to music.
"There's too many rules," he said.
Songs are as old as "After the Gold Rush," from the 1970 album of the same name, and as recent as the title track and two more culled from 2014's "The Monsanto Years," his screed against the chemical company and other giant international corporations with whom he has brontosaurus-sized bones to pick over the way their products and practices affect family farmers, mom-and-pop retailers and the environment.
Between those two come other songs, from "On the Beach," "Comes a Time," "Sleeps with Angels" and "Ragged Glory" plus the previously unreleased recent song "Seed Justice." The usual live performance sounds of applause are interwoven with the overdubbed sounds of flocks of geese honking and ducks quacking, coyotes and wolves howling, horses, cows and other barnyard animals as well as reminders of human technology in car horns and train effects.
The sold-out event drew an estimated 2,500 people to the Natural History Museum as part of its monthly "First Fridays" series that features live music, deejays, science lectures and other special activities. Young is the biggest name entertainer to be part of the program so far, and the veteran rocker said it was at the suggestion of his longtime manager, Elliot Roberts.
"It seemed like a good place to play the album," he said in the museum's green room while the playback continued on a chilly spring evening. "This is an L.A. event -- downtown Los Angeles! I feel like Joe Friday. No one knows who the hell Joe Friday is," he added with a laugh, referring to the LAPD detective famously portrayed by actor Jack Webb in the television series "Dragnet." "I love Joe Friday."
For the unconventional amalgam of music, ambient sounds, crowd noise and other effects all edited seamlessly into the single 98-minute sonic journey, Young cited director Francis Ford Coppola's 1992 film "Bram Stoker's Dracula" as a key inspiration.
"There's a scene in it where a bat flies down the street, and you're the bat," he said. "You can't hear, but sounds are coming out, the bat is turning and turning and you feel like you're the bat, like you're moving through space. I never forgot that scene, or the power of being the bat."
"The album was first called 'Warning: Contains Modified Content,'" he said. "I just wanted to bring in another perspective, use the audience sounds like they were another effect, instead of seeing it as a limitation, along with all the creature sounds and other effects."
Asked whether he has other out-of-the-box plans for the new album, Young said, "Not really."
"I don't have any plans at all," he said. "I didn't have a plan for this. This appeared by itself. My skill, I think, if I have one, is letting it happen. I just never question it anymore. I figure if I have an idea, it's a gift and I want to go for it. If it's no good, I might not put it out. But who cares? At least I did it. It came.
"You don't have to think these things up," he said. "You just have to be available."
MORE:
Reporter's Notebook: Enough ageist cracks about 'Old-chella,' OK?
Rolling Stones, Paul McCartney and more: Rock icons coming to Coachella Valley this fall
Neil Young and cast revisit his 1982 film 'Human Highway' at screening and Q&A
Follow @RandyLewis2 on Twitter
---
Inside the business of entertainment
The Wide Shot brings you news, analysis and insights on everything from streaming wars to production — and what it all means for the future.
You may occasionally receive promotional content from the Los Angeles Times.