Eating some of the best fried chicken in L.A. with Howlin' Ray's chef Johnny Zone
In the third installment of our chef food crawl series, we join Johnny Ray Zone -- the man behind Howlin' Ray's, the Nashville hot chicken restaurant in Chinatown with the crazy lines -- as he samples three fried chicken restaurants: Honey's Kettle
"It's going to get messy." On a recent afternoon, chef Johnny Zone is sitting at a table at Honey's Kettle in Culver City. Eight pieces of fried chicken sit before him, on a tray with biscuits, fries and sides of coleslaw and macaroni salad. His eyes dart between the chicken and the fries, and he has the expression of a wild animal about to attack its prey.
Zone is responsible for helping catapult L.A. into its current Age of Fried Chicken. He's made a name for himself by serving boxes of Nashville-style hot chicken — fried chicken lashed with a fiery chile and spice paste. And he's the reason for the line that snakes through the Far East Plaza and out onto Broadway, daily.
Zone, who says he's constantly tasting his own fried chicken, is taking us on a fried chicken crawl around the city. The first of three stops is Honey's Kettle, which has become a fried chicken institution in the nearly two decades it's been open.
Honey's Kettle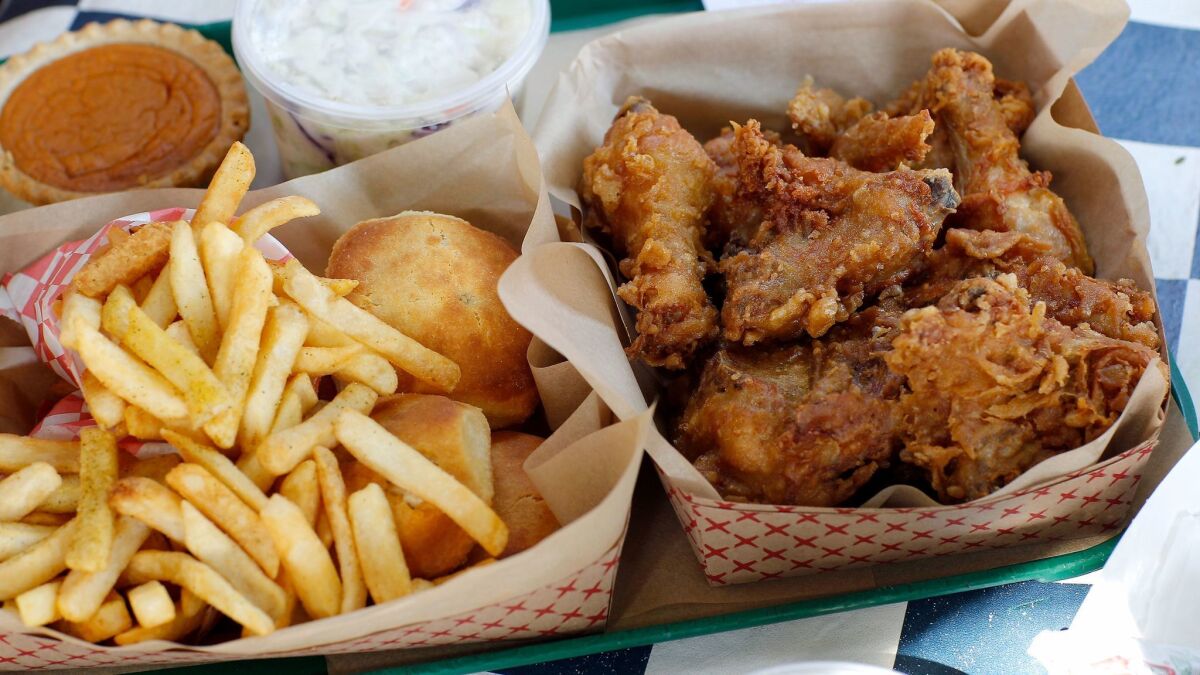 Zone picks up a thigh and takes a bite. Chicken juice runs down his wrists.
"The first bite is good because you can really taste the chicken, but the second bite?" He's now grabbing for the small containers of honey and hot sauce, the accompanying sauces that are part of Honey's Kettle owner Vincent Williams' claim to fame. The restaurant is known for the crunch of the battered, fried chicken made with a secret recipe in deep kettle drums, but also for that sweet honey.
"It's just really good-quality chicken. You get the funkiness and acid from the sauce and that sweetness from the honey."
Since before opening Howlin' Ray's a little more than a year ago, Zone has made it his life's mission to know good fried chicken.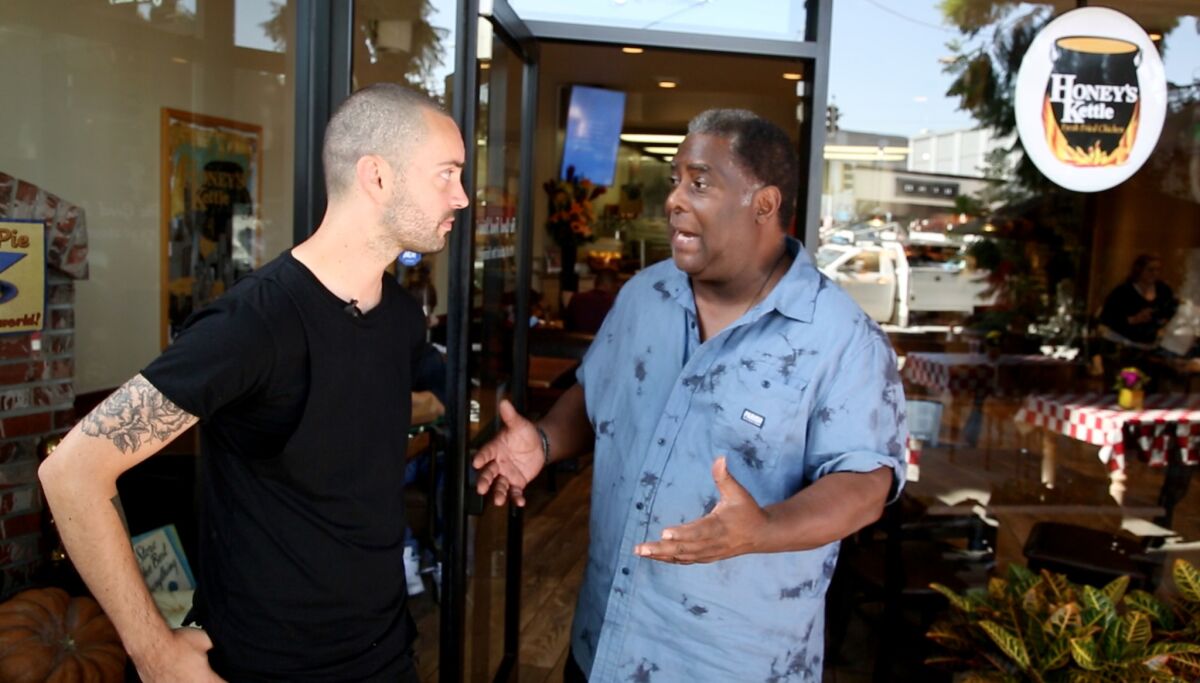 On a trip to Nashville to learn about antebellum Southern cuisine, Zone fell in love with hot chicken at Pepperfire, a shack in east Nashville. Now the Los Angeles native travels to Nashville at least four times a year to eat hot chicken five times a day, for a week at a time. And he takes his staff, close to 20 employees, to Nashville at least once a year to "show them the culture of what they are representing."
Zone says he has been coming to Honey's Kettle with his wife, Amanda, who runs Howlin' Ray's with him, for years. When he meets Williams, he shakes his hand and almost bows his head to him in homage.
"Well, you know how they say game recognizes game?" Williams asks.
Shad's New Cali Catering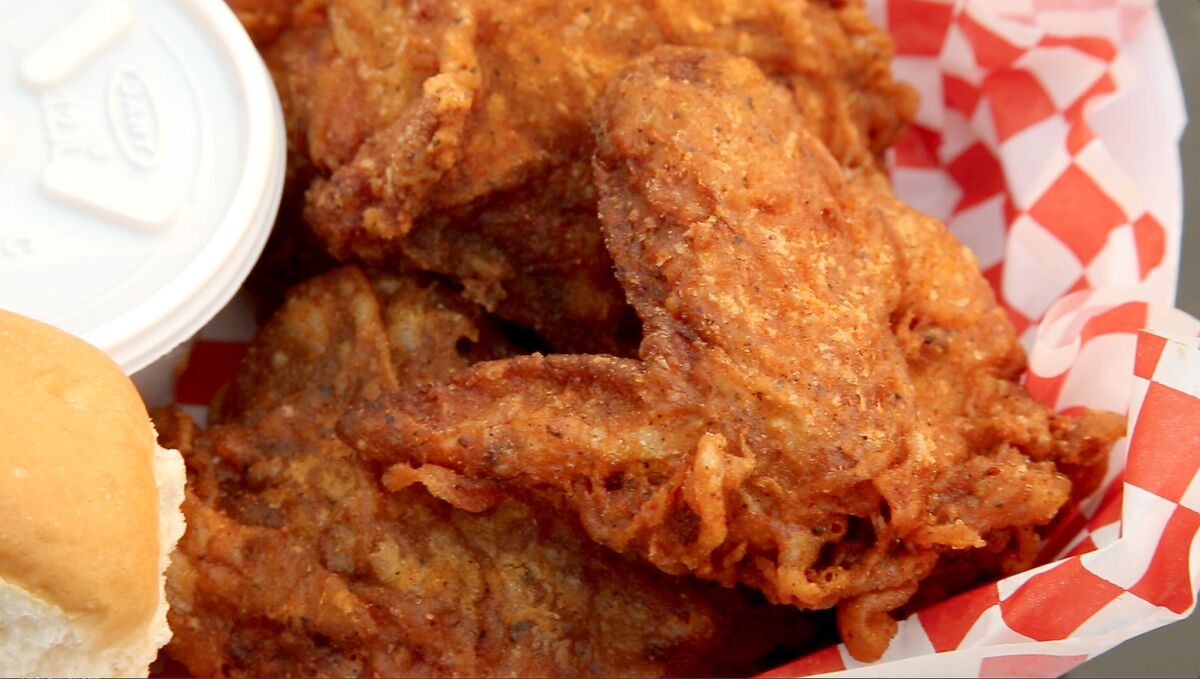 "This guy comes highly recommended from a customer of mine," Zone says about the next stop on the crawl, a South Bay-area, takeout-only pop-up called Shad's New Cali Catering.
Chef Michael "Shad" Lawless started his business on the Instagram app (@shadsnewcalicatering) about three years ago, after going to the Le Cordon Bleu cooking school in Hollywood.
He delivers two plastic bags of food to Zone, who is parked on a Gardena street near the 110 Freeway, and Zone proceeds to rip the bags open on the hood of his Prius.
In addition to gumbo, a cup of smoked collard greens that Lawless cooks down in giant pots for 15 hours and a po' boy sandwich called "baby boy," Zone has ordered a container of Lawless' Kick'n Cajun spicy chicken.
"Oh, my God, you see that?" he asks Lawless as he examines a piece of chicken. "Nice job, man, I can already tell."
"I have really high standards for fried chicken, and this is really exceeding my expectations," says Zone, who went through 24 variations before deciding on a recipe for his hot chicken. "It looks almost like chicharrones in terms of the crackling on there."
Lawless' chicken includes a kick of cayenne pepper, and it's battered, similar to the style at Gus's Fried Chicken, the Tennessee restaurant with two locations in Southern California. The chicken is known for its red-gold color and a light, crisp coating that has mystified fans and imitators for years. Lawless' version seems to be even crunchier.
"This is some old lady cooking," Zone tells Lawless. "And you know that's a compliment. I'm excited to see your impact on Southern cuisine."
That day may come sooner than later, as Lawless plans to eventually open a bricks-and-mortar in the South Bay area.
Shad's New Cali Catering, 310-291-4810, Instagram.
OB Bear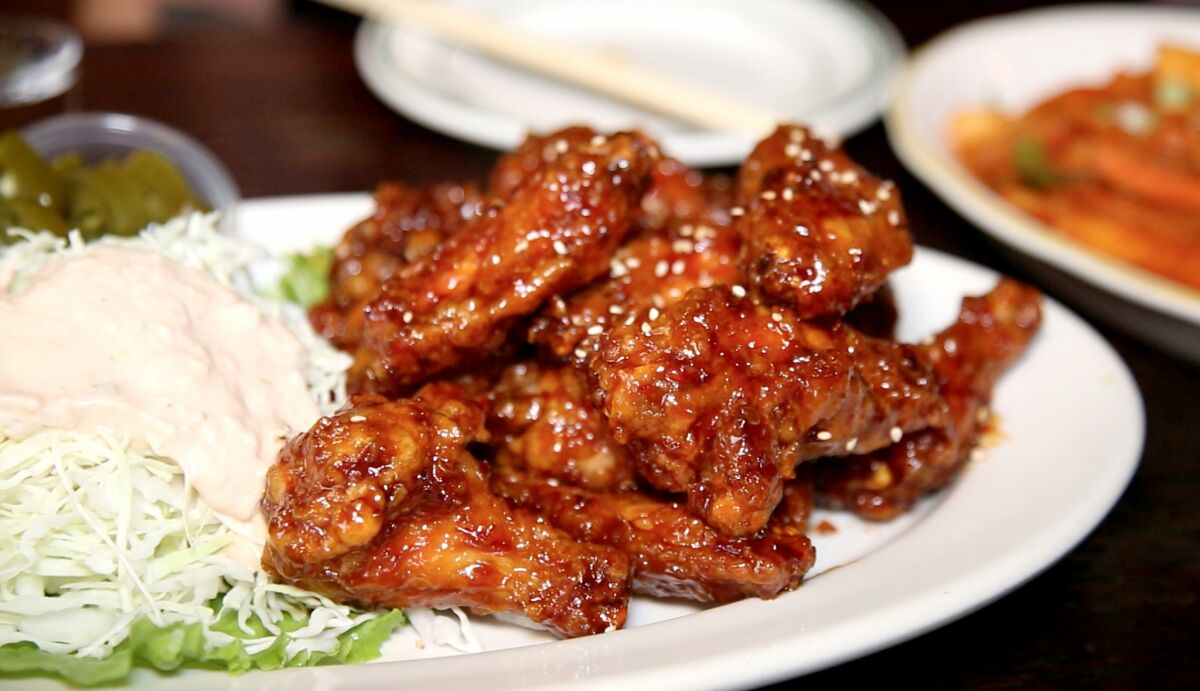 A 45-minute ride in traffic later, Zone is sitting at a table in the back of OB Bear, the dimly lighted Koreatown pub known for its chicken wings. A server drops a plate of wings before him, coated in a spicy red sauce and a sprinkle of sesame seeds.
"Oh, man, this is really sticky," he says. "It's like twice fried, sweet but not too sweet."
"What's so cool about fried chicken is that you feel like your mom or your grandma is making it. There's a familiarity to it. This is Korean fried chicken but eating it, I feel like I'm at home."
OB Bear, 3002 7th St., Los Angeles
As he continues to eat the wings, Zone reflects on the success of Howlin' Ray's and its effect on Los Angeles. By December, Zone will expand the back kitchen of his small Chinatown restaurant, and he's looking for an additional location on the Westside.
He knows he has celebrity fans — check out musician John Mayer's Instagram page — but says he doesn't feel right name-dropping.
"Everybody is a celebrity to us," says Zone, who is known to high-five his customers and hand out fries and cookies while they wait.
"I don't think being a chef is about plating up fancy stuff and all the accolades," says Zone. "It's about building these memories. We're not ballers. Every day is a fight to be closer to the top."
ALSO:
Four great Los Angeles pies you should probably eat as soon as you can
Our epic L.A. burger crawl with chef April Bloomfield, and all the spots we hit
8 hours and 18 bowls of pasta with chef Scott Conant, the "Chopped' judge with the really good hair.
Get our L.A. Goes Out newsletter, with the week's best events, to help you explore and experience our city.
You may occasionally receive promotional content from the Los Angeles Times.