Our epic L.A. burger crawl with chef April Bloomfield, and all the spots we hit
Chef April Bloomfield tries the patty melt during her burger crawl stop at Cassell's Hamburgers on April 13.
(Gina Ferazzi / Los Angeles Times)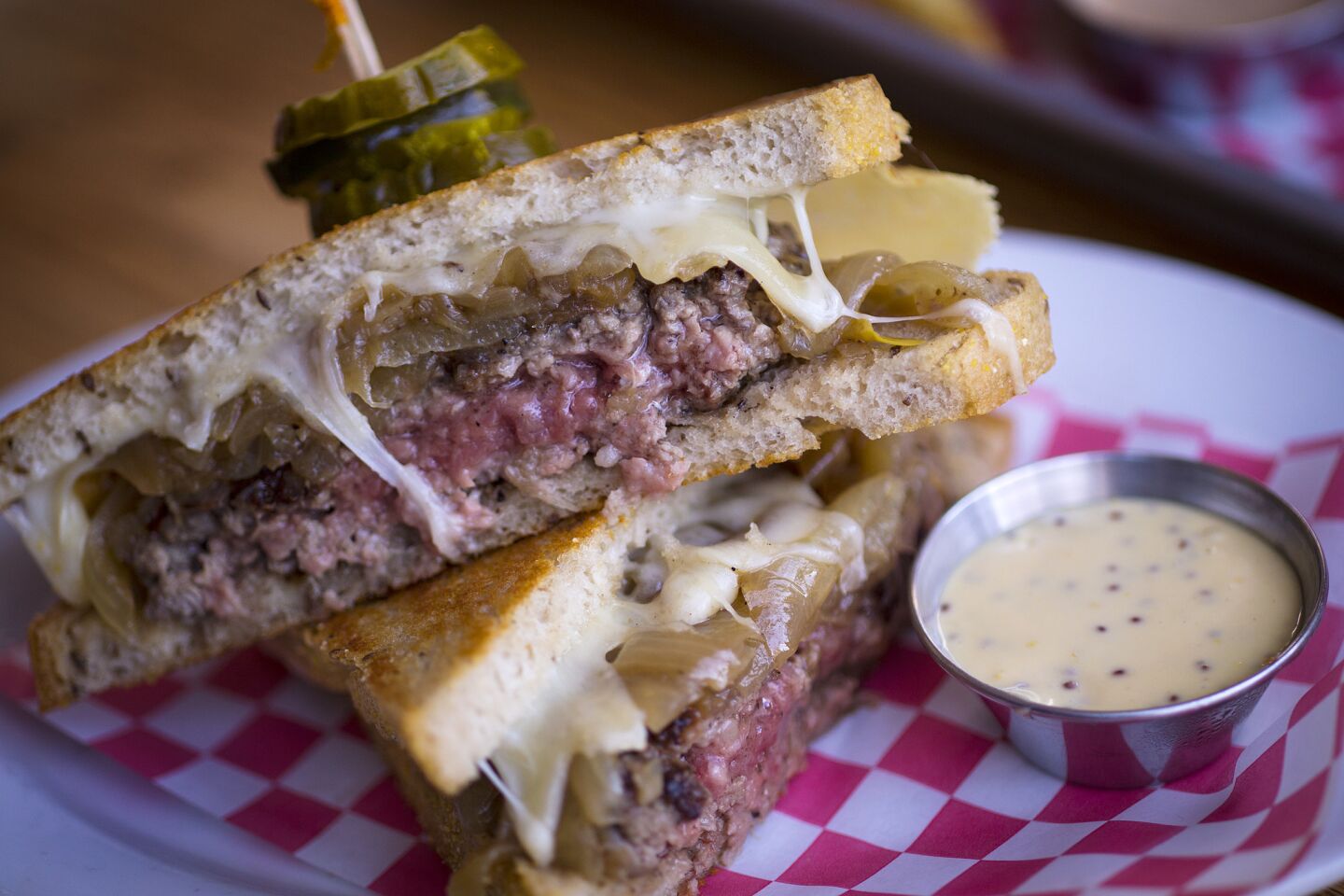 The patty melt at Cassell's Hamburgers.
(Gina Ferazzi / Los Angeles Times)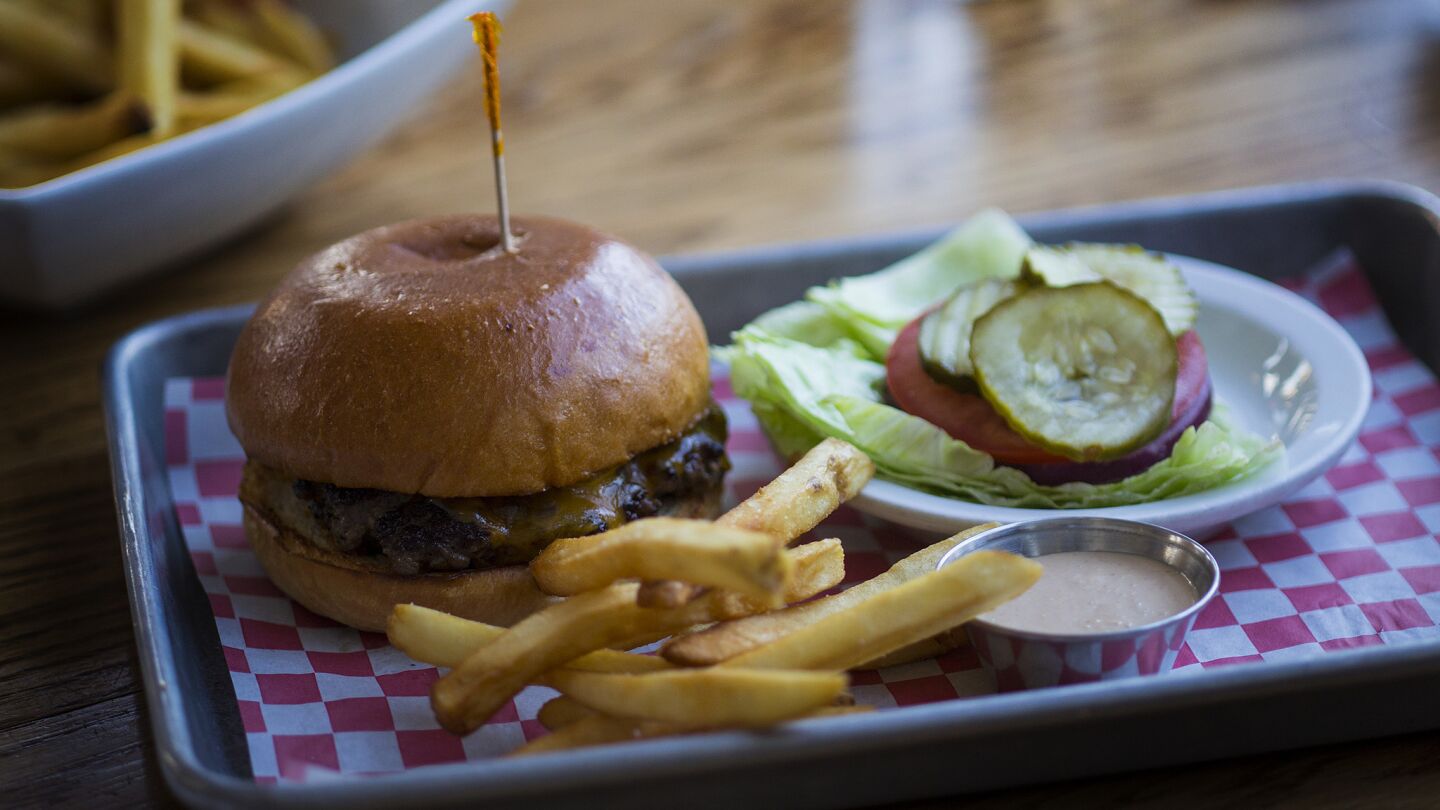 Chef April Bloomfield tasted this Classic Burger during her burger crawl stop at Cassell's Hamburgers on April 13.
(Gina Ferazzi / Los Angeles Times)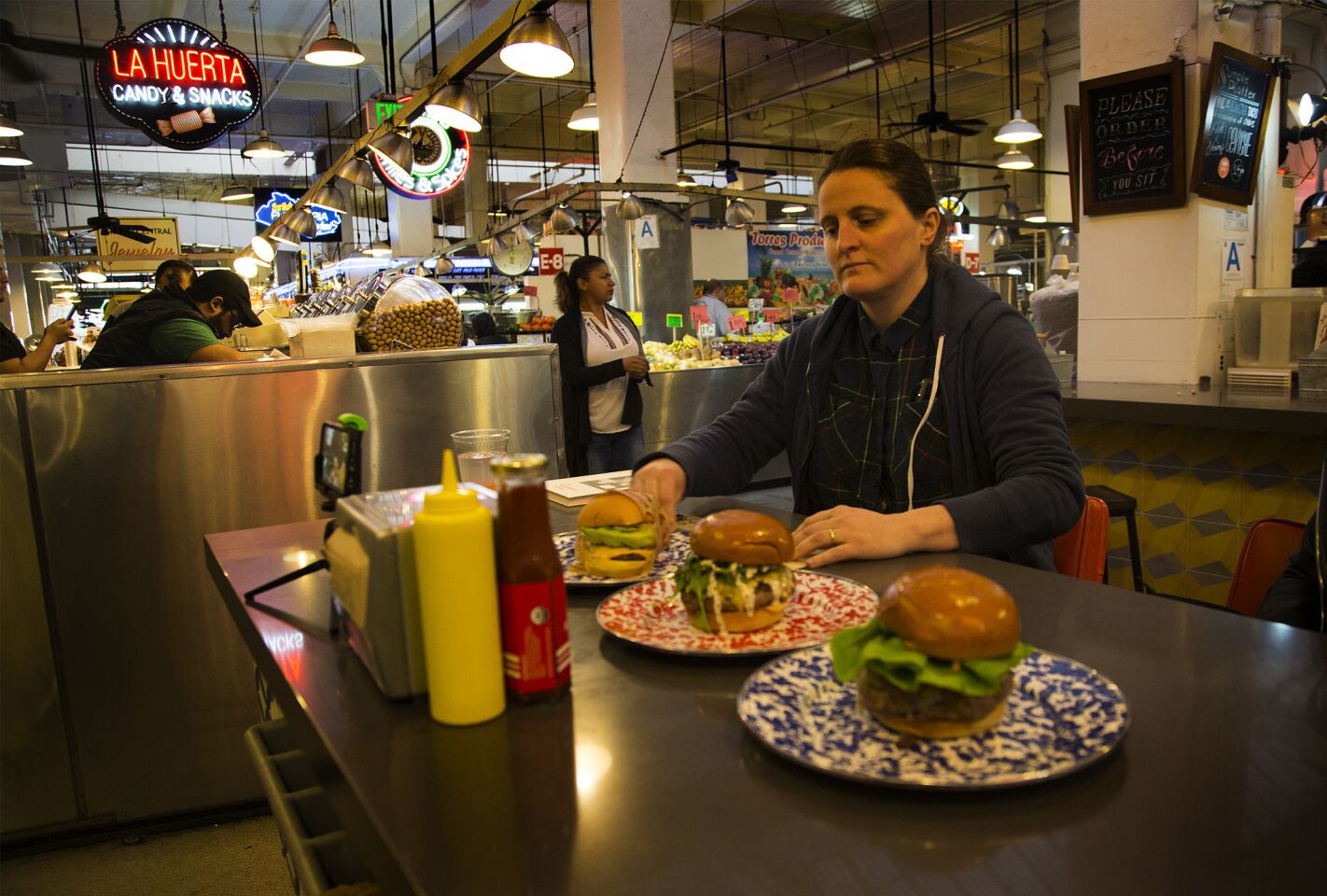 Chef April Bloomfield tasted three burgers at Belcamp in Grand Central Market in downtown Los Angeles: the fast burger, left, the Belcampo burger and the 100-day dry-aged burger.
(Gina Ferazzi / Los Angeles Times)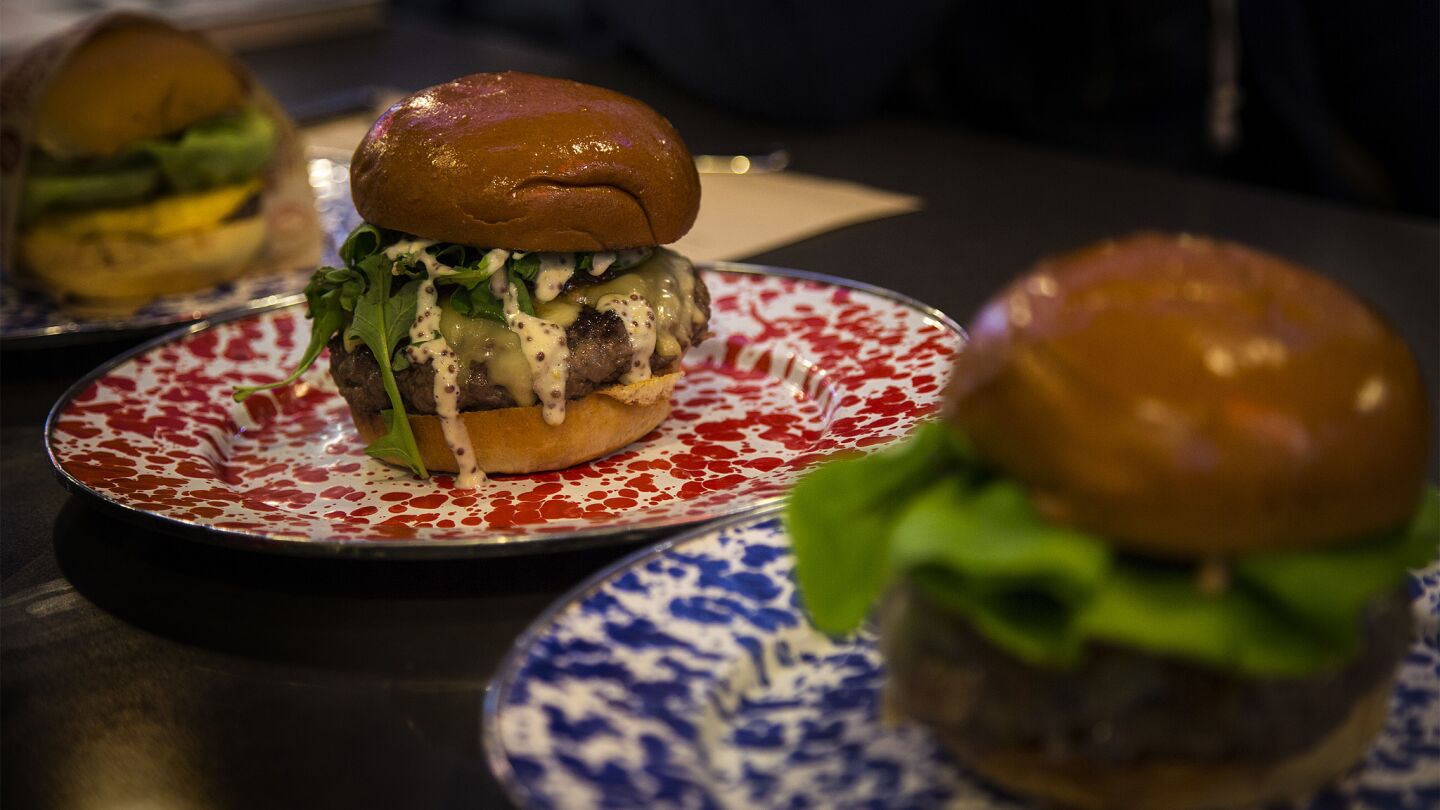 At Belcampo, from left: fast burger, Belcampo burger and 100-day dry-aged burger.
(Gina Ferazzi / Los Angeles Times)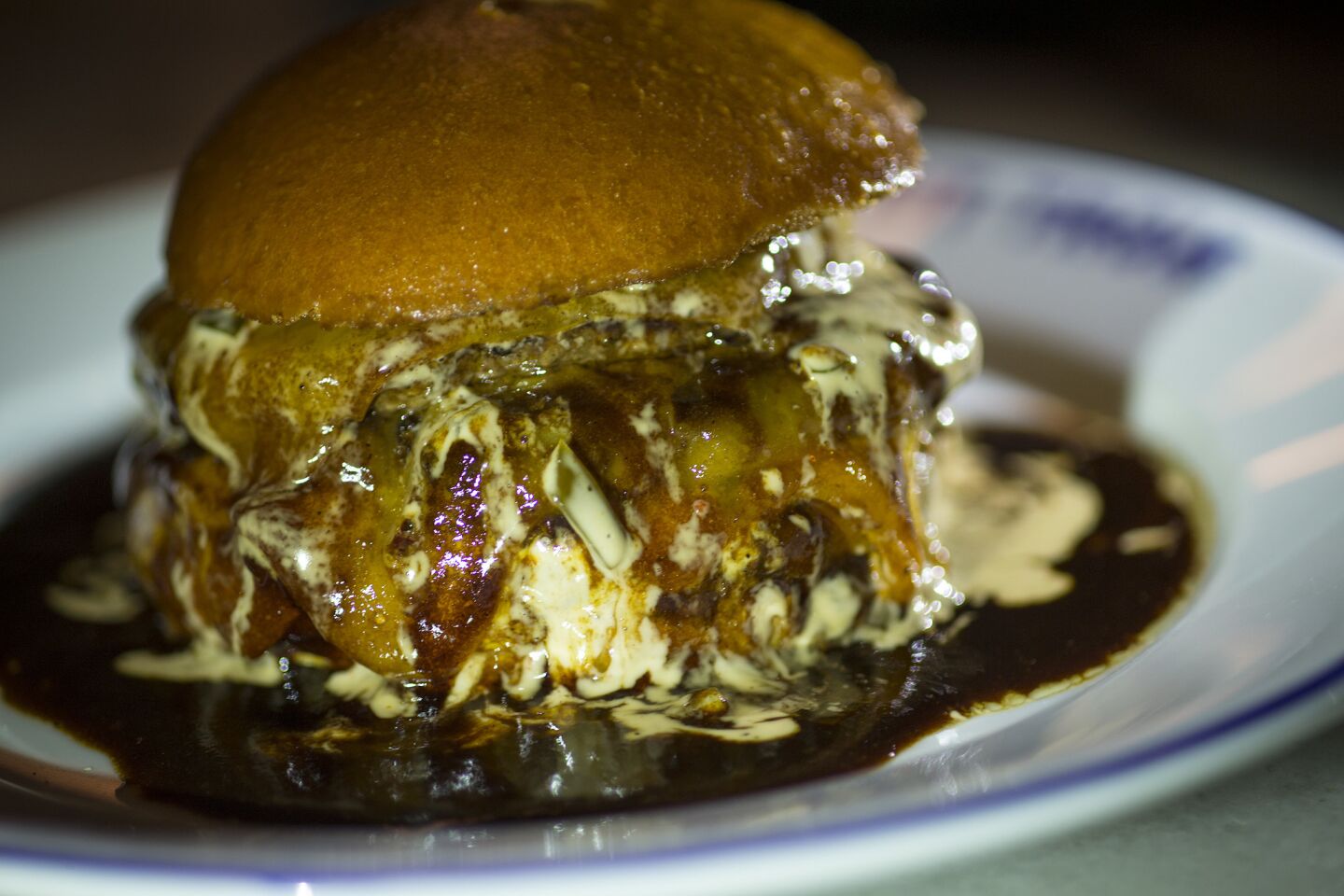 Chef April Bloomfield ordered the Bic Mec burger during her burger crawl stop at Petit Trois on April 13.
(Gina Ferazzi / Los Angeles Times)
Chef April Bloomfield tastes the Big Mec burger at Petit Trois.
(Gina Ferazzi / Los Angeles Times)
Chef April Bloomfield ordered the classic burger, fries and strawberry and chocolate milkshakes during her burger crawl stop at Cassell's on April 13.
(Gina Ferazzi / Los Angeles Times)
"This burger is so epic." Chef April Bloomfield has foie gras bordelaise sauce dripping from the corners of her mouth and a bit of the brick red reduction smeared across her chin. She's grinning as she picks up the Big Mec double patty cheeseburger from Petit Trois, Ludo Lefebvre, Jon Shook and Vinny Dotolo's tiny French restaurant in Hollywood, and goes in for another bite.
The 43-year-old chef's name is synonymous with the New York City gastro pub the Spotted Pig, which she opened with partner Ken Friedman in 2004, where she has earned one star from the Michelin Guide for six consecutive years. This is where Bloomfield, who grew up in Birmingham, England, made a name for herself by serving a stellar burger with no substitutions: chargrilled meat with Roquefort on a brioche bun.
She's in Los Angeles to check on her new, yet-to-be-named restaurant on Sunset Boulevard, in the old Cat & Fiddle space. And she's agreed to go on a burger crawl.
Los Angeles Times Food Bowl: A new kind of food festival »
As Bloomfield sits on a stool at Petit Trois, her elbows on the counter, she slumps a little as she comes down from a five-hour cheeseburger high. But let's start from the beginning, before the night faded into a mess of griddled meat and melted cheese.
It's 4 p.m. on a recent Thursday and Bloomfield is leaning on the corner of the Press Brothers Juicery stall at Grand Central Market. Dressed in a zip-up hoodie, a flannel shirt, jeans and sneakers with her hair pulled back into a messy bun, she orders a turmeric shot and shoots back the tiny cup of fluorescent liquid — a feeble attempt to line the stomach before an evening of pure gluttony.
Belcampo Meat Co.
The first stop on her Los Angeles burger tour is Belcampo Meat Co., the nearly four-year-old stall at Grand Central Market, where she takes the last red leather stool at the counter and orders three burgers. About five minutes later, the parade of meat happens all at once as a server drops the Fast burger, the Belcampo burger and a 100-day-aged burger in quick succession. Bloomfield tackles the Fast burger and gives it a squeeze.
"It's a fatty, messy burger, I like it," says Bloomfield in a Brummie accent. She's only 5-foot-4, but her boisterous laugh — infectious, short bursts of chortling — makes for a commanding presence. "I like the buns because they are squishy but they don't fall apart when the burger releases its juices."
Then she picks up the Belcampo burger and studies it for a bit before digging in.
"I like how thick the cheese is, it's like 5 millimeters," says Bloomfield. "And I like the grind on this, it's coarse and not so packed which is a little different from the ones that I make."
She is of course referring to the burgers at Salvation Burger, the burger and milkshake restaurant she reopened in New York City with Friedman in October (the restaurant closed shortly after it opened in February 2016, after a fire). And if you're expecting a burger at her L.A. restaurant, brace yourself for disappointment.
"We probably won't have a burger on the menu," says Bloomfield. "Let's see, who knows? Maybe a little late-night burger action, maybe."
The new restaurant will focus mostly on wood-fired meats and vegetables. Bloomfield spent some time cooking at Chez Panisse, and before that, she cooked at the River Café in Britain.
As she bites into the 100-day-aged burger — already her third burger of the day — she cocks her head to one side and picks a bit of the caramelized onion out to eat on its own. "It's always about the acid with food," says Bloomfield. "You really need acid to keep your palate alive."
Cassell's Hamburgers
Four miles and half an hour later, Bloomfield walks through the glass doors of Cassell's Hamburgers at the Hotel Normandie in Koreatown, where chef Christian Page resurrected the classic burger restaurant in 2014.
Bloomfield orders a patty melt and a cheeseburger, both a chocolate and a strawberry milkshake, and a slice of banana cream pie. First she bites into the cheeseburger, which arrives somewhat deconstructed, with the lettuce, tomato and pickles on the side.
"It's pretty handsome, and I kind of like it without all the stuff on it," she says. "It's so cute. It's got like the perfect ratio of bun to cheese and meat and I like the snugness of it." When the patty melt is served, she gasps at a skirt of crisp cheese hanging over the sides of the bread.
"That looks epic doesn't it?" she asks. "It's super juicy and I like the rye bread. I like the Swiss on there, the onions are super sweet and then you get this little crispy flavor coming in from the cheese."
Later, Page takes Bloomfield back into the kitchen so she can geek-out over the crossfire broiler that gives the outside of Cassell's meat a little crunch.
Petit Trois.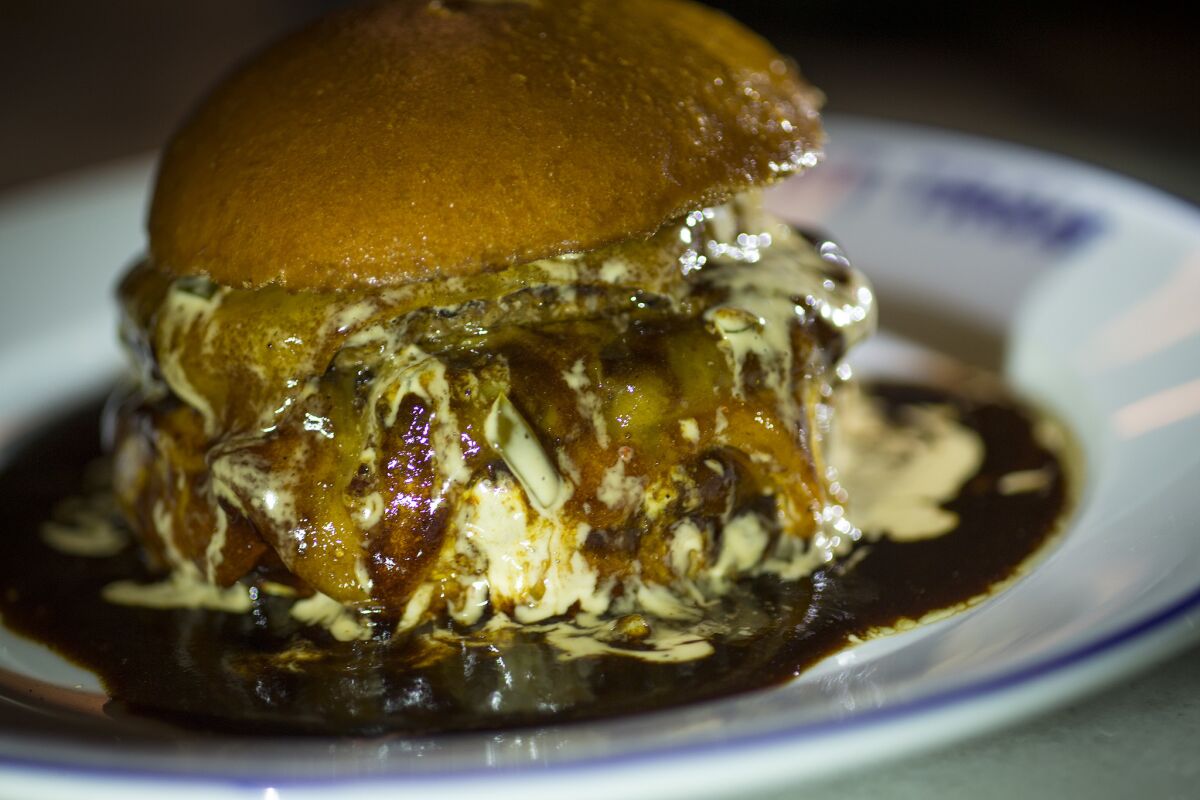 About four miles across town, Bloomfield squeezes into a seat at the counter at Petit Trois to try a burger that has gained a cult following. The Big Mec is a massive creation that includes a golden brioche bun, two patties, two pieces of American cheese and a rich foie gras bordelaise sauce that first sticks to, then drips from everything it touches.
The burger is served in a pool of the sauce, but Bloomfield picks it up with both hands anyway, to the surprise of everyone watching around her. A man to her left looks flabbergasted but envious. "I can't believe she actually picked it up," he says to his date.
The chef emerges from the giant bite with sauce everywhere and a smile on her face. In between some good sips of red wine, Bloomfield manages to finish half the burger before throwing in her napkin, not the least bit defeated by the burger crawl. She's got an early flight to New York in the morning but she'll be back in L.A. soon, newly invigorated and excited by the food scene here.
"It's definitely changed over the last four years, and it's become more interesting, with more of a food culture here," Bloomfield says. "I kind of like that L.A. is spread out because it's nice to go to the different areas. Traffic sucks, but if you time it right, it's OK."
Bloomfield makes her way through the growing crowd waiting for their own burgers and escapes into the chilly night air, ready for some of that L.A. traffic on the way back to her hotel.
"Well that was fun, wasn't it?"
ALSO:
How L.A.'s number one restaurant is using a sustainable seafood delivery service
Fäviken chef Magnus Nilsson talks about photography, Nordic cuisine and hot dogs
Food Bowl is coming. Here's our cheat sheet of what to do during the monthlong festival
---
Get our L.A. Goes Out newsletter, with the week's best events, to help you explore and experience our city.
You may occasionally receive promotional content from the Los Angeles Times.