This small Altadena press is publishing some terrific L.A. cookbooks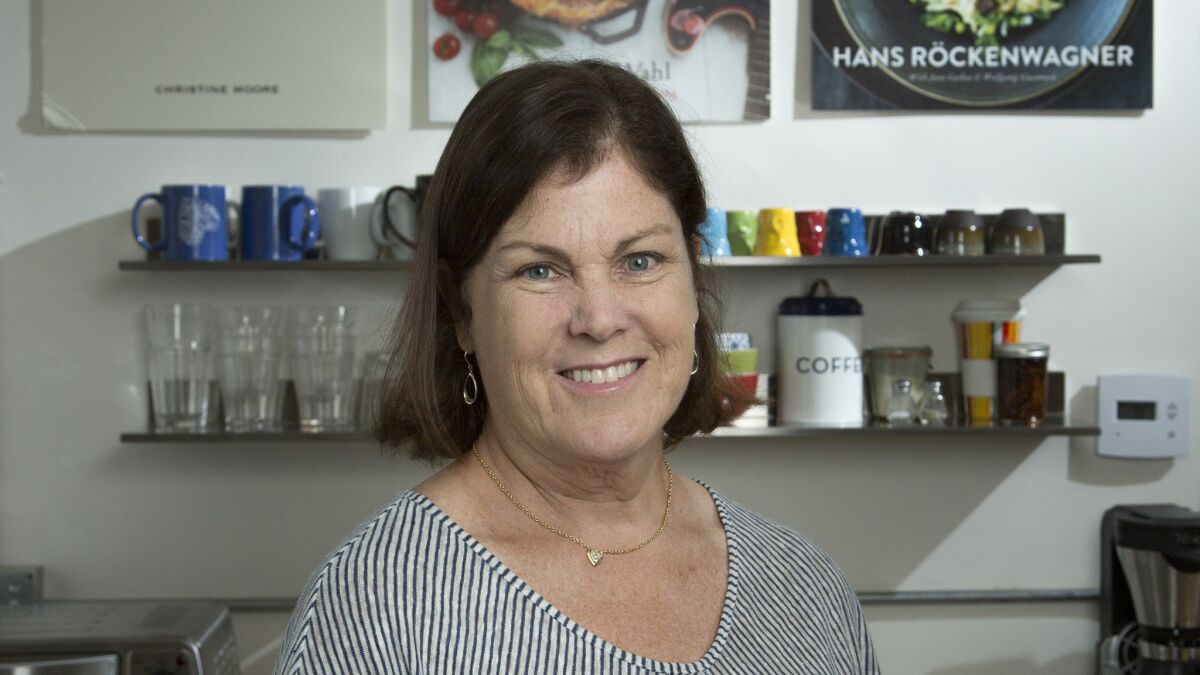 In 2009, during the financial crisis, the tiny Altadena-based independent publishing house Prospect Park Books put out the cookbook "Celebrating with Julienne." It was written by Susan Campoy, the beloved local chef-owner of Julienne, a French-inspired bistro on Mission Street in nearby San Marino, with Colleen Dunn Bates, Prospect Park's founder.
Bates' only previous experience with cookbooks consisted of, in 2007, distributing Amelia Saltsman's self-produced "The Santa Monica Farmers' Market Cookbook." But otherwise the titles at her company consisted mainly of regional guide books and fiction penned by Southern California authors. Campoy, who died when her cookbook was still in the bound galley phase, had a thing against corporate booksellers, and left instructions forbidding sales of "Celebrating with Julienne" via Amazon, Borders and Barnes & Noble. Sales soared anyway.
"The book cost $40. Nobody was buying anything then. But people were buying stacks of 10 as gifts," says Bates of a cookbook that would end up winning the nonfiction book prize from the Southern California Independent Booksellers Assn. that year. "We sold 8,000 copies in six months with no publicity, no nothing."
Bates decided it was time to branch out. Today, Prospect Park is L.A.'s only independent publisher of cookbooks, with seven titles total, including "Little Flower: Recipes from the Café" by Christine Moore, Theresa Wahl's "The Auntie Em's Cookbook" and "Das Cookbook" by Hans Röckenwagner. Their latest, "L.A. Mexicano," Bill Esparza's collection of profiles and recipes of important Los Angeles-based Mexican restaurant owners, chefs and vendors, was released in mid-June.
Having meticulously analyzed what made "Celebrating with Julienne" a success, Bates hews closely to her business model: She leaves comprehensive, cinder-block-sized tomes ("The Encyclopedia of ...") to major cookbook publishers such as Phaidon and Houghton Mifflin Harcourt. While her non-fiction and fiction catalogue expanded from two to 13 titles annually, she publishes only one cookbook a year, always by a local chef (or, in the case of "L.A. Mexicano," multiple chefs) with a following.
"A small press only has certain niches available — and my niche is that I've lived in L.A. my whole life. I know people in the food world, I know the retailers, I know the media, I know the bloggers," says Bates, a sixth-generation Southern Californian who as a child was an exasperatingly picky eater but evolved into — much to the amusement of her family — LA Style's restaurant critic, a post she held for seven years.
Whatever Prospect Park lacks in national reach and support staff — Bates's copy editors, recipe testers and almost everyone else are freelance — Bates tries to make up for it with unbending dedication. "We stick with a book for months, or even years," says Bates.
Bates began Prospect Park Books after a pivotal experience laid bare for her the perils of working in the cutthroat world of New York imprints: In 2002, after two weeks of slapdash attempts to promote "Storybook Travels," a family vacation guide book she'd co-written with her friend, Susan LaTempa, their publisher, Crown, stopped taking their calls.
"It was the typical experience of a non-famous author, and I had the hubris to believe that I could do it better," says Bates, who operated out of her house until, realizing that her husband and teenagers were being crowded out by stacks of inventory, moved to an office.
Prospect Park's first stab at publishing a cookbook, from idea to completion, came about with classic Batesian flair. A regular at Little Flower, a popular café and bakery in Pasadena, Bates chipped away at chef-owner Christine Moore until she agreed to write a cookbook. Moore never submitted a proposal and, refusing to hire an agent or attorney to negotiate terms, insisted their contract be condensed into a single page. She also wanted cover approval.
"A big publisher would have been, like, 'Shut up. Go away.' But she's good and I wanted her to be happy," says Bates, who, during the photography stage, would often make the seven-minute drive from her narrow Lincoln Avenue office to Moore's café to weigh in on the process. "It was an amazing voyage — and I've learned it was pretty rare," says Moore, who remembers key editorial advice that Bates offered when it was time to come up with the book's luminous, genuinely moving I-am-everywoman introduction.
"Colleen said to me, 'Are you going to cry when you write it?' and I said, 'Yes," and she said, 'OK, then I know it will be good.'" In the end, Moore's 144-page hardback was touted as one of the top cookbooks of 2012 by community site Food52 and, along with Moore's 2016 follow-up "Little Flower Baking," are two of Prospect Park's bestselling cookbooks.
These days, Bates is eager to get started on Prospect Park's next cookbook, "First We Surf, Then We Eat: Recipes from a Lifetime of Surf Travel," a cookbook by Jim Kempton, the former editor of Surfer magazine and a dedicated foodist. Kempton and his agent were hoping to end up with an East Coast publishing house, but Bates, who happens to be waves-obsessed, won them over.
"Turns out we have millions of mutual friends," says Bates, who grew up surfing. "New York publishers don't know a thing about the surf world. But I do."
ALSO:
What some of L.A.'s chefs pack in their kids' lunchboxes
The essential cookbooks to send to school with your kid
How one teenager combines school with student council, improv club — and working in a professional kitchen
Get our L.A. Goes Out newsletter, with the week's best events, to help you explore and experience our city.
You may occasionally receive promotional content from the Los Angeles Times.