What some of L.A.'s chefs pack in their kids' lunchboxes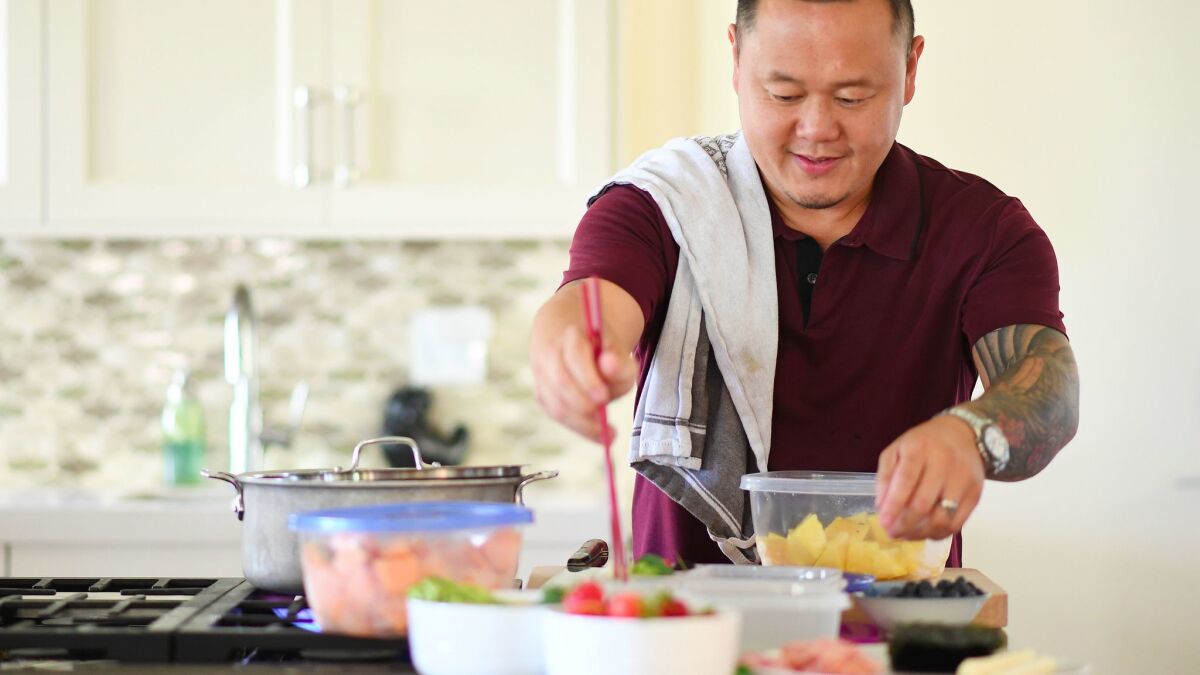 The sun is barely up, but already the kitchen counter looks like a restaurant line at the height of dinner service. Strewn across the Formica are the makings of today's specials: some leftovers, a few nubby carrots, a baton of mozzarella, and sliced apples that are doomed to bronze before mealtime. Knives flash as they deftly remove unwanted peels and crusts for the day's customers — a discerning bunch that will fickly toss aside anything with the slightest flaw. Once prepped, the dishes are stuffed into an array of futuristic air-sealing and temperature-controlling devices in hopes they'll last the six-hour delay until they're opened and, with luck, devoured.
The tense scene — which plays out daily in households across America — is the morning school lunch packing rush. While more than half of Los Angeles Unified School District's students are now eligible for free or reduced-price lunches regardless of income eligibility, the majority of kids still lug their own. And as the emphasis on feeding our kids a less processed diet has increased, so has the labor required to prepare what, for many of us, is a daily grind. Because let's face it, at 6:40-something in the morning none of us is Suzanne Goin, the chef who co-owns Lucques, A.O.C., Tavern and the Larder. Not even Suzanne Goin.
"It drives me crazy sometimes when I'm tired," says Goin, who acts as the personal short order cook to three elementary schoolers. "But I think I'll be a little sad when the lunch-packing days are over." She has it easy; her kids' school has an edible-schoolyard-fueled lunch program that keeps them fed with scratch-made meals most days. Still, summer camp and field trips mean lunchboxes that need to be filled. To ease the sting, top chefs like Goin have developed their own strategies to make the packing process smooth, and ensure their hard work doesn't wind up in the trash bin.
1. Make it interactive
"Kids love to season their own food, so I like to put a wedge of lemon in there for them to squeeze themselves," says Goin. "My daughter Alex has her personal little salt containers she takes with her." Goin also keeps batches of herb pistou and olive tapenade on hand to spice up the sandwich of her more adventurous fifth-grader. But even she has her limits. "One kid is picky," she says, "so it's the same plain turkey on baguette over and over."
2. It's all about presentation
"If they think it looks even slightly off, they won't eat it," says Karen Hatfield, mother of two and pastry chef behind Sycamore Kitchen and Odys & Penelope, which she co-owns with her chef-husband Quinn. Quinn does the more ambitious lunch-packing (apparently there are two kinds of Japanese rice press involved…), but when it's her turn she goes old school. "I couldn't figure out why they weren't eating the peanut butter and jelly sandwiches I was packing, which I know they love. So one day I wrapped a white paper towel around it and suddenly it's fine."
3. Go with what they know
Kids aren't big on novelty come mealtime — especially without parents on hand to put a new dish in context. For Gwen chef-owner Curtis Stone and his wife, actress Lindsay Price, teaching their kids about a variety of fruits and vegetables helps keep lunchbox surprises to a minimum. (The heart-shaped notes Price tucks in alongside their son's beets and cucumbers don't hurt, either.) "We're lucky because we have a veggie garden," says Stone. "It's given our kids open minds about eating different things. But we don't do anything crazy. It's not like Linds makes bulgogi and puts it in his lunch."
4. Use what you've got
Korean barbecue is exactly what chefs Walter and Margarita Manzke of République and Grand Central Market's new Sari Sari Store pack for their two children. "They love Asian food," says Walter, who says leftovers are often their lunchbox centerpieces. "We don't do a lot of cooking on our days off." That means the Manzkes are also quick to take advantage of the family business, tearing up République's $39 roasted chicken and mixing it with some fried brown rice. "There's never a moment we don't have cooked rice in the house," says Walter, whose wife is Filipina. "It's part of Marge's culture."
5. Plan ahead and go digital
Nobody owns the modern-day lunch prep game like Jet Tila, Thai chef, TV food judge and author of "101 Asian Dishes You Need to Cook Before You Die." "I run my house like a restaurant," he says. His daughter's Eastside preschool has a rule — no packaged foods with added sugar — so it's everything from scratch by necessity. "We're not even allowed juice boxes." Tech-savvy Tila uses a combination of Amazon's digital assistant, Alexa, and Amazon Fresh grocery delivery service to keep his shopping list current and his fridge stocked with the goods. Then he spends his Sundays pre-cooking such items as pizza dough, Thai sticky rice and chicken thighs to make the 7 a.m. assembly a breeze. "I really enjoy it," he says. "I grew up eating such … even coming from a restaurant family. To me it's precious to know what's going into my kids."
Tools of the trade
When it comes to professional-grade lunch packing, it's all about the gear.
Suzanne Goin: Wrap-N-Mat ($8.99)
The reusable sandwich wrapper doubles as a place mat and is top-rack dishwasher-safe.
Curtis Stone: PlanetBox ($39.95-$59.95)
A single stainless steel box has sunken compartments of different sizes to keep food separate without a bunch of containers to wash later. Magnetic decals allow you to give each a custom look.
Jet Tila: Cryovac (prices vary)
The kitchen-grade vacuum sealer is great for freezing entire pre-made meals.
Karen Hatfield: Sistema Bento Box ($14)
These BPA-free boxes come with an array of smaller sealable containers that nest within. Bonus: They're microwave safe for a hot lunch on a cold day.
ALSO:
The essential cookbooks to send to school with your kid
10 cool school lunches your kid will actually eat - LA Times
How one teenager combines school with student council, improv club — and working in a professional kitchen

Get our L.A. Goes Out newsletter, with the week's best events, to help you explore and experience our city.
You may occasionally receive promotional content from the Los Angeles Times.