How one teenager combines school with student council, improv club — and working in a professional kitchen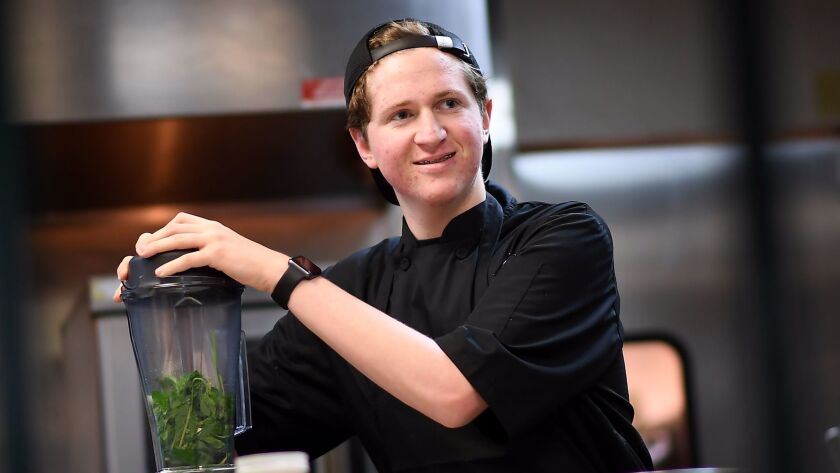 It's almost noon in the kitchen at the Wallace restaurant in Culver City and profanity is exploding around the stoves like sparks at a summer barbecue. And at the eye of this curse storm is 16-year-old Holden Dahlerbruch, his shoulders back in perfect posture, his eyes focused on a pan in front of him, seemingly oblivious to his surroundings. He's in the second hour of his full-day shift at the casual, farm-to-table restaurant. And he's elbow deep into his prep work making mint "leather," a paste that involves fresh mint and pectin, that will eventually end up on a dish of lamb farro porridge, harissa, yogurt and a 63-degree soft egg.
In a black chef coat, his light brown hair tucked into a backward baseball cap, he looks like a professional cook. With his own knife set in tow, he has the tools of a professional cook. And the other cooks in the kitchen speak to him and order him around like a professional cook. Only Dahlerbruch is a high school student, and about to start his junior year at Palos Verdes Peninsula High School.
"The only language worse is when you work on a galley on a ship," says Dahlerbruch. "I work in kitchens and I'm on the sailing team at school, but I haven't picked up the language."
At just 16, Dahlerbruch has a resume most adults could only dream of. For more than a year, he has been staging at the Wallace under chef Joel Miller once a week; he has staged on multiple L.A. and Sacramento food trucks including PhoKing Awesome, Chinese Laundry and Rice Balls of Fire. He has cooked three sold-out pop-up dinners for 50 guests each night.
"I love doing them [pop-up dinners] because they are one-night culinary experiences and I bring my own staff, my own ingredients, and the menu is only there for one night," says Dahlerbruch, who whipped up an impressive menu of risotto, biscuits, short rib Bourguignon and cauliflower steaks at a recent dinner.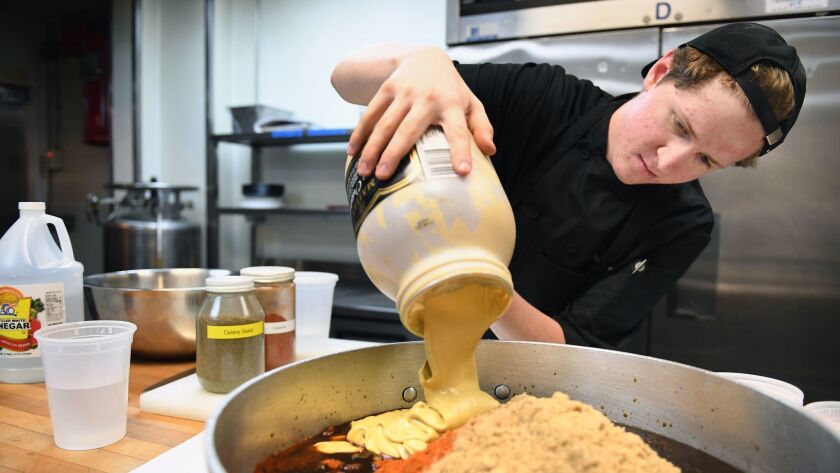 To help others host their own pop-up dinners, he started a company called Culinary Playgrounds that organizes dinners and large events (he just finished emceeing the recent Supergirl Pro surfing competition in San Diego, in which he put together an all-female chef competition). He's about to launch a YouTube page with recipes, how-to videos and restaurant reports similar to "Diners, Drive-ins and Dives." He's on a committee that is revamping his school's lunch program. He starred on a TV show called "Man vs. Child Chef Showdown" on FYI, in which he was pitted against executive chefs from around the country. Oh, and he volunteers at his local temple too.
When Dahlerbruch starts writing his college essays, he'll have plenty to say. But right now he's just focusing on knocking off the long prep list, written in marker on the dry erase board in the Wallace kitchen. He still has Dynamite sauce, a basil verde sauce, steak sauce and pasta to make later. And sous-chef Nathan Santana is about to teach him how to break down a bass.
"I'm not doing any culinary school," says Dahlerbruch. "I feel I can learn more by going around to different restaurants and learning that way. I learned how to make pasta here. I'm just trying to absorb as much as I can." He watches as Santana slides his knife into the fish and removes a filet.
"Thank God Holden is here," says Santana, who will be in the kitchen for at least 16 hours. "He takes a lot of the weight off my shoulders."
Holden is here because he lost to Miller in the third round of an episode of "Man vs. Child Chef Showdown," and the chef was so impressed with the then-14-year-old that he offered to let him be an intern at the restaurant.
"He's really capable and bright, hard-working and he doesn't leave until all the work is done," says Miller.
But Dahlerbruch was cooking far before he was cast on the TV show and landed in Miller's kitchen. His family, who live two blocks from Dahlerbruch's Palos Verdes school, have always cooked together.
"I started when I was about 4," says Dahlerbruch as he starts chopping a mound of basil for the verde sauce. His knife skills are solid, the blade moving in smooth, fluid strokes. "My dad was in the hotel industry — which is 24 hours a day, 7 days a week — so whenever he was home he was cooking for the family. It was our bonding experience but it turned into a passion from there."
Dahlerbruch's mother, Merin, who met her husband while they were both hotel and restaurant management majors at the University of Denver, remembers her son, not yet tall enough to reach the stove, standing on a chair making scrambled eggs for the family. And now, she says, her son does most of the cooking at home.
He's really capable and bright, hard-working and he doesn't leave until all the work is done
— Chef Joel Miller of the Wallace
"It's really nerve-racking for me to cook for him because he's always pushing me out of the way saying, 'let me add some spices,' " says Merin, who added that when Holden was in the fifth grade, she and husband Erik helped him start a cooking club for boys at their house.
Dahlerbruch's holiday lists soon went from "everything Transformers" to kitchen gear.
"I never thought when I was really young that I would try to be a chef, but once I was on 'Man vs. Child' that kind of solidified it," says Dahlerbruch. "Now I ask for pretty much all cooking things: new knives, new cooking equipment. Most recently I got myself a pressure cooker, and I love my pressure cooker."
As he consults with Santana on the level of spice in his Dynamite sauce, he says that the ultimate goal is to open his own restaurant.
"I think it would be a lot of fun and I want to go to business school to learn how to run it," says Dahlerbruch.
But for now, opening his own restaurant is taking a back seat to improv club, a pancake club, student council, video production class and a service learning class.
"I sacrifice my sleep," says Dahlerbruch. "But in the end, it's worth it."
ALSO:
Your glass of horchata can be a lot more mysterious than you think
This L.A. burger is so spicy, you need to sign a waiver before digging in
'The Trip to Spain' director Michael Winterbottom discusses fine food and funny men
---
Get our weekly Tasting Notes newsletter for reviews, news and more.
You may occasionally receive promotional content from the Los Angeles Times.