SoCal Gas relocates hundreds of Porter Ranch residents while trying to fix leaking well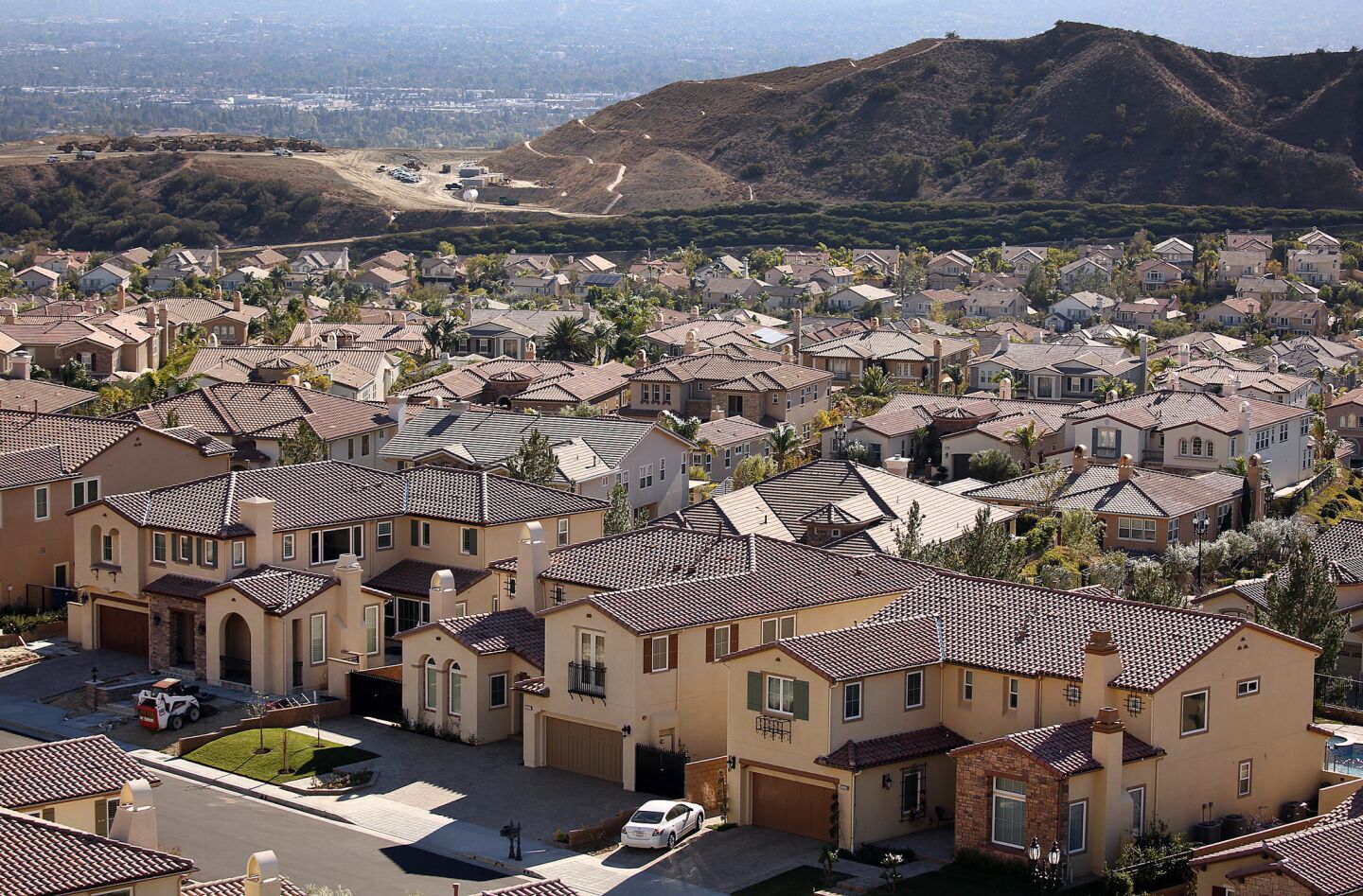 The Southern California Gas Co. leaking well forced thousands of residents in and near Porter Ranch to temporarily relocate.
(Al Seib / Los Angeles Times)
Signs and gates on the Porter Ranch hillsides indicate the boundary of Southern California Gas Co., where an ongoing gas leak has prompted hundreds of complaints.
(Al Seib / Los Angeles Times)
Porter Ranch resident Jaimee Choi prepares for her first day at work as a manager at a restaurant while her father, Francis Choi, hugs the family dog in a Burbank hotel after they were displaced by a gas leak near their Porter Ranch home.
(Marcus Yam / Los Angeles Times)
Lori Choi, right, and her daughter, Jaimee Choi, walk their dogs outside the Burbank hotel where they are staying after they were displaced by a gas leak near their Porter Ranch home. "We've come to Burbank for the clean air," Jaimee joked.
(Marcus Yam / Los Angeles Times)
Jaimee Choi prepares for her first day at a new job by studying work material in a Burbank hotel where she is staying with her family.
(Marcus Yam / Los Angeles Times)
Parents pick up their children at Porter Ranch Community School in the North San Fernando Valley just south of the Southern California Gas Co. Aliso Canyon Storage Facility. Filters are being installed in the school's ventilation system to help with the smell caused by a nearby gas leak.
(Al Seib / Los Angeles Times)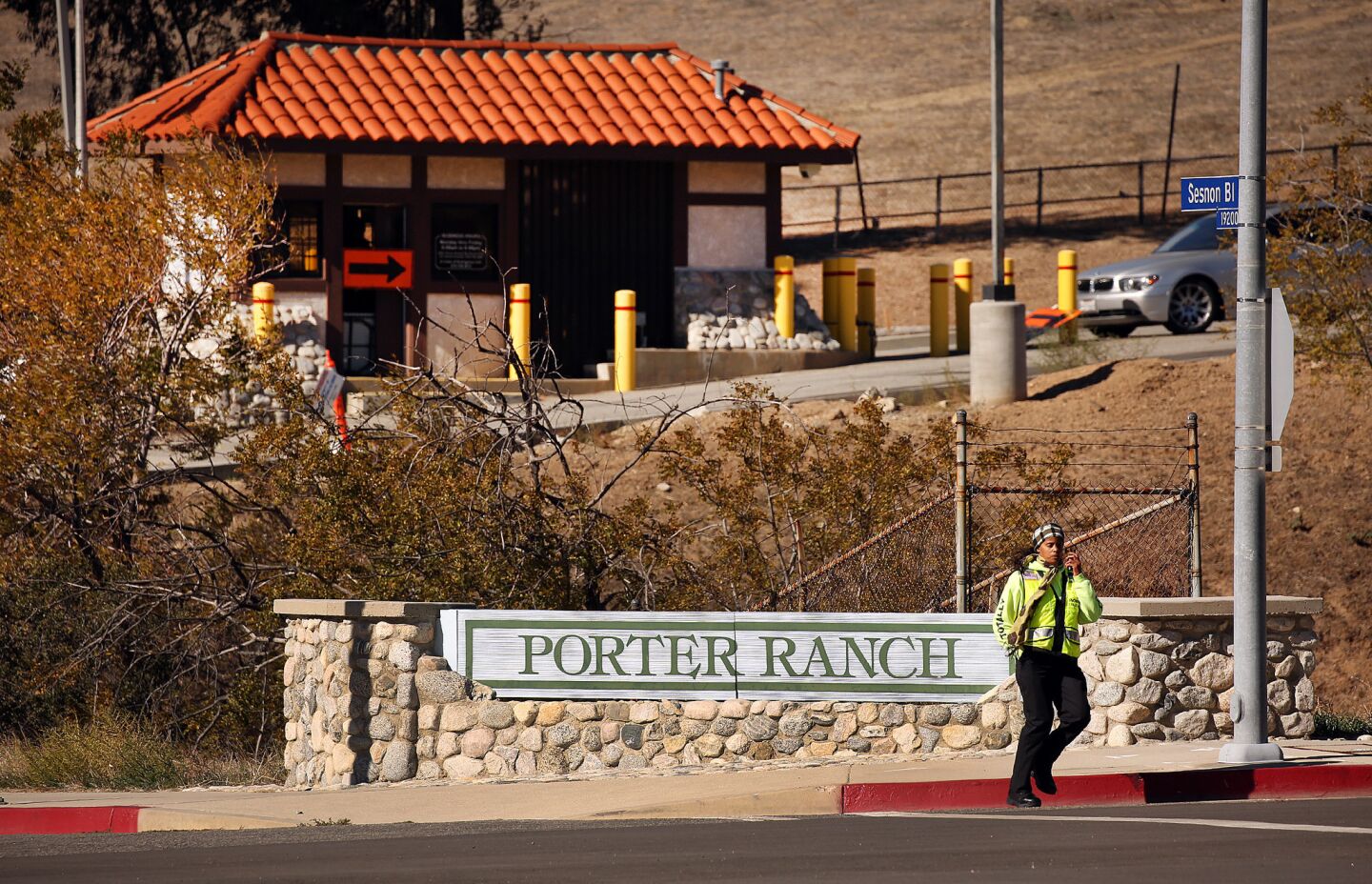 The entrance to the Southern California Gas Co. Aliso Canyon Storage Facility sits at the intersection of Tampa Avenue and Sesnon Boulevard in Porter Ranch.
(Al Seib / Los Angeles Times)
Midco Switzer knew it was time to leave her home in the northern San Fernando Valley when the smell of gas began wafting in with the breeze weeks ago and her husband complained of nausea and dizziness after his early-morning bike rides.
Then she started getting headaches, she said. So did her son.
Switzer has not sought medical help and said "our symptoms may not be obvious." But last Wednesday, she joined hundreds of others in Porter Ranch and took up an offer from Southern California Gas Co. to relocate until the odors subside.
The family of five now stays in a room at a Best Western in Westlake. Switzer dreads the prospect of spending Christmas at a hotel. And like other residents in this Los Angeles neighborhood of gated communities, golf courses and tidy parks, she is thinking of pulling her children out of class at the Porter Ranch Community School.
"It's awful," she said.
After 40 days and six failed repair attempts, natural gas continues to leak from a well in an underground storage field north of Los Angeles, sending odors more than a mile away into Porter Ranch.
Interested in the stories shaping California? Sign up for the free Essential California newsletter >>
The gas being released is mostly methane, is not dangerous and does not pose long-term health risks, according to the L.A. County Department of Public Health. But an assessment by the department determined that mercaptans, the nontoxic odorants added to natural gas to assist in leak detection, are causing short-term health effects in Porter Ranch that should go away once the odors cease.
The rotten egg-like stench has lingered since SoCal Gas detected the leaking well at its Aliso Canyon facility on Oct. 23, generating reports of nausea, headaches, nosebleeds and other illnesses. More than 1,000 complaints have been lodged with South Coast Air Quality Management District, with more coming in each day.
Porter Ranch residents cope with a gas leak that has dragged on for more than 40 days.
Under orders from the county health department, the gas company is paying to relocate nearly 350 households affected by the odors, placing them in hotels or other temporary housing, and is in the process of moving residents from more than 500 other homes.
After unsuccessful attempts to plug the leak by pumping fluid into the well, the gas company is moving on to its backup plan: drilling a relief well to seal off the leaking well and plug it permanently with cement. The process, which could begin as soon as this week, could take up to four months to complete. The company also is testing an odor-neutralizing chemical it wants to spray into the air from the storage facility in the Santa Susana Mountains — an idea met with skepticism by residents and air quality officials.
Residents have criticized the gas company's response to the leak, calling it slow to act and accusing the company of not providing enough information about the leak.
Patrick Pope, vice president of the Porter Ranch Neighborhood Council, called the gas company's response "terrible" and said his heart sank when he learned the odors could linger for another four months. "It's disappointing, to say the least."
SoCal Gas Chief Executive Dennis Arriola apologized for the leak and said "it's gone on way too long." He said the company is working "as safely and expeditiously as possible" to stop the problem.
Earlier this week near the leaking well, workers maneuvered around red pipes stacked into crates and used cranes transporting tubes throughout a dirt lot. A massive yellow rig towered overhead as they prepared to drill the relief well to stop the leak from a 7-inch pipe thousands of feet below the ground.
SoCal Gas said it has not determined what caused the leak. The company has faced widespread scrutiny in recent weeks over its failure to stop the flow of gas, the impacts on the community and its contribution to climate change.
Local officials, including L.A. City Council members and county supervisors, have called company executives, state regulators and health officials in for hearings, sharply criticizing the utility and demanding investigations and health studies. The California Air Resources Board produced a report that found the leak is releasing about 50,000 kilograms of methane per hour — so much that it's boosting California's emissions of the potent greenhouse gas by 25%. Last week, local air quality officials cited the company for public nuisance violations.
On Tuesday, county supervisors voted to send a letter asking Gov. Jerry Brown to intervene and use his executive authority to direct state agencies to "take immediate action" and work with the gas company to "find an expeditious resolution to fix the gas leak." At Los Angeles City Hall, Councilman Mitchell Englander, whose district includes Porter Ranch, led a hearing on the ongoing leak and said it is "simply intolerable" that the leak has displaced people from their homes.
Los Angeles City Attorney Mike Feuer said he wants state regulators to go beyond the immediate cause of the leak to investigate "whether there are underlying systemic issues" at the facility "so that this problem won't be repeated in the future."
The L.A. Unified School District did not have information on how many students in Porter Ranch have missed class because of the leak. The district has set up devices to monitor air quality at area schools, and later this week, school officials plan to install odor-reducing charcoal air filters into the ventilation systems of classrooms at Castlebay Lane Charter Elementary and Porter Ranch Community School, a school district spokeswoman said.
About 100 households have contacted the county about the potential health impacts of the gas leak, Dr. Cyrus Rangan, director of the county health department's Bureau of Toxicology and Environmental Assessment, said at a city council hearing. The department did not respond to questions from The Times about how many illnesses have been documented in the area and how many people have sought medical treatment.
Even as they criticized the response to the leak, activists in Porter Ranch acknowledged the neighborhood's wealth helped secure swifter action and tougher scrutiny from regulators and local officials.
Matt Pakucko, president of the community group Save Porter Ranch, noted that people in his predominantly white and Asian neighborhood are being relocated because of odors, while people faced with environmental ills in other parts of the city — even those with poisonous lead in their backyards — are not being moved.
"There's other communities with probably worse problems than us, for decades longer, that don't get relocated," Pakucko said. "We got relocated. ... Do they get relocated? No. Because it's a poor neighborhood."
In lower-income and largely Latino neighborhoods of Los Angeles, refineries and oil production sites operate and release noxious odors much closer to homes and generate similar complaints. Residents near one South L.A. oil field complained for years about noxious odors, headaches and nosebleeds, which they said were caused by nearby oil operations, before regulators acted.
"When accidents happen in communities of color — such as refinery explosions or fires — those neighborhoods should be afforded the same precautions, but aren't," said Maya Golden-Krasner, an attorney for the Center for Biological Diversity.
She and other environmentalists say the leak near Porter Ranch is a symptom of wider problems with California oil and gas operations.
Gas leaks, blowouts at oil extraction sites, refinery fires and pipeline explosions in recent years are "preventable accidents," Golden-Krasner said. "They demonstrate the utter failure of state and local agencies to oversee our oil and gas infrastructure."
The state's oil and gas regulator last month ordered SoCal Gas to provide detailed information about the leak and the integrity of the well. Don Drysdale, a spokesman for the Division of Oil, Gas & Geothermal Resources, said this week that the leaking well had passed previous inspections.
There's other communities with probably worse problems than us, for decades longer ... We got relocated. ... Do they get relocated? No. Because it's a poor neighborhood.
— Matt Pakucko, president of the community group Save Porter Ranch
Javier Mendoza, a gas company spokesman, said the leaking well was installed in 1953. The former oil well was converted for the use of natural gas in 1973, after SoCal Gas began operating the depleted oil reserve at Aliso Canyon as a giant underground reservoir to store natural gas.
The well, which extends 8,500 feet below the earth, is one of 115 storage wells at the 3,600-acre facility. The facility can hold 86 billion cubic feet of natural gas, enough to supply all of Southern California for more than a month, Mendoza said. It was at 90% capacity when the leak was detected last month.
The gas company says it takes weekly pressure readings and conducts annual inspections of each well. The last such inspection of the leaking well was performed in October 2014 and "showed no anomalies," Mendoza said.
Back in Porter Ranch, Howard Lee, 68, stood outside his home as the smell of gas permeated the air.
He noticed the odors a few weeks ago but didn't realize there was a gas leak. Then came the headaches, he said, followed by nosebleeds.
Now, he's trying to decide whether to stay in his home.
"The only solace we have is that it's windy," he said. "Maybe the wind will blow it away."
Times Staff Writers Emily Alpert Reyes, Abby Sewell and Alice Walton contributed to this report.
Follow @sarahparvini and @tonybarboza on Twitter.

ALSO:
PAC shielded $2.3 million in donations by L.A. charter school backers
California Atty. Gen. Kamala Harris sues to shut down 2 car donation charities
Labor coalition steps up battle with electric vehicle company
---
Life is stressful. Our weekly mental wellness newsletter can help.
You may occasionally receive promotional content from the Los Angeles Times.