LAPD investigating Boyle Heights vandalism as possible hate crimes sparked by gentrification fight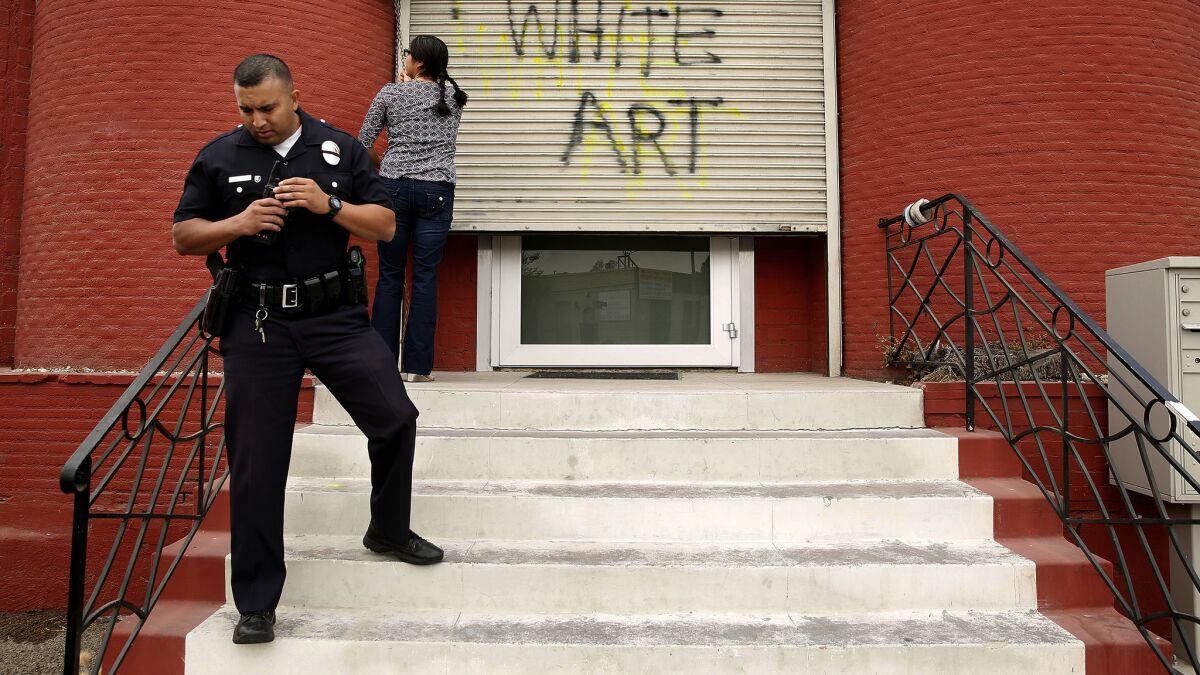 The Los Angeles Police Department is treating three acts of vandalism in the last month targeting art galleries in Boyle Heights, including graffiti at one gallery that attacked "white art," as possible hate crimes.
The probe comes amid a debate in the predominantly Latino Eastside neighborhood over the growing art scene there and whether it's part of a gentrification that some activists fear will push working-class families out. Galleries have been popping up in the area over the last few years as some artists get priced out of downtown's Arts District and other areas.
"We don't know who actually did [the vandalism], but because it actually made a reference to anti-white art or anti-white, it's basically saying that it's a hate crime based on that," Det. John Parra of the LAPD's Hollenbeck station said of a vulgar curse against "white art" that in one of the incidents was spray-painted on the Nicodim Gallery.
Boyle Heights has become a flashpoint as Los Angeles undergoes a wave of gentrification fueled by rising home prices and a renewed interest in urban neighborhoods by many. It's already transformed once-working-class communities such as Echo Park and Highland Park. But some in Boyle Heights — for decades the heart of L.A.'s Mexican American community — have vowed to fight the change.
In the last three years, more than a dozen galleries have appeared in the area, many in an industrial zone just west of the 101 Freeway. Community activists fear the galleries will inflate property values and push poorer residents out.
In September, activists marched through Boyle Heights and posted mock eviction notices for "gentrifiers," which included a couple of galleries.
LAPD Capt. Rick Stabile, the patrol commanding officer at the station, said that "when I saw the number of these and that they were all related to art galleries, just from a common-sense standpoint, I wanted to try and figure out what was going on with the community."
Police have not identified a suspect in the recent vandalism, Stabile said.
But the three incidents prompted the Hollenbeck Division to call a meeting with gallery owners last week to try to get an understanding of the problem and come up with a plan, including attempting to open a dialogue with the activist group Defend Boyle Heights, which has been a driving force of opposition to the galleries.
"The reason why I want to facilitate a dialogue with Defend Boyle Heights is because when I started looking into this issue of gentrification and the art galleries, I saw the news articles, I saw the crime reports and I also saw the Defend Boyle Heights website and the videos they posted," Stabile said.
On Thursday afternoon, Defend Boyle Heights issued a statement saying it was not responsible for vandalizing the galleries.
"We don't know who tagged up these galleries, but we ... certainly don't condemn it. It is right to rebel! We are glad to see the community rise up to resist displacement, art washing and gentrification — however they see fit! Your anger is justified," the statement read.
"Gentrification is the true, highest form of hate crime!"
Activists have demanded that the art galleries leave the neighborhood and allow the community to decide what will take their place.
City Councilman Jose Huizar, who represents Boyle Heights, said he was dismayed by the vandalism.
"I think the issue of gentrification is something that the Boyle Heights community should address, given what's happening throughout the city of L.A.," he said. "But at the same time, there's a way of doing that. I really don't support the tactics that some of the anti-gentrification groups have used in Boyle Heights."
Huizar, who lives and grew up in Boyle Heights, said he does not believe the actions of activists are representative of the type of people who live in the neighborhood, which, he added, has a history of welcoming people of different backgrounds.
"For now to have this kind of racially based exclusion of people is not right, given the history of Boyle Heights," Huizar said. "It's not right on its own, but it's even worse when you think about the history of Boyle Heights. Boyle Heights has always been inclusionary."
Boyle Heights has not seen nearly as much gentrification as some other areas, but the neighborhood — once one of L.A.'s true melting pots — has long generated strong concerns about its potential for a rapid transformation when it happens.
For example, there has long been talk about transforming the 14-story Art Deco Sears, Roebuck & Co. building on Olympic Boulevard into a complex of condos, retail space and restaurants. Some of the change that Boyle Heights has already undergone, particularly closer to downtown L.A., has been called "gentefication," incorporating the Spanish word for "people," because it is driven substantially by Latinos with roots in the Eastside.
Last month, two vandalism incidents involving galleries were reported between Oct. 8 and Oct. 11. A third incident occurred Oct. 15, said Stabile, who declined to provide additional details. He said the crimes are still under investigation.
At the subsequent community meeting, police asked gallery workers if there were any other incidents that had gone unreported, Stabile said. Staff from the city's Human Relations Commission also took part, he said.
At the meeting, police asked the galleries to inform them when they had events scheduled, because it appeared activists were staging protests to coincide with galleries' openings or significant events, Stabile said. Police might consider having extra patrols on those days, he said.
"From my perspective, whether you've been a resident for 30 years or you've been a resident for five months, you all have the same rights as far as not being the victim of a crime," Stabile said in an interview. "When it comes to protesting, absolutely you have a right to protest and there's a legal way of protesting, and then there's an illegal way. If any group crosses that line, that's when they can get in trouble."
Francisco Ortega, a human relations advocate, said the commission is open to helping facilitate discussions.
"Obviously we're concerned for the people's safety, the artists and the people who have a stake in the area in terms of their businesses, but we're also concerned with why people are doing this … we want to hear them," Ortega said.
One gallery owner, who did not want her name used, said only a few owners attended the meeting with police.
"I think it was a little too late," she said.
The gallery owner added that she believed the tagging at the Nicodim Gallery was probably not the work of the neighborhood activists but of overzealous followers who may live elsewhere.
"These activists have followers, people that are taking up their cause who a) don't even live in the neighborhood, b) don't care and c) they're just doing it to make it sensationalized," she said.
Leonardo Vilchis, a Boyle Heights resident who helped establish Union de Vecinos — a nonprofit group that works on housing and other community issues — said the incidents being investigated by the LAPD did not strike him as hate crimes. He said that "at worse, it's an aesthetic critique of a certain cultural expression of art."
"From the tagging that kills people and promotes gang violence to the political tagging that denounces a process of gentrification — I'd rather take the latter," Vilchis said Thursday. "Do we approve of it or not? I think it depends on the message, it depends on the time, it depends on the conditions. I would not want to denounce it completely or to say it's never right. It's part of political speech."
Mihai Nicodim, owner of the Nicodim Gallery, said the tagging at his gallery was a "sad event" but added that he also understands the activists' right to protest.
"I understand gentrification is a real issue," said Nicodim, who is from Romania. "But I also think some of these activists, they should … maybe go to City Hall to get affordable housing from them. They should protest against developers."
He added that that during the course of protests, things have gotten heated, worrying some galleries.
"Things have escalated and I think they [police] don't want them to escalate further," Nicodim said, "because they feel it might get dangerous at some point."
Times staff writer Carolina A. Miranda contributed to this report.
For more California news, follow @brittny_mejia
ALSO
Man arrested in fatal stabbing of toddler at mother's workplace is linked to another attack
Body found in shallow grave near Sonoma State University parking lot
L.A. Unified school bus struck by stray bullet on its way to pick up students, police say
---
UPDATES:
3:45 p.m.: This article was updated with a statement from Defend Boyle Heights.
2:55 p.m.: This article was updated with comments from an activist.
This article was originally published at 10:15 a.m.
The stories shaping California
Get up to speed with our Essential California newsletter, sent six days a week.
You may occasionally receive promotional content from the Los Angeles Times.