Boyle Heights activists blame the art galleries for gentrification
The venerable Eastside art institution gathered artists and community members in its Boyle Heights headquarters to have a talk about gentrification.
In no time, the meeting went south as about a dozen mostly young activists, some wearing the brown berets of their 1960s Chicano Movement forebears, barged in. One woman covered her face with a red bandana. They accused Self Help Graphics of helping to roll the Trojan horse of gentrification into Boyle Heights by supporting art galleries popping up in the neighborhood.
Hoisting signs with rebukes that included "Out with the galleries out with the sellouts," the activists took control of the microphone from a Self Help board member and insisted that the art galleries get out of town.
"We demand that all existing galleries leave immediately," said a woman from Defend Boyle Heights. "And leave it up to the community on what to do with those spaces."
Even in an old Los Angeles neighborhood where the debate over gentrification has become heated, the confrontation between Self Help Graphics and the brash, uncompromising activists was stunning. Founded by a Franciscan nun, and with more than 40 years in East L.A. and Boyle Heights, Self Help had gained a certain level of respect, exhibiting the work of artists such as Gronk, Frank Romero and Barbara Carrasco.
Betty Avila, associate director of Self Help, said it was unfair to compare the organization with "these new commercial galleries that have thousands and thousands of dollars passing through."
"We function as a nonprofit. We have to fundraise," she said. "We're a community-serving organization whose mission is rooted in serving this local community."
But the situation was the latest example of how Boyle Heights, a neighborhood that was a working-class launching pad for many groups including Jews, Italians, Japanese and Mexicans, has cemented its reputation as a focal point in the ongoing battle over gentrification.
In some ways, the activists' tactics harked back to strategies that may be familiar to people who grew up in the 1960s and '70s.
"In many ways, that Chicano Civil Rights movement looked to Boyle Heights as 'our community, our home.' And that's changing now," said Eric Avila, a professor of history, Chicano studies and urban planning at UCLA. "If you think about it, the struggle for Mexican American civil rights has always been strongly connected to this idea of turf, territory … Mexican American history is about displacement and dislocation and conquest."
At the same time, Avila said art has a significant history in the Eastside, so it's not altogether shocking that it would become a medium for a passionate, angry and uncomfortable debate.
"Boyle Heights has a long tradition of art and artistic and cultural production, and that was an important part of the Chicano Civil Rights movement as well," he said. "Muralism, for example, or art galleries, art studios, were important kinds of community centers where activists and artists came together to assert a new vision of Chicano identity, culture and community."
But for activists from Defend Boyle Heights and the advocacy group Union de Vecinos, the new art galleries that have moved in — many in just over a year — are the latest threat to the neighborhood's poor and working class. Last year's median household income for Boyle Heights stood at $31,502, according to census data, well below the county's median income of $56,251.
The activists say Boyle Heights needs more affordable housing and that more militant tactics are necessary to combat the displacement of lower-income renters who make up much of the Eastside.
Maga Miranda, a member of Defend Boyle Heights, said activists have talked to people who regret that they didn't push back harder and earlier in neighborhoods that saw waves of gentrification, such as Highland Park and Echo Park.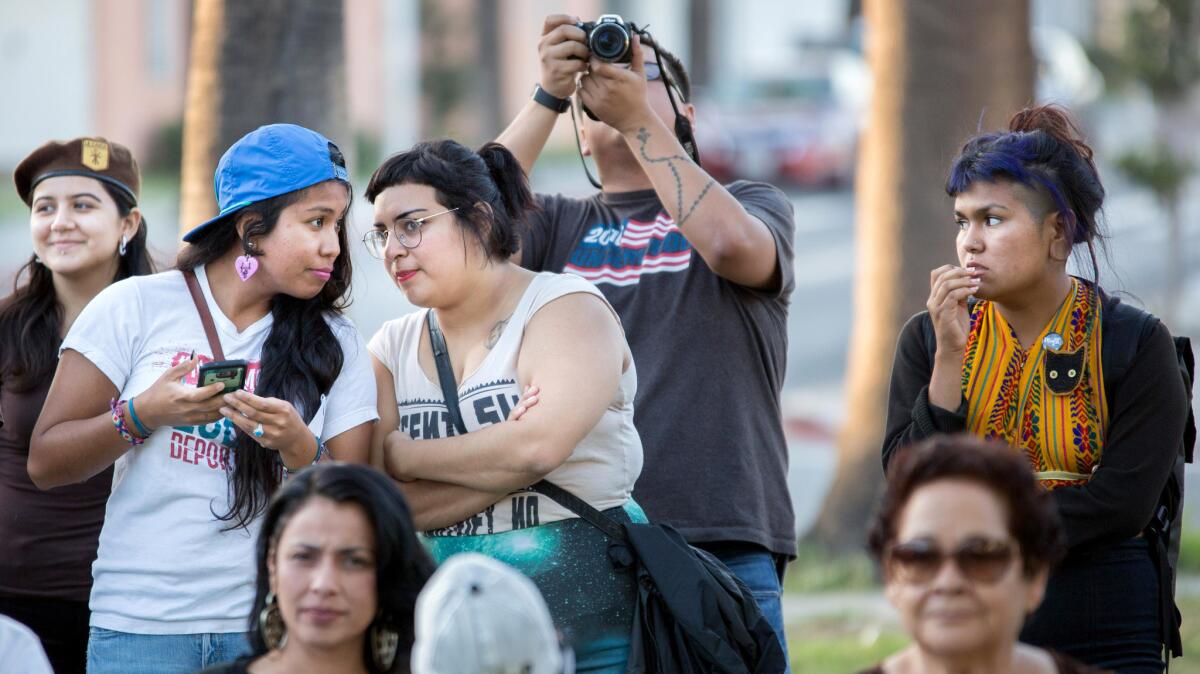 "They're telling us, 'We wish we had done something about it. We wish we had been more angry, and more militant and fought back harder," she said. "'Now we're seeing our communities that don't look anything like our communities.'"
And it's hard to argue that the more in-your-face strategy hasn't worked to some extent. In addition to garnering media attention, including in foreign publications such as the Guardian, the activist said their actions delayed the opening of at least one nonprofit art space, PSSST, earlier this year.
Though Councilman Jose Huizar — who represents Boyle Heights — said he's seen people who cannot afford other areas moving in, he noted that it is not happening "en masse" as in other neighborhoods.
"As I've been hearing these discussions and following the discussions, one thing I've always expressed and noted is that I don't think we will see the mass-scale change of demographics in Boyle Heights — by demographics, I mean either racial or income level — as other parts of this city have experienced, because of the fact that over 70% of the people who live in Boyle Heights are renters and about 90% of them are under rent control," he said.
"I've kind of felt comforted by those numbers to assure folks that I just don't see this mass-scale gentrification happening given that."
Huizar said if the community would like more affordable housing in those areas, "we can support that." However, he said he disagreed with the militant tactics being used.
"I think these tactics are counterproductive to creating the type of harmonious city that is respectful of all people's backgrounds," Huizar said. "I disagree with the tactics that have been used by some groups who evict people from Boyle Heights simply because of their racial or economic background."
The 11 art galleries that Defend Boyle Heights on its Facebook page has demanded leave are concentrated in the western side of the neighborhood -- an area that has long generated more immediate concerns about gentrification because of its closeness to a gentrifying downtown L.A. and changes that have already taken place.
Many of the galleries opened in the last year, popping up in the industrial area where previously graffiti on buildings was the closest thing to art. Two gallery owners declined to talk about the controversy and another one said he did not know he was on Defend Boyle Heights' list.
Eva Chimento flinched when a reporter stepped into her gallery. She was jumpy, she said, because of the activist groups. She opened Chimento Contemporary last July, employs two Boyle Heights residents and features L.A. artists, she said.
Chimento said she agrees that there is a need for affordable housing in the neighborhood and said she sent activists the names of free legal services that could help. But she said there seemed to be no negotiating.
"I feel like they won't listen," Chimento said. "You can't engage, there's no more dialogue to be had."
At a meeting after the confrontation at Self Help Graphics, a gallery owner asked the activists what they could do. An activist responded: "Art galleries, we look forward to you all leaving soon."
Defend Boyle Heights has called for a moratorium on Self Help's work with outside artists and galleries that they feel pose a threat of gentrification.
"Our problem with Self Help Graphics has been that they've been prioritizing the community artists and supporting spaces that give Chicano artists or marginalized artists the space to show … but they're not recognizing how they're erasing the voices of the people who stand the most to be affected by gentrification and those are the community members," Miranda said.
In the early 1970s, Sister Karen Boccalero turned an East L.A. garage into Self Help Graphics, a thriving cultural center that gave rise to some of the city's most successful Latino artists. Its first official space was located in Boyle Heights.
Later, it moved to a 1920s-era building on Cesar Chavez Avenue in East L.A. that would become distinctive for its mosaic-covered facade.
After it was displaced from that home, Self Help moved to 1st Street in Boyle Heights.
Lalo Alcaraz, an artist and nationally syndicated cartoonist who has worked in both Boyle Heights and East L.A. for more than 25 years, said that he opposes gentrification but defended Self Help.
"Attacking an institution like Self Help Graphics that has created so many artists and given so much voice to the community is simply wrongheaded and counterproductive," he said in a statement. "Also, art galleries don't bring gentrification. Economic forces that are against poor working people bring gentrification."
Times staff writer Sandra Poindexter contributed to this report.
ALSO
Construction is set to begin on $140-million La Plaza mixed-use project near Olvera Street
In event of a Newport Pier blaze, wait time for fire boats is a major concern
After 'very embarrassing' blunders, prosecutors offer no-jail deals in L.A. Coliseum corruption case
Sign up for Essential California for news, features and recommendations from the L.A. Times and beyond in your inbox six days a week.
You may occasionally receive promotional content from the Los Angeles Times.