Chefs react angrily as federal appeals court upholds California ban on foie gras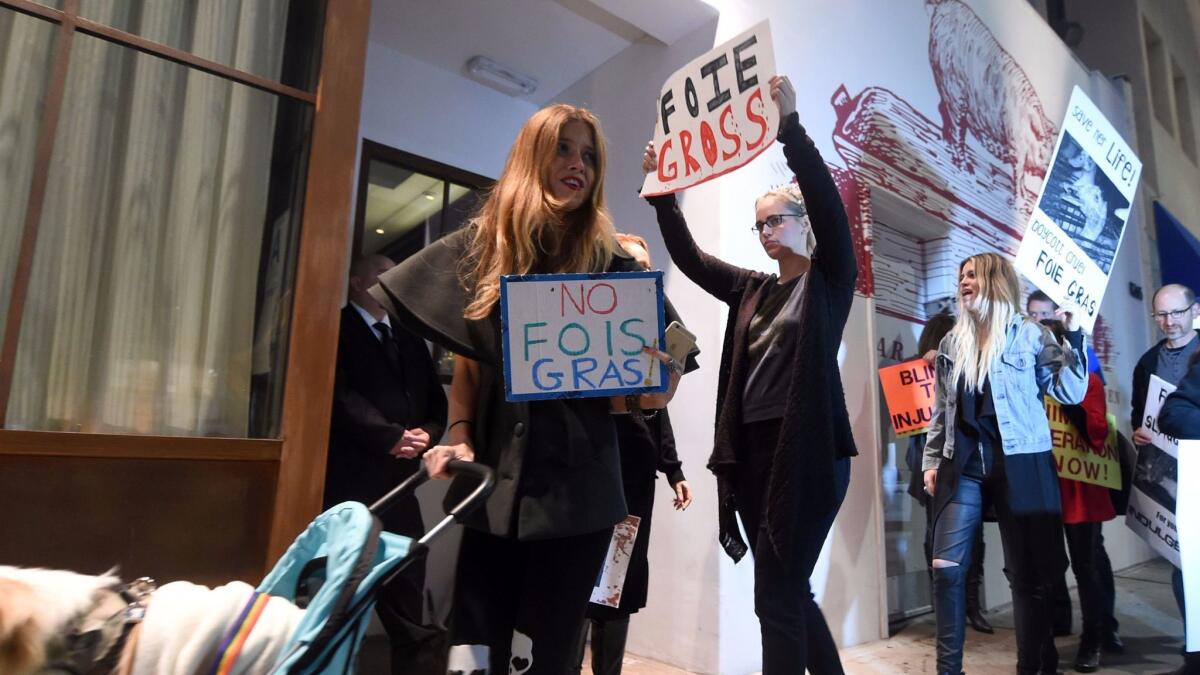 Reporting from San Francisco —
California may once again scrape foie gras off restaurant plates, after judges ruled in favor of a ban on the delicacy made by force feeding ducks and geese.
The decision Friday by a three-judge panel of the 9th U.S. Circuit Court of Appeals removes a roadblock to enforcing a 2004 ban that has been idled for more than half the time it has been on the books.
Animal rights groups applauded the action, while chefs who serve the dish reacted with anger and confusion.
Ingrid Newkirk, president of People for the Ethical Treatment of Animals, said in a statement that "the Champagne corks are popping."
"PETA has protested against this practice for years, showing videos of geese being force-fed that no one but the most callous chefs could stomach and revealing that foie gras is torture on toast and unimaginably cruel," Newkirk said.
As of Friday night, the foie gras torchon was staying on the tasting menu at Melisse in Santa Monica, said owner and two-star Michelin chef Josiah Citrin.
"I didn't really know it was coming; we'll just see what happens," he said. "I enjoy eating foie gras, but it's not going to end what I do. I just don't like being told what we can and can't use."
The Legislature passed the law in 2004 after finding that forced feeding was cruel and inhumane. But it delayed enforcement for seven years so producers could come up with a new method of making the delicacy.
The typical method involves placing a 10- to 12-inch metal or plastic tube down a bird's esophagus to deliver large amounts of concentrated food. When the birds are force fed, their livers grow to 10 times their normal size. The process is "so hard on the birds that they would die from the pathological damage it inflicts if they weren't slaughtered first," California's legislative analyst wrote when the bill banning foie gras was introduced.
Producers and a restaurant that serves foie gras filed suit to overturn the ban on sales. A district judge ruled in 2015 that the state ban illegally interfered with federal law.
Because federal law "contemplates extensive state involvement, Congress clearly did not intend to occupy the field of poultry products," the 9th Circuit said.
The court noted Friday that Italy, the Netherlands, the Czech Republic, India, Luxembourg, Denmark, Finland, Norway, Poland, Israel, Sweden, Switzerland, Germany and the United Kingdom have some form of a ban on forced feeding or on foie gras products.
Marcus Henley, the manager at Hudson Valley Foie Gras in New York, said in an email to The Times, "We will appeal. This process may take months. Until this appeal is completed, the law and the ban are not implemented and foie gras is legal to sell and serve in California."
The challengers will have two weeks to ask a larger 9th Circuit panel to review Friday's ruling, after which the 9th Circuit must decide whether to consider it. That process could take weeks, if not months, attorneys said.
If the challengers lose again in the 9th Circuit, they can appeal to the U.S. Supreme Court.
Until then, at least, restaurants may still serve the dish.
"Nobody needs to take foie gras off the menu tonight and we certainly aren't," said Ken Frank, chef at La Toque French restaurant in Napa Valley, which serves two dishes that feature foie gras.
Frank, whose advocacy for foie gras has attracted a lawsuit from animal rights activists, said the court decision would serve to bring in more gourmands to restaurants such as La Toque.
"What will happen is, foie gras sales are going to go back through the roof now," he said.
Food Network personality and Los Angeles chef Eric Greenspan described the ruling as "just crazy."
"Nobody likes to get held from cooking things that they usually love and not only that, but this is something customers love, too," Greenspan said. "Don't eat it if you don't want to, but don't impede on anyone's rights to do what they want to do. Foie gras is one of those things to me that connects classic food to modern food and it's been going on for so long and such a part of so many great classic cuisines that it will be missed.
"Let's ban assault rifles before we ban foie gras if you want to talk about cruelty," he said.
At Neal Fraser's downtown L.A. restaurant Redbird, foie gras torchon is one of the most popular items on the menu.
"Don't we have anything better to do than attack foie gras?" Fraser said in an email to The Times. "Like ending childhood hunger, cleaning up Houston or getting a step up on homelessness. Foie gras is not the problem."
Paul Shapiro, a spokesman for the Humane Society of the U.S., which pushed the original ban, said a broad spectrum of consumers in many countries have expressed revulsion at the practice of force-feeding poultry to satisfy the palates of a niche group of gourmands.
"If you can get Arnold Schwarzenegger, the former pope and the Israeli Supreme Court to agree that foie gras is inhumane, then there must be something to it," Shapiro said.
California never has been shy about garnishing its food with politics. Voters passed a proposition nine years ago that requires more liberty for egg-laying hens, and activists are trying to put an even stricter measure on the 2018 ballot.
The state has edged sugary food off school lunch plates, and prohibited genetically modified salmon from being raised in California waters. Efforts to require labels for food containing any genetically modified ingredients, meanwhile, have gained momentum.
The restaurant and food industry, chefs and diners have pushed back, insisting that the market, not politicians or voters, should dictate what is put on plates.
"If California gets away with this, what's next? Bacon?" said chef Sean Chaney, of Hot's Kitchen in Hermosa Beach, one of the plaintiffs in the case.
Vegans and die-hard animal rights activists would cheer the end of bacon and any other meat. And even as the rest of the public continues to eat animal flesh — beef consumption rose last year after a decade of decline — consumers have pushed for more humane treatment of farm animals and less use of chemicals, hormones and drugs to raise them.
With the spectrum shifting in that direction, banning an expensive delicacy served to very few diners has been an easy sell, and not just in California.
Dolan reported from San Francisco and Harris and Mohan from Los Angeles.
Twitter: @mauradolan
ALSO
Anaheim's emergency declaration sets stage for removal of huge homeless encampment
U.S. Army Corps of Engineers says Whittier Narrows Dam is unsafe and could trigger catastrophic flooding
Stephen Bannon, Ann Coulter and Milo Yiannopoulos will headline far-right Berkeley festival
---
UPDATES:
4:20 p.m.: This article was updated with additional details and context.
2 p.m.: This article was updated with chefs expressing opposition to a foie gras ban and details on how the case may progress in court.
12:40 p.m.: This article was updated with additional comments from chefs Eric Greenspan and Neal Fraser and the Humane Society.
12:20 p.m.: This article was updated with a statement from chef Josiah Citrin and more details about the appeal process.
11:20 a.m.: This article was updated with a statement from Hudson Valley Foie Gras and PETA.
This article was originally published at 10:45 a.m.
Sign up for Essential California for news, features and recommendations from the L.A. Times and beyond in your inbox six days a week.
You may occasionally receive promotional content from the Los Angeles Times.