Anaheim's emergency declaration sets stage for removal of huge homeless encampment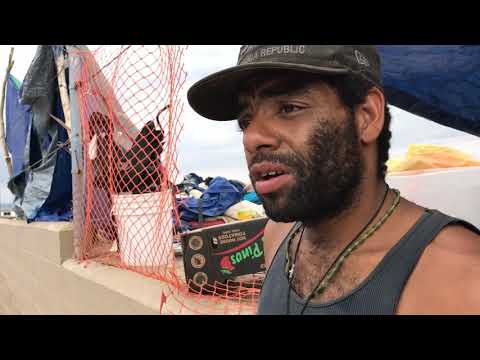 Fredrick "Batman" Reid, 32, homeless since he was 16 and lives in a tent along the Santa Ana River Trail. Video by Allen J. Schaben / Los Angeles Times
Along the Santa Ana River in the shadow of Disneyland and Anaheim Stadium, scores of homeless people young and old have set up makeshift encampments of tarps and tents.
They have swelled in recent month and become the latest symbol of Orange County's worsening homeless problem.
"Many times, things appear hopeless because we have nothing — not even restrooms," said Tammy Schuler, 41, who shares her cluttered tarp-covered plot on the trail with her boyfriend and younger brother. "We trade and try to help each other. We have no choice."
But this way of life has sparked a backlash from nearby residents as well as joggers and cyclists who say the camps have increased crime and blight.
Anaheim this week declared a state of emergency, clearing the way for the removal of hundreds of people living in a landscape dotted with trash and used hypodermic needles and lacking toilet facilities.
It's the latest and perhaps boldest move to date to deal with the county's homeless problem. Earlier this summer, Anaheim removed bus benches across the street from Disneyland following complaints about the homeless population sleeping on them around the amusement park.
The Santa Ana River is just one of several flash points in Orange County's homeless crisis. Another is the Santa Ana Civic Center, where a large homeless camp has formed.
In early May, authorities in Orange County reported an 8% increase in the area's homeless population over two years. Among nearly 4,800 homeless individuals, more than half were living without shelter. While cities like Los Angeles and San Francisco have long dealt with large homeless communities, officials in Orange County said they are still working on ways to help with massive needs and coordinate resources among numerous cities.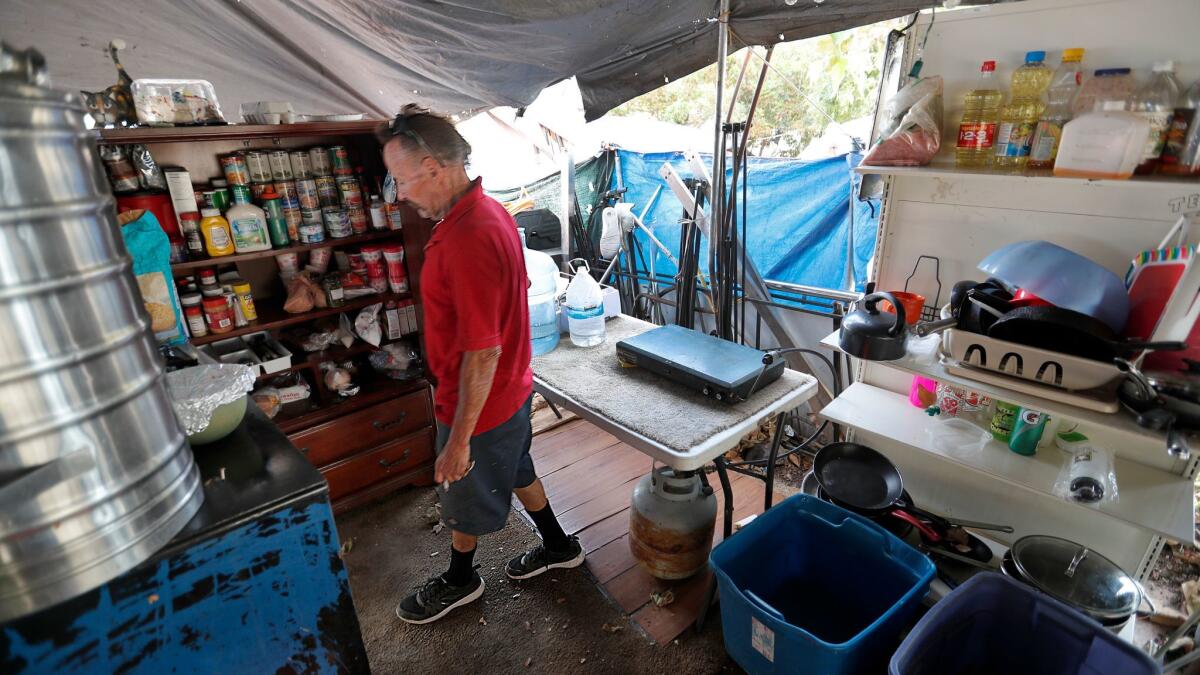 The Anaheim City Council's vote just past midnight Wednesday morning came amid growing concerns about the swelling homeless population along the river, not far from Angel Stadium.
The vote followed a county Board of Supervisors vote Tuesday at which all five members approved an increase in the Orange County sheriff's patrol in the flood control channels along the riverbed. Residents and business owners said that for years, they've tried to get the attention of the city and the county to clean up the area, which is a designated National Historic Trail. With the number of homeless people living along the riverbed growing, more than 13,000 people signed a petition calling for their removal.
"We are trying to bring everyone to the table to work on this crisis. We need to be nimble moving forward," said Councilwoman Kris Murray, who initiated the emergency resolution named Operation Home S.A.F.E.
During almost four hours of public comment, speakers both praised and criticized Murray for the idea, with County Supervisor Todd Spitzer backing her and pledging funding.
"I really believe the riverbed cannot become Orange County's skid row," he said.
He predicted that with a stronger law enforcement presence, at least 20% of the homeless will leave willingly, fearing arrests for drugs or contraband. City Net, a group contracted to work with the riverbed population, last counted 422 adults at the site. Spitzer said statistics show that 12% come from outside California, while 26% are from Anaheim.
Mark Daniels, a lifelong resident of Anaheim, told the council that the crisis "is so colossal, far beyond the reach of the county of Orange. Even if you clear the river out, where are these people going to go ultimately?"
"We need relief," fellow resident Mary Sitter said. "I don't want to see needles in my yard, feces in my yard. Shame on all of you for letting this go as long as it has."
Homeless advocates appealed to the council not to "play politics with people's lives," pleading for authorities to add portable toilets and to treat the population with respect while searching for solutions.
"These are our neighbors. Their only crime is not being able to afford a place to live," said Eve Garrow, a homelessness policy analyst for the American Civil Liberties Union, adding that the wait for affordable housing in one of the most expensive counties in the nation can stretch as long as 10 years.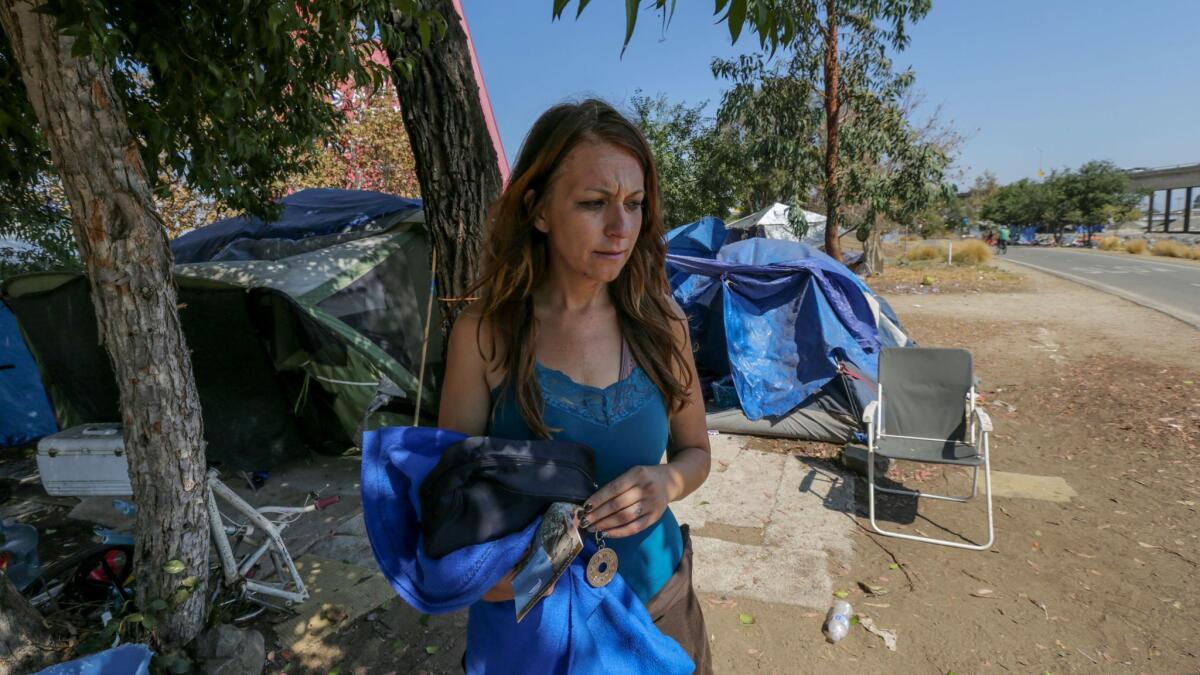 Murray's resolution is designed to heighten awareness of the homeless "chaos" in Anaheim, whose street population has ballooned beyond 900, she said. Staff and officials plan to push for an additional 100 beds at the Bridges at Kraemer Place, a county-run shelter in Anaheim, in addition to asking armories that serve as seasonal shelters to open before winter.
She also suggested that the city and county link hands to set up a temporary, 500-bed shelter, apart from launching a community triage day when multiple groups including nonprofit and faith-based organizations along with agencies at every level would work to relocate the homeless. Once they leave the riverbed, officials could begin enforcing Anaheim's anti-camping ordinance.
"The riverbed is a prison without walls," said Councilwoman Lucille Kring, before embracing Murray's resolution.
Councilman Stephen Faessel urged his colleagues to name a homeless "czar" to be the point person responsible for executing Anaheim's vision, saying "services must be balanced with enforcement."
Nearing midnight Tuesday, after more than 60 people had spoken on the issue, the audience pushed for a vote. Councilman Jose Moreno spoke up and labeled the resolution "a temporary fix," offering a series of amendments that he said would zero in on funding Murray's demands. He also said many of the actions she was proposing were already being done by staff. The two sparred on semantics, prompting more catcalls and muttered obscenities from observers.
Mayor Tom Tait spoke up, saying: "This issue is so big. This is something that we as a society need to solve — and we need to solve in a humane, kind way."
After the ballot count, as a few dozen remaining people filed out of the council chambers before 1 a.m., some yawning loudly, one activist made plans with another to visit the riverbed over the weekend. She wondered if some of the out-of-towners will be making tracks to another state, trying their luck elsewhere.
Twitter: @newsterrier
ALSO
Editorial: Want to build housing for homeless people faster? Here's how
Confrontation between downtown Los Angeles bar owner and homeless man prompts debate
Council panel deals setback to proposed homeless housing project in Boyle Heights
---
UPDATES:
8:45 a.m.: Updated with information about Santa Ana Civic Center.
Originally posted Wednesday at 2:25 p.m.
Sign up for Essential California for news, features and recommendations from the L.A. Times and beyond in your inbox six days a week.
You may occasionally receive promotional content from the Los Angeles Times.