Stephen Bannon, Ann Coulter and Milo Yiannopoulos to headline far-right Berkeley festival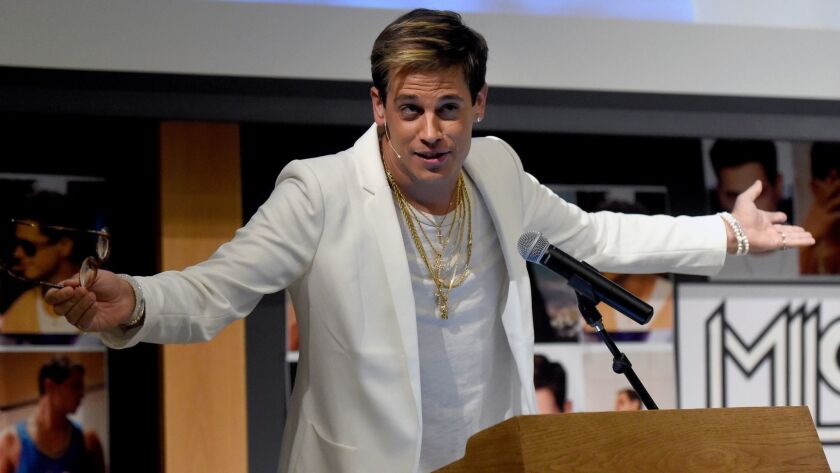 Reporting from Berkeley —
A veritable who's who of far-right rock stars such as Pamela Geller, Mike Cernovich and Erik Prince are slated to join Milo Yiannopoulos, Ann Coulter and former White House strategist Stephen K. Bannon at UC Berkeley later this month for "Free Speech Week," event organizers say.
The lineup's release Thursday comes as university officials say student organizers have failed to provide the paperwork necessary for the event to go forward. Past events featuring planned appearances by Yiannopoulos and Coulter have been marred by violence from demonstrators.
The upcoming appearances of Bannon, Yiannopoulos and Coulter have previously been reported. On Thursday however, Yiannopoulos' company announced an expanded roster of speakers for the multi-day event, which starts Sept. 24. More guests will be revealed in the coming days, Yiannopoulos said.
"Our plan was to slowly release the names of our confirmed speakers over the next two weeks, but the reaction to our announcements of Steve Bannon and Ann Coulter was so huge that we decided to put out the full list," Yiannopoulos said.
"We still have plenty of surprises coming though!"
Campus spokesman Dan Mogulof said the Berkeley Patriot student group that's working with Yiannopoulos has yet to sign contracts with the campus venues to host the speakers.
"[If] you want to rent a venue, you have to sign a contract," he said. "The university is prepared to spend hundreds of thousands of dollars on security arrangements. We can't provide them with that if we are not sure the event is going to happen."
He also said the student group has not provided "essential" information required to provide security for the events.
Mogulof would not disclose what deadlines the student group faces.
Berkeley Patriot spokesman Bryce Kasamoto, a 20-year-old senior studying political science and public policy, said Wednesday that the group expected to meet the campus' deadline, which he said was approaching "within the next week."
"It is all going to be ready and finalized pretty soon, " he said. "This event is going to go forward and its going to be very exciting."
He said the group has 11 members and plans to launch its own newspaper during the event.
"We are just going to communicate with them directly and not through the press," Mogulof said. "We still have hopes that this can all still get done on time."
Event speakers will also include James Damore, a former Google engineer who was fired over a memo he wrote about gender differences, which was widely viewed to be sexist.
Damore is scheduled to speak Sept. 25, along with Monica Crowley, a former Fox News personality who was prevented from joining the Trump administration following reports of plagiarism in her doctoral dissertation and a recent best-selling book.
That day's theme is "Zuck 2020" and will "conclude with a special debate on regulation of tech companies as public utilities," the release said.
The Sept. 26 theme is "Islamic Peace and Tolerance Day," and according to the release, it will include remarks from Geller, who regularly espouses anti-Islamic views and once said President Obama "will do nothing but beat up on our friends to appease his Islamic overlords." Prince, the founder of now defunct military contractor Blackwater who has recently been advocating for private contractors to be sent to Afghanistan instead of U.S. troops, will also speak.
Breitbart London's editor, Raheem Kassam, who was an active supporter of the "Brexit" movement, will also speak that day.
The final day's theme is "Mario Savio is Dead," which references the late activist's famous 1964 address during the free speech movement. Bannon, Coulter, Yiannopoulos, Cernovich and current Breitbart editor Alex Marlow are all slated to speak that day.
In the release, Yiannopoulos said specific times and locations for each speaker will be released in the coming days. "The Mario Savio Award for Free Speech" will be awarded the final day, Yiannopoulos said.
Savio's widow, Lynne Hollander Savio, has said she is exploring legal options to stop Yiannopoulos from co-opting her husband's name for the award.
Here is the full list of scheduled speakers and dates of appearance:
Sunday, Sept. 24: "Feminism Awareness Day" — Miss Elaine, Lucian Wintrich, Lisa DePasquale, Chadwick Moore and Milo Yiannopoulos
Monday, Sept. 25: "Zuck 2020" — , Monica Crowley, the street artist "SABO," Jordan Peterson and James Damore
Tuesday, Sept. 26: "Islamic Peace and Tolerance Day" — Raheem Kassam, Katie Hopkins, Erik Prince, Pamela Geller, David Horowitz and Milo Yiannopoulos
Wednesday, Sept. 27: "Mario Savio is Dead" — Mike Cernovich, Ariana Rowlands, Stelian Onufrei, Alex Marlow. Milo Yiannopoulos, Stephen K. Bannon and Ann Coulter.
ALSO
UC Berkeley is sending mixed messages about freedom of speech
UC Berkeley Chancellor Carol T. Christ: 'Free speech has itself become controversial'
---
UPDATES:
Sept. 15, 12:23 p.m.: This article was updated to reflect that Heather Mac Donald won't be speaking. The initial news release indicated Mac Donald would be speaking.
3:35 p.m.: This article was updated to reflect that Michael Malice won't be speaking. The initial news release indicated that Malice would be speaking
This article was originally published on Sept. 14 at 1:55 p.m.
---
The stories shaping California
Get up to speed with our Essential California newsletter, sent six days a week.
You may occasionally receive promotional content from the Los Angeles Times.