ICE agents make arrests at courthouses, sparking backlash from attorneys and state supreme court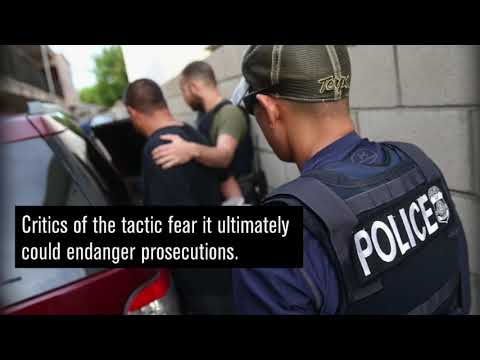 Critics argue it could deter others in the U.S. illegally from appearing in court to testify as witnesses or answer warrants. (March 15, 2017) Sign up for our free video newsletter here http://bit.ly/2n6VKPR
Octavio Chaidez was walking out of a Pasadena courtroom with a client last month when four men jumped up from a hallway bench and rushed toward them.
The men asked his client's name. Then they pulled out badges.

For the record:
9:48 a.m. June 30, 2019An earlier version of this article said that a 24-year-old man arrested by ICE agents in a Phoenix courthouse was awaiting retrial on a misdemeanor assault case. It was a felony case.
"They say, 'You're Mr. So and So?' and he says, 'Yes,' " Chaidez said. "They show him a badge, and they say, 'We're from Immigration and Customs,' and they took him in."
Chaidez, who has worked as a defense attorney in Los Angeles County for nearly 15 years, said he had never seen federal Immigration and Customs Enforcement agents make an arrest inside the confines of a courthouse.
But in the past few weeks, attorneys and prosecutors in California, Arizona, Texas and Colorado have all reported teams of ICE agents — some in uniform, some not — sweeping into courtrooms or lurking outside court complexes, waiting to arrest immigrants who are in the country illegally.
On Thursday, the California chief justice asked the Trump administration to stop immigration agents from "stalking" the state's courthouses to make arrests.
"Courthouses should not be used as bait in the necessary enforcement of our country's immigration laws," Tani Cantil-Sakauye wrote in a letter to Atty. Gen. Jeff Sessions and Homeland Security Secretary John F. Kelly. "Enforcement policies that include stalking courthouses and arresting undocumented immigrants, the vast majority of whom pose no risk to public safety, are neither safe nor fair."
ICE officials have defended the tactic, saying they make arrests in courthouses only when all other options have been exhausted. But activists, attorneys and prosecutors fear ICE's increased presence in courthouses could deter other immigrants without legal status from appearing in court to testify as witnesses or answer warrants, which ultimately could endanger prosecutions.
San Francisco Dist. Atty. George Gascon called ICE's forays into courthouses "very shortsighted" because some immigrants here illegally will simply avoid court for fear of being arrested.
"The chilling impact that has on an entire community is devastating," he said.
ICE directs its agents to avoid making arrests in "sensitive locations," including schools, places of worship and hospitals, whenever possible, according to Virginia Kice, an agency spokeswoman.
That policy does not cover courthouses, Kice said, although agents normally will try to detain people at other locations before entering a courtroom. ICE's recent action in courthouses has been, in part, driven by an increase in the number of local law enforcement agencies that refuse to comply with ICE requests to detain suspects in county jails, she said.
"In years past, most of these individuals would have been turned over to ICE by local authorities upon their release from jail based on ICE detainers," Kice said "Now that many law enforcement agencies no longer honor ICE detainers, these individuals, who often have significant criminal histories, are released onto the street, presenting a potential public safety threat."
ICE has made arrests in courthouses before, but the tactic drew strong rebukes in California after a series of raids led to the capture of women seeking restraining orders, people paying parking tickets and even one couple getting married inside a Kern County courthouse in 2013, according to the American Civil Liberties Union.
ICE eventually stopped the practice, but activists fear the recent courthouse arrests signal the more aggressive stance taken by ICE and other immigration enforcement agents in the wake of President Trump's election after a campaign that focused largely on illegal immigration.
There are tactical advantages for agents with courthouse arrests, Kice said.
Suspects have to pass through metal detectors before entering courthouses, meaning they are unlikely to be armed. In recent months, ICE has arrested several suspects in courthouses in Portland, Ore., and Southern California who had prior convictions for sex crimes, drug trafficking and drunken driving, she said. The suspect who was arrested in the Pasadena courthouse last month was a Mexican national with a prior drug conviction, according to Kice.
While some of the courthouse arrests may allow ICE to capture people with violent pasts, others have focused on different segments of the immigrant population. On Feb. 9, a woman who had accused her husband of abuse was arrested while seeking a restraining order in an El Paso courthouse, according to Lucila Flores Camarena, an assistant county attorney in El Paso who oversees the agency's protective order unit. An undercover ICE agent was seated behind the woman, according to Flores Camarena, who said other women seeking protective orders also were in the courtroom.
Agents ultimately arrested the woman, Irvin Gonzalez Torres, outside the courtroom. But Flores Camarena said she was concerned that the presence of ICE agents in courthouses might cause some women to stay with their abusers, rather than risk going to court to seek a protective order for fear of deportation. In the weeks that followed, several other women revoked their requests to seek protective orders. Two of them specifically cited Torres' arrest, she said.
"It's a really horrific position to find yourself in," Flores Camarena said. "I can't feel safe in seeking help from the justice system because I now have this very real threat that I might be deported."
Last week, Denver City Atty. Kristi Bronson also told several media outlets that she had to dismiss prosecutions against four separate domestic violence suspects because the complaining witnesses, all of whom are in the country illegally, were afraid ICE might either learn their location through a court docket or send agents to the courthouse when they appeared to testify. Bronson's comments came weeks after a video surfaced showing ICE agents waiting to arrest someone outside a Denver courtroom.
A 24-year-old who was awaiting retrial on a felony assault case also was arrested by ICE agents inside a Phoenix courthouse last month, according to his attorney, Philippe Martinet. He had been accepted into the Deferred Action for Childhood Arrivals program, an Obama administration initiative aimed at protecting the children of immigrants in the country illegally from deportation.
Given this, Martinet said the arrest left many puzzled as to why ICE agents would go into a courthouse to arrest someone accepted into the DACA program.
ICE did not immediately respond to requests for comment on the arrest in Phoenix, but court records show Martinet's client, Erik Tovar-Andrade, was convicted of assault and unlawful flight from police in 2015. Prosecutors contended the charges stemmed from an incident that involved Tovar-Andrade violating a restraining order, but Martinet said his client was trying to escape from a group of people who had attacked him.
Some law enforcement leaders in California and throughout the country have repeatedly expressed concern that Trump's promise to dramatically expand immigration enforcement will erode trust between minority communities and local police departments, a bond already weakened by years of scrutiny over officers' use of force throughout the country. ICE also faced renewed scrutiny last month after the agency released a video showing immigration agents identifying themselves as police, a tactic decried by activists as unethical and police leaders as detrimental to local law enforcement's relationship with immigrant communities.
Mary Hearn, a spokeswoman for Los Angeles County Superior Court, said she had not received reports of ICE making arrests in area courthouses aside from the incident in Pasadena last month. But ICE's recent activities have sparked concerns among some judges, according to a court official who spoke to The Times on condition of anonymity. In late February, three separate judges called meetings with their staff and asked to be alerted if anyone noticed ICE agents inside their courtrooms, according to the official, who requested anonymity in order to speak candidly about the situation.
Still, court officials have no authority to interfere with ICE investigations, even when they set foot in county courthouses, Hearn said in a statement.
Follow @JamesQueallyLAT for crime and police news in California.
Times staff writer Maura Dolan contributed to this report.
ALSO
Tensions flared among audience members as state Senate Committee took up bill on police and immigration enforcement
Here's why law enforcement groups are divided on legislation to turn California into a 'sanctuary state'
'Dreamer' targeted for deportation for speaking out on immigration, attorneys say
---
UPDATES:
March 16, 10:40 a.m.: This article was updated with comment from the California chief justice.
3 p.m.: This article was updated with additional details from court records.
This article was originally published March 14
Sign up for Essential California for news, features and recommendations from the L.A. Times and beyond in your inbox six days a week.
You may occasionally receive promotional content from the Los Angeles Times.