Four killed in shooting at San Francisco UPS facility, including gunman
A shooting at a United Parcel Service facility in San Francisco killed multiple people the morning of June 14, according to a company spokesman. (June 14, 2017) (Sign up for our free video newsletter here http://bit.ly/2n6VKPR)
Reporting from San Francisco —
A gunman shot and killed three people at a United Parcel Service facility in San Francisco on Wednesday morning before fatally shooting himself in front of police officers, authorities said.
Two others were wounded by gunfire, according to San Francisco police, and five had injuries that were probably sustained during the rush to evacuate.
The lone gunman, identified by police as Jimmy Lam, 38, shot himself in the head, Assistant Chief Toney Chaplin said. Two guns were recovered at the scene.
Authorities said the incident was not believed to be connected to terrorism. Police Chief William Scott told The Times that investigators were uncertain about Lam's motive.
Police were still conducting "a very active investigation on what may have caused this as well as [the gunman's] background," Scott said.
UPS spokesman Steve Gaut said Lam was a driver who was wearing his uniform when he opened fire inside the four-story shipping facility. At the time, workers were gathering for their morning meeting before departing to deliver parcels, he said.
Lam, a resident of San Francisco, had filed a grievance in March complaining about excessive overtime, Joseph Cilia, a Teamsters Union official, told the Associated Press. The Teamsters local represents UPS workers in San Francisco.
Cilia said the gunman seemed to have targeted the three drivers who were fatally wounded.
"I never knew Jimmy to not get along with people," Cilia said. "Jimmy wasn't a big complainer."
The names of the three people who died were not released. A UPS official said the package service was working with law enforcement to notify the workers' families.
Family and friends identified one of the victims as Mike Lefiti, a longtime UPS driver.
His cousin, Mack Toia, told KGO-TV Channel 7, the ABC affiliate in San Francisco, that he arrived to pick up Lefiti, a married father of five.
"I came out of the van, I walked up toward the gate and I looked over and I saw my cousin sprawled out on the concrete," Toia told the news station. He ran over toward Lefiti but was pushed away by arriving first responders.
"I got to touch him, but I couldn't hug him," Toia said.
The gunfire began about 8:55 a.m. and it prompted police to issue a shelter-in-place alert to residents near the UPS building, located at the border of the Mission District and the Potrero Hill neighborhoods.
A Twitter user across the street from the building wrote that he heard seven or eight gunshots and saw employees standing on the building's rooftop parking lot with their hands up.
When police arrived, they encountered numerous victims and evacuated them, Chaplin said. Officers learned that the gunman was still inside the cavernous facility and actively targeting people.
A team entered the building, found Lam and saw him turn his weapon on himself, Chaplin said.
"The officers did what they were trained to do, and that is when we have an active shooter we engage an active shooter to stop the shooting, and the officers did that," Chaplin said. "This person took their life because our officers confronted him."
Officers did not fire at the gunman, authorities said.
Police announced that the building was secure shortly after 10:30 a.m. Meanwhile, officers continued searching the premises for witnesses and additional victims.
Officers found two bodies outside the facility; others were inside, Chaplin said.
"This was a frightful scene, and we just wanted to make sure someone wasn't so terrified that they were hiding and we didn't know they were inside the facility," Chaplin said.
Gaut, the UPS spokesman, said the facility processes packages for delivery in the San Francisco area and has 350 workers. It is unknown how many employees were in the facility at the time of the shooting, company officials said.
Relatives of workers began arriving to reunite with their loved ones, who were being interviewed by police.
Maria Olmedo, 42, rushed to the area when she learned of the shooting. Her 21-year-old son is a loader and wasn't responding to her panicked texts, she said.
"It's a scary situation, I'm a mom," Olmedo said, standing about a block away from a church where police had relocated employees.
One of her son's co-workers sent Olmedo a text message, assuring her that he was fine.
Condolences began to flow in through social media after word spread that the rampage was over and the gunman was dead.
As investigators continued to process the crime scene Wednesday afternoon, motorcycle officers escorted a black van from the facility. In the passenger seat, a woman sobbed and held her head in her hands.
At an afternoon news conference, Mayor Ed Lee reassured UPS workers and the families of those killed that they would be taken care of.
"They are happy and hardworking people," Lee said. "We know them in every single neighborhood in the city."
In days to come, city officials will review the incident to determine if any safety improvements can be made.
Rosemary Turner, president of UPS North California District, said counselors would be on hand to provide support.
"Please keep UPS-ers in your prayers," she said.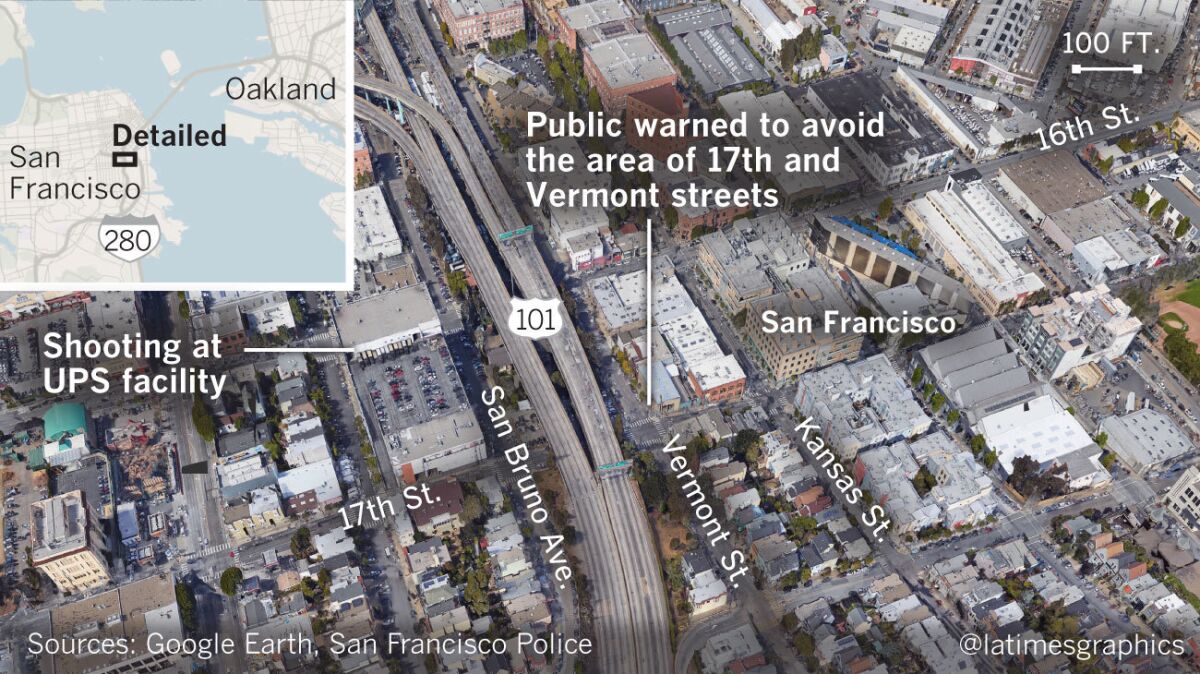 Times staff writers Matt Hamilton and Richard Winton contributed to this report. Dolan reported from San Francisco, Serna and Rocha from Los Angeles.
ALSO
L.A. mayor thinks a monorail over the 405 Freeway could tame traffic gridlock
Signs of past California 'mega-quakes' show danger of the Big One on San Andreas fault
Column: Dying malls offer a chance to build something better — and address how our lives are changing
---
UPDATES:
10:15 p.m.: This article was updated with the age of the gunman.
9:20 p.m.: This article was updated throughout with comments from union officials, Chief William Scott and the identity of one of the victims.
4:10 p.m.: This article was updated with comments from Chaplin.
2:10 p.m.: This article was updated with comments from Lee and Turner.
1:30 p.m.: This article was updated with a comment from a UPS worker.
12:50 p.m.: This article was updated with comments from employees' families.
12 p.m.: This article was updated with comments from the San Francisco mayor.
11:40 a.m.: This article was updated with comments from San Francisco police.
10:45 a.m.: This article was updated with additional comments from a UPS spokesman.
10:20 a.m.: This article was updated with comments from a hospital spokesman and San Francisco police.
10 a.m.: This article was updated with comments from a UPS spokesman.
9:40 a.m.: This article was updated with comments from the city's Department of Emergency Management.
This article was originally published at 9:35 a.m.
The stories shaping California
Get up to speed with our Essential California newsletter, sent six days a week.
You may occasionally receive promotional content from the Los Angeles Times.