L.A. mayor thinks a monorail over the 405 Freeway could tame traffic gridlock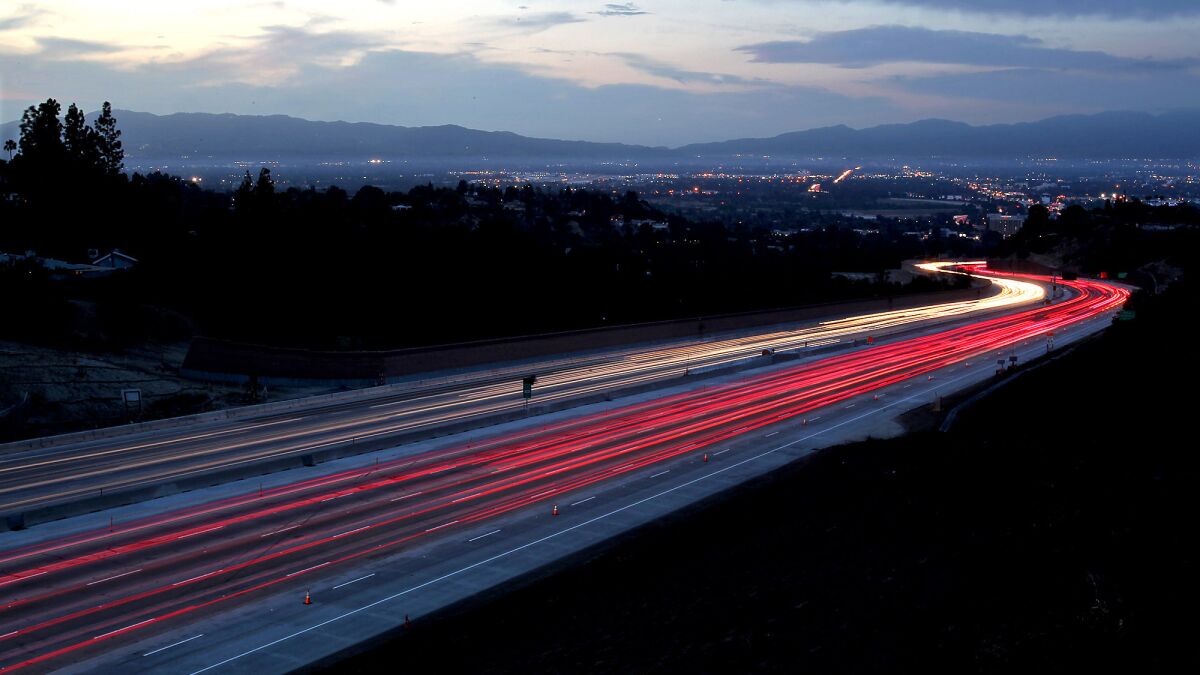 Politicians have long sought to link the San Fernando Valley and the Westside via a rail line so commuters can avoid the 405 Freeway's notorious traffic.
On Tuesday, Mayor Eric Garcetti raised a new idea to relieve the traffic bottleneck.
---
The advantage of monorails
Garcetti wants to consider a monorail, a mode of transportation most Southern Californians probably associate with Disneyland and Las Vegas.
In an interview with KNX-AM's "Ask the Mayor," Garcetti said an above-ground train can't traverse the pass because of the steep incline.
"Well, monorails can, and they can go at about the same speed as railcars," Garcetti said.
Can a monorail tame the 405?
Monorails typically consist of cars on an elevated single track. In the U.S., systems in cities such as Seattle, Newark, N.J., and Jacksonville, Fla., travel relatively short distances and carry fewer riders than subways and other types of rail lines.
Los Angeles County voters in November approved Measure M, a sales tax increase expected to raise $120 billion over the first four decades of assessment to help pay for transportation projects, including a possible rail line through the Sepulveda Pass.
Metro has not started the so-called "alternatives analysis" for the project, which will include a more detailed examination of several options for connecting the Valley to the Westside.
Monorail has been considered for Metro projects before; the agency considered it as one way to connect Koreatown to Mid-Wilshire, but instead opted for the heavy-rail subway that is now being built.
L.A.'s flirtation with monorails
In 1960, planners unveiled an ambitious monorail proposal. The $539-million project (in 1960 dollars) would create more than 70 miles of rail, much of it elevated.
The plan brought much excitement. But opposition began to form, both over the price tag and from critics who didn't want an elevated rail line running down Wilshire Boulevard.
For a while, officials talked about turning the Wilshire leg into a subway.
Then a scaled-back monorail plan was submitted.
It didn't go very far, though planners continued to talk about various monorail routes well into the 1980s.
One of the biggest advocates of monorails in L.A, was the late author Ray Bradbury.
In an article for The Times in 2006, he wrote that monorails were superior to light rail and subways and proposed an ambitious network.
"Compared to the heavy elevateds of the past, the monorail is virtually soundless. Anyone who has ridden the Disneyland or Seattle monorails knows how quietly they move. They also have been virtually accident-free. The history of the monorail shows few collisions or fatalities.If we constructed monorails running north and south on Vermont, Western, Crenshaw and Broadway, and similar lines running east and west on Washington, Pico, Wilshire, Santa Monica and Sunset, we would have provided a proper cross section of transportation, allowing people to move anywhere in our city at any time," he wrote.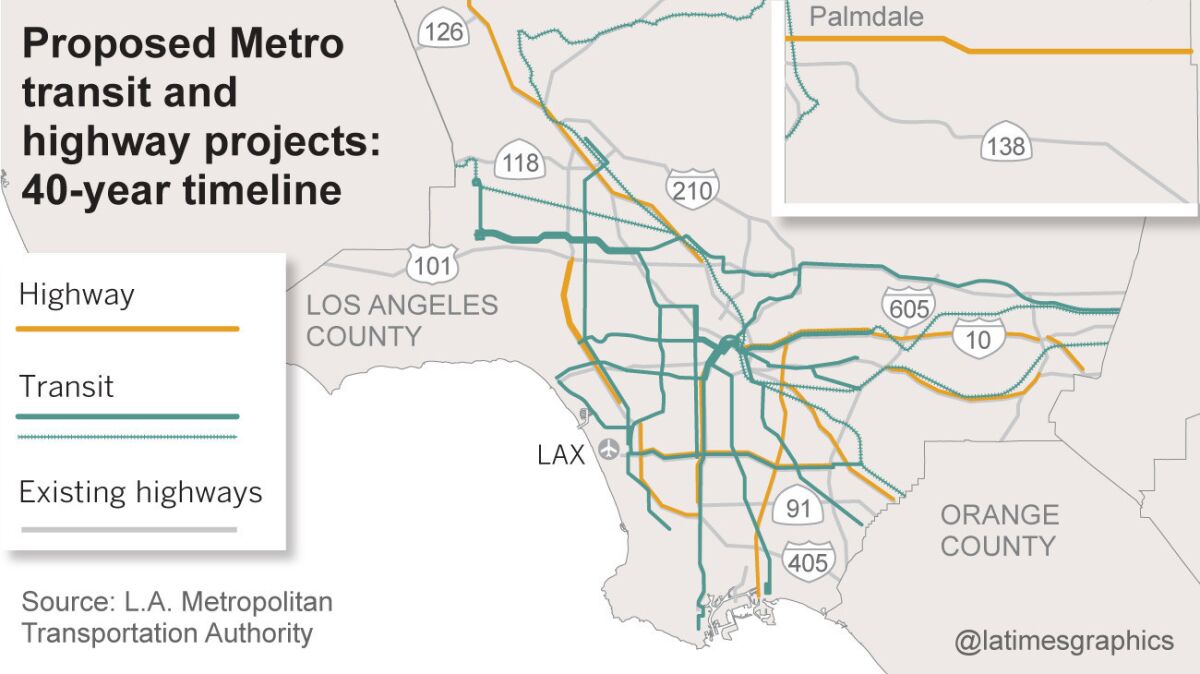 Should L.A. follow China's example?
During his interview, Garcetti praised a new monorail system built in China by BYD Motors, a Chinese electric car and bus company.
The city provided $1.6 million in federal funding to help BYD open its North American headquarters in downtown Los Angeles. The company has sold several electric buses to the Metropolitan Transportation Authority, the agency that will determine the transit future of the Sepulveda Pass.
According to Bloomberg, BYD has been pitching its monorails to gridlocked cities.
Garcetti said BYD's new system is better than the monorails of the past because it is designed to withstand earthquakes, cheaper to build and can be accessed in an emergency, the mayor said.
"With a small footprint, with electric motors, safety for both earthquakes and access, it could be on the table," Garcetti said. "So we will try and take an expedition over there to China and check it out."
ALSO
Metro board drops support for controversial 710 Freeway tunnel
Opinion: There's only one way to fix L.A.'s traffic, and it isn't Elon Musk's tunnels. We need tolls — lots of them
A political battle over California's bullet train has ended with the release of money
---
UPDATES:
8:45 a.m., June 14: This article was updated with historical information about author Ray Bradbury's support of a monorail system in Los Angeles.
This article was originally published at 3:05 p.m., June 13.
---
The stories shaping California
Get up to speed with our Essential California newsletter, sent six days a week.
You may occasionally receive promotional content from the Los Angeles Times.