'We have to fight': Ojai family is refusing to evacuate as flames approach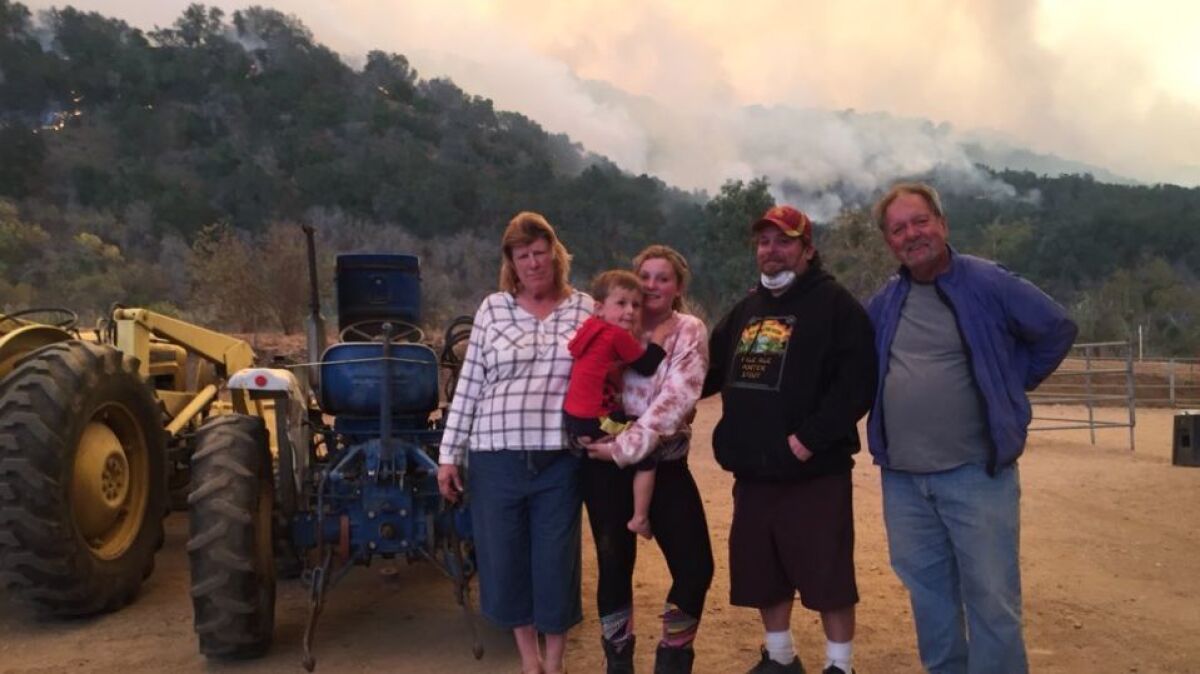 Reporting from OJAI —
Below Sulphur Mountain in Ojai, Marie McTavish and her family were preparing for a firefight.
For more than 30 years, McTavish, 65, and her husband Mike, 70, have owned West Winds Ranch, a boarding stable for dozens of horses.
But as flames from the Thomas fire crawled down Sulphur Mountain on Tuesday, sending up walls of smoke that covered the sky, the family knew the horses had to go.
All morning, a crew led by Jan Threinen, 73, loaded horses into trailers, which carried the animals to fairgrounds in Ventura and Santa Barbara. More than 20 horses were evacuated. By the afternoon, three remained — older than 30, they were the toughest to get into trailers.
Then, the McTavishes and others along Creek Road were told to leave. They packed up their keepsakes and loaded up their cars. But in a stroke of defiance, they are staying to protect their land.
"Our barn is our lifeblood," Marie McTavish said. "We have to fight, to save our barn."
Her granddaughter, Makayla Beverage, 13, hopped on the roof of her grandmother's home and hosed it down. She also filled up two trash cans on the roofs of the house and the barn, hoping the large pails of water will help firefighters if the flames reach the building.
"We've been out here all day, spraying with the hose," Makayla said.
Built in 1965, the barn has about a dozen stalls and was full until Tuesday morning. It was empty by the afternoon, as horse owners carted off their animals as well as saddles.
Mike McTavish, clutching a michelada as his two grandchildren ate their lunch, looked up at the mountain side.
"We're on ember-watch," he said. "We feel pretty lucky so far."
As the winds shift course and the flames continue their march down the hillside, Marie McTavish's mind remained on her barn.
"We could never rebuild it," she sighed. "I'm more worried about the barn than my house. It's a landmark. If we lose it, it will be really sad."
Twitter: @MattHjourno
The stories shaping California
Get up to speed with our Essential California newsletter, sent six days a week.
You may occasionally receive promotional content from the Los Angeles Times.