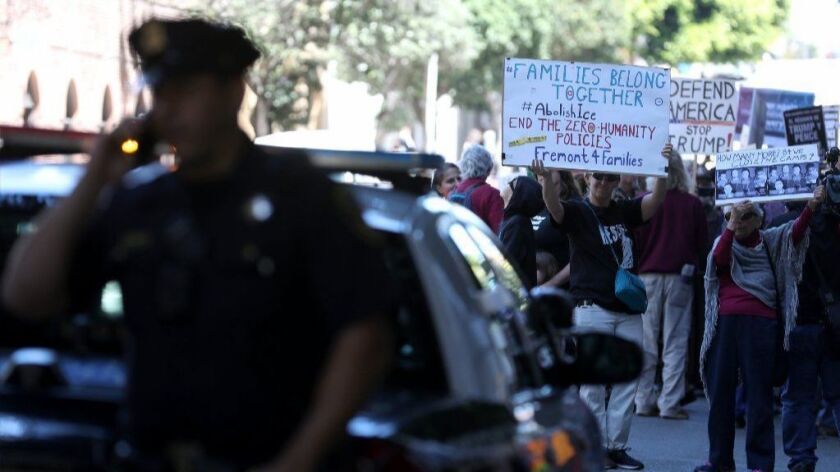 Good morning, and welcome to the Essential California newsletter. It's Monday, July 15, and here's a look at the week ahead.
On Monday, the "world's toughest footrace" — a 135-mile ultramarathon from Death Valley to Mount Whitney — will commence. Entrants in the grueling Badwater Ultramarathon will probably face temperatures approaching 122 degrees Fahrenheit.
And speaking of ultramarathons, we still have roughly a year left in the race for the 2020 Democratic Party presidential nomination and a few candidates will be swinging through California this week. Self-help author Marianne Williamson will be campaigning in Los Angeles on Monday, with an evening fundraiser in Beverly Hills.
The 2019 Emmy nominations will be announced early Tuesday morning, roughly nine weeks ahead of the September awards show. Here are five things to watch for when the nominations are unveiled.
Also Tuesday: The 50th anniversary of the Apollo 11 launch, which culminated in one very famous small step for man and a giant leap for mankind. (Expect a whole lot of #Moon content all over your internet.)
On Wednesday, Mexican drug lord El Chapo will be sentenced on murder conspiracy and drug trafficking charges in a New York courtroom.
Also Wednesday: Global streaming giant Netflix will report its second-quarter earnings and subscriber numbers. And the annual Perseid meteor shower is likely to become visible. The Perseid meteor shower is expected to peak from Aug. 12 to 13.
Comic-Con opens to the public in San Diego on Thursday.
Former Vice President Joe Biden will be on the campaign trail in Los Angeles on Thursday and Friday. Biden will headline a big-name Hollywood fundraiser on Friday.
And now, here's what's happening across California:
TOP STORIES
Long-threatened ICE raids were expected to take place Sunday in several major U.S. cities, including Los Angeles and San Francisco. The publicized plans stoked widespread fear in immigrant communities, but there were no reports of arrests in the Los Angeles or San Francisco areas as of Sunday evening. Los Angeles Times
— "People are terrified to go out on the streets." The actual raids may not have materialized in Los Angeles, but the fear they instilled still had a chilling effect in the city. Many undocumented community members stayed home Sunday or found different ways to stay out of sight. Los Angeles Times
— Immigrant advocates in the Central Valley were also still on high alert Sunday. Volunteers in Fresno passed out know-your-rights information on the street. Fresno Bee
— Advance notice of those planned raids may push immigrants toward unauthorized legal help, leaving many seeking legal help susceptible to scams, according to advocates. Los Angeles Times
Get the Essential California newsletter »
L.A. STORIES
Paul McCartney and Ringo Starr reunited onstage at Dodger Stadium during McCartney's sold-out show. Los Angeles Times
Writer Lynell George reflects on the Broad museum's Black Power exhibition. LAist
Kim Kardashian-West and Kourtney Kardashian joined neighbors and activists in Simi Valley at an event commemorating the 60th anniversary of the partial nuclear meltdown at the Santa Susana Field Laboratory, and lobbying to clean up the contaminated site. Los Angeles Daily News
Inside the L.A. "power kennels" where Hollywood stars board their pets and canine amenities abound. The Hollywood Reporter
Netflix's first-floor waiting room has become the hottest see-and-be-seen spot in Hollywood. New York Times
Forever 21 — a privately held family business that started with a single store in Los Angeles' Highland Park neighborhood in 1984 — is being squeezed on multiple fronts. Here's what went wrong. Los Angeles Times
Across L.A., Nipsey Hussle murals are a testament to the slain rapper's legacy. Los Angeles Times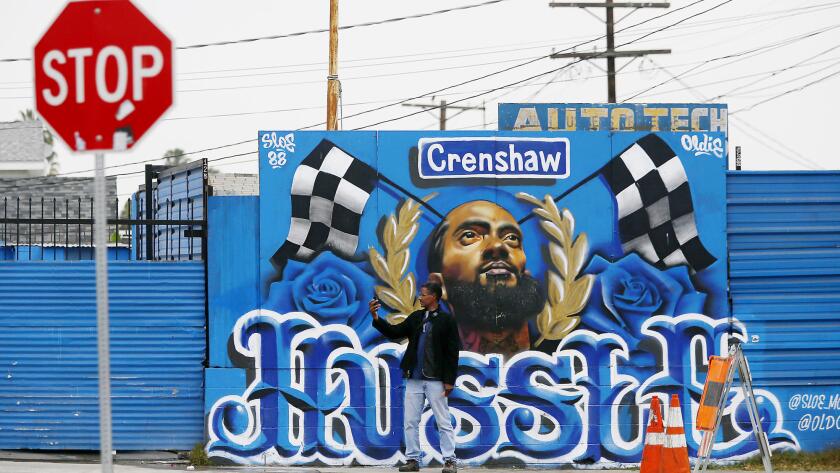 Your support helps us deliver the news that matters most. Subscribe to the Los Angeles Times.
POLITICS AND GOVERNMENT
A Fresno school trustee is under fire again, with parents and community members discussing a potential recall effort. The school trustee reportedly showed up at a Fresno Unified cheer practice and threatened to have students kicked off the cheer team or barred from attending cheer camp if they brought up a blackface incident that occurred earlier this year. Fresno Bee
CRIME AND COURTS
"They were my pillars of strength": Ghost Ship fire parents cling to each other during the 2 ½-month trial. Mercury News
Salinas has been called the youth homicide capital of California, and the agricultural city still grapples with that legacy of loss. But violence has starkly declined, with just one murder in the first half of 2019. Salinas Californian
HEALTH AND THE ENVIRONMENT
A hooked great white shark dragged a fishing boat around the San Francisco Bay for an hour. KPIX
Borrego Springs has worked hard to make its night skies dark. It is the only locale in California, and one of just 22 worldwide, to be designated a "Dark Sky Community." San Diego Union-Tribune
The beaches at Lake Tahoe are a little smaller than they were a few years ago. The lake has filled to the top as massive winter snows melt. Chico Enterprise-Record
CALIFORNIA CULTURE
Roughly 88% of people using California's physician-assisted death law for end-of-life drugs are white. Capital Public Radio
San Luis Obispo County agriculture became a $1-billion business in 2018. More than a quarter of those dollars came from the wine industry. San Luis Obispo Tribune
Seven of the most "Instagrammable" public art spots in the Bay Area, including murals and a sculpture garden. KQED
The Desert Sun asked experts how a planned 173,000-square-foot arena would change Palm Springs' economy. This is what they said. Desert Sun
CALIFORNIA ALMANAC
Los Angeles: partly sunny, 85. San Diego: partly sunny, 79. San Francisco: windy, 69. San Jose: sunny, 82. Sacramento: sunny, 96. More weather is here.
AND FINALLY
This week's birthdays for those who made a mark in California: Rep. Barbara Lee (July 16, 1946), actor Will Ferrell (July 16, 1967), Rep. T.J. Cox (July 18, 1963), actress Sandra Oh (July 20, 1971) and author Michael Connelly (July 21, 1956).
I have lived in California since 1876 and have in consequence no desire to go to heaven.
Iowa native Margaret Collier Graham, writing in 1911
If you have a memory or story about the Golden State, share it with us. (Please keep your story to 100 words.)
Please let us know what we can do to make this newsletter more useful to you. Send comments, complaints, ideas and unrelated book recommendations to Julia Wick. Follow her on Twitter @Sherlyholmes.
---