Babalu Caramel Pecan Apple Pie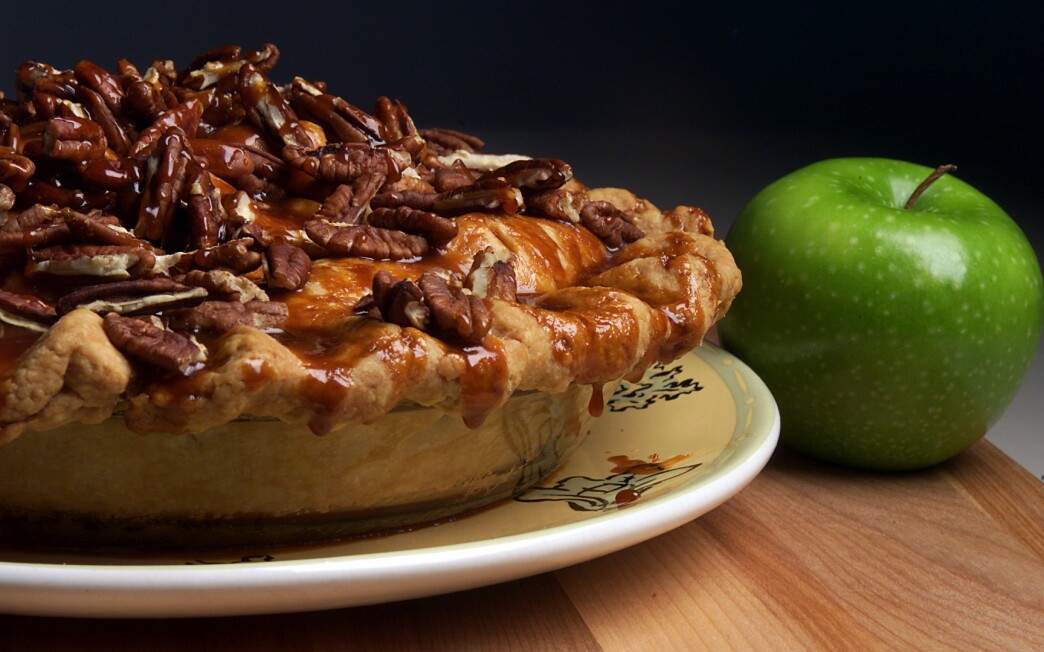 Print Recipe

Print Recipe
Babalu Restaurant's double-crusted deep-dish apple pie is smothered with a thick layer of caramel and pecans.
From the story: Apple of Babalu's Eye
Pie Crust
1
Grease a 9-inch pie pan and set aside.
2
Combine the flour, sugar and salt in a mixing bowl. Cut in the butter. Work the dough with your fingers or a pastry cutter to form coarse crumbs. Add the ice water and mix lightly until a stiff dough is formed. Shape the dough into a disk, cover and refrigerate until chilled, about 45 minutes.
3
Divide the dough in half. Roll out one half and place it over the pie pan, allowing the edges to hang over slightly from the rim. Roll out the other half, the top crust, and place it on wax paper. Refrigerate until ready to use.
Filling
1
Heat the oven to 325 degrees.
2
Combine the lemon juice, apples, flour, sugar and cinnamon in a bowl. Mound the filling over the bottom crust. Dot with the butter. Top with the rolled top crust. Trim the edges and fold under and crimp. Cut a few slashes in the top crust for ventilation.
3
Place the pie on a baking sheet and bake until the crust is golden brown, 1 hour, 15 minutes to 1 hour, 30 minutes.
Caramel Topping
1
Combine the sugar and corn syrup in a saucepan. Stir constantly over high heat until the mixture dissolves and turns a rich caramel color, 8 to 10 minutes. Remove the pan from the heat and slowly stir in the whipping cream and butter until smooth.
2
Pour the Caramel Topping over the crust and cover with the pecans. Line the baking sheet with foil, return the pie to the sheet and bake until the nuts are toasted, another 10 minutes.
Adapted from Babalu Restaurant, Santa Monica.
---
Get our new Cooking newsletter.
You may occasionally receive promotional content from the Los Angeles Times.