Lentils with sausages
Time
Active work time: 5 minutes Total preparation time: 45 minutes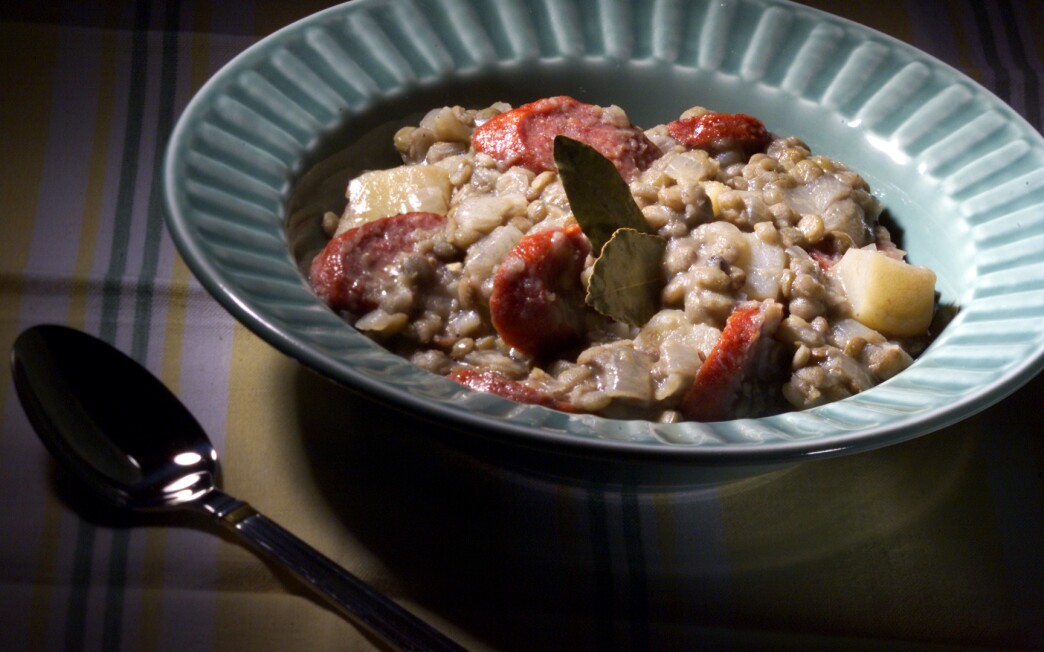 Print Recipe

Print Recipe
Among a few staples that I keep in the cupboard, just in case a friend stays for supper, is a bag of lentils, one of the ingredients I always turn to when I need a last-minute dinner.
Lentils are an everyday staple from the Mediterranean to India. There is a Hindu proverb, "Rice is good, but lentils are my life." As far as we know, they are one of the oldest domesticated ingredients on the planet.
Lentils don't need to be soaked. When cooking them, use 2 cups of water to every cup of lentils. Bring the lentils and water to a boil and cover. Turn the heat to medium, and check for doneness in 20 minutes by tasting the lentils for tenderness. If they're still firm, cook another 10 minutes and taste again. They usually don't take longer than 30 minutes. Cooked cold lentils are good in salads and soups.
Be sure to read the cooking directions on the sausage you buy. If you are using raw pork sausages they need to be cooked thoroughly before adding them to the lentils. Most other sausages are precooked and need to be heated thoroughly.
1
Cut the onions in half from the stem top to the root bottom. Lay each half cut side down on a chopping board. Slice each half horizontally into 1/4-inch slices. Then cut down vertically into thin slices, and finish by cutting down crosswise so you have many small pieces of onion. Set aside.
2
Cut the garlic into thin slices lengthwise. Turn the slices on their side and cut into lengthwise thin slices. Holding the slices together, cut into small pieces vertically. Set aside with the onion.
3
Peel the potatoes and cut into 1-inch chunks. Add them to the onions and garlic.
4
Place the water and lentils into a pot. Add the onions, garlic, potatoes, sausage and salt and pepper to taste. Tear the bay leaf into several pieces and add to the pot. Bring to a simmer over medium heat. Cover, reduce the heat and simmer for 20 minutes.
5
Remove the lid and poke a piece of potato; if tender, fish out a little of the lentils and taste for tenderness. If both the potatoes and lentils are tender, they are ready to serve. If either is still firm, simmer another 10 minutes. Most of the liquid will have been absorbed. Serve in bowls.
---
Get our new Cooking newsletter.
You may occasionally receive promotional content from the Los Angeles Times.