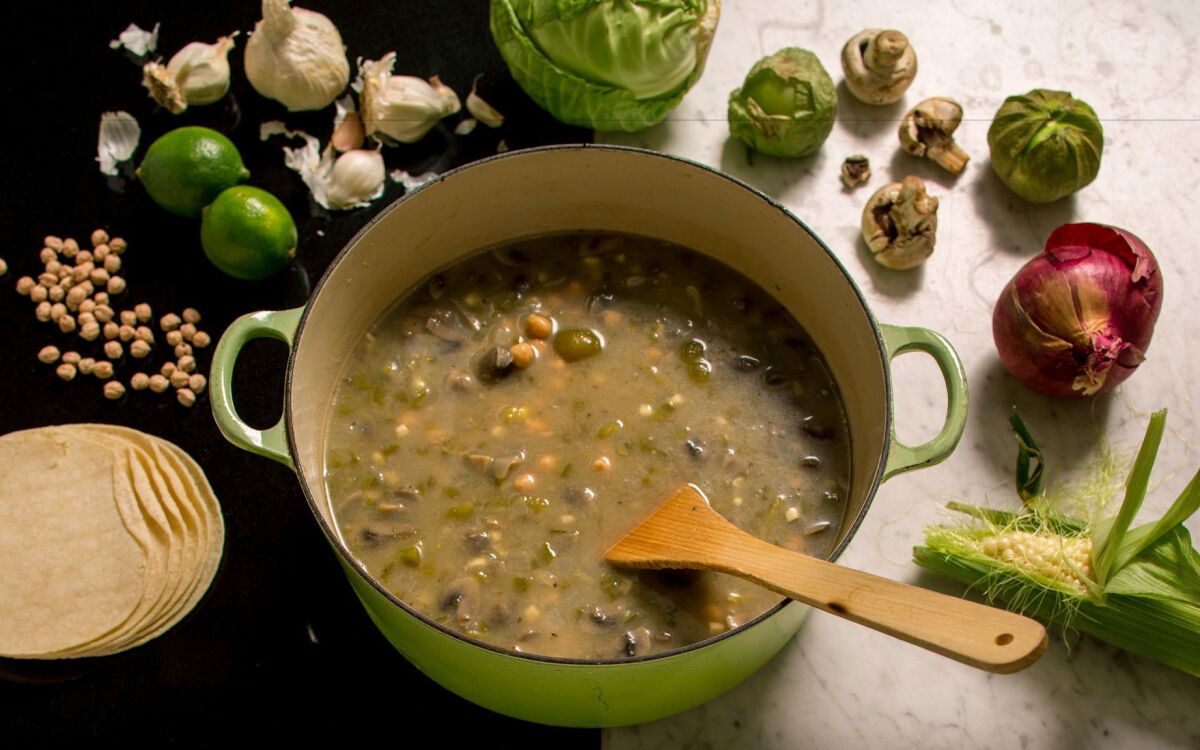 Print Recipe

Print Recipe
Originally created for L.A. Kitchen, a nonprofit facility in Lincoln Heights that recovers food items to be used in a culinary arts training program for former inmates and young adults leaving the foster care system, this vegan version of pozole highlights vegetables. You can make it as spicy or mild as you like by choosing your preferred chile variety or by removing the seeds and ribs of the chiles.
1
Soak the garbanzo beans with at least 2 quarts of water overnight to soften. Drain, rinse and drain again. Set aside.
2
Heat a thin film of oil in a large, heavy pot over medium heat. Add the onion and chiles and cook, stirring frequently, until softened and translucent, 6 to 8 minutes. Add the garlic and cook until aromatic, about 1 minute. Stir in the mushrooms and tomatillos. Cook, stirring occasionally, until the mushrooms and tomatillos have softened and released most of their juice, about 8 to 10 minutes.
3
Stir in the drained garbanzo beans, along with the vegetable broth. Increase the heat so the soup base slowly comes to a boil.
4
While the soup is coming to a boil, toast the tortillas. Heat a skillet or comal over high heat until hot. Briefly toast each tortilla on each side until fragrant and lightly colored. Set aside.
5
Add the toasted tortillas, corn, oregano and cumin to the soup base and reduce the heat to a gentle simmer. Cook the soup, stirring occasionally, until the garbanzos are tender, the tortillas have broken down, and the liquid is reduced so the soup is the desired thickness (if the soup is too thick, add additional broth or water to thin as desired), stirring occasionally, about 1 hour. Stir in the lime juice and salt. Taste the soup and adjust the flavoring and seasoning if desired.
6
Ladle the hot pozole into bowls and garnish with cabbage, onion, lime wedges and cilantro. Serve immediately.
Adapted from a recipe by chef Ryan Stewart at L.A. Kitchen.
---
Get our new Cooking newsletter.
Your roundup of inspiring recipes and kitchen tricks.
You may occasionally receive promotional content from the Los Angeles Times.