Oscar De La Hoya: Fighters like Mikey Garcia require a promoter's 'vision, plan'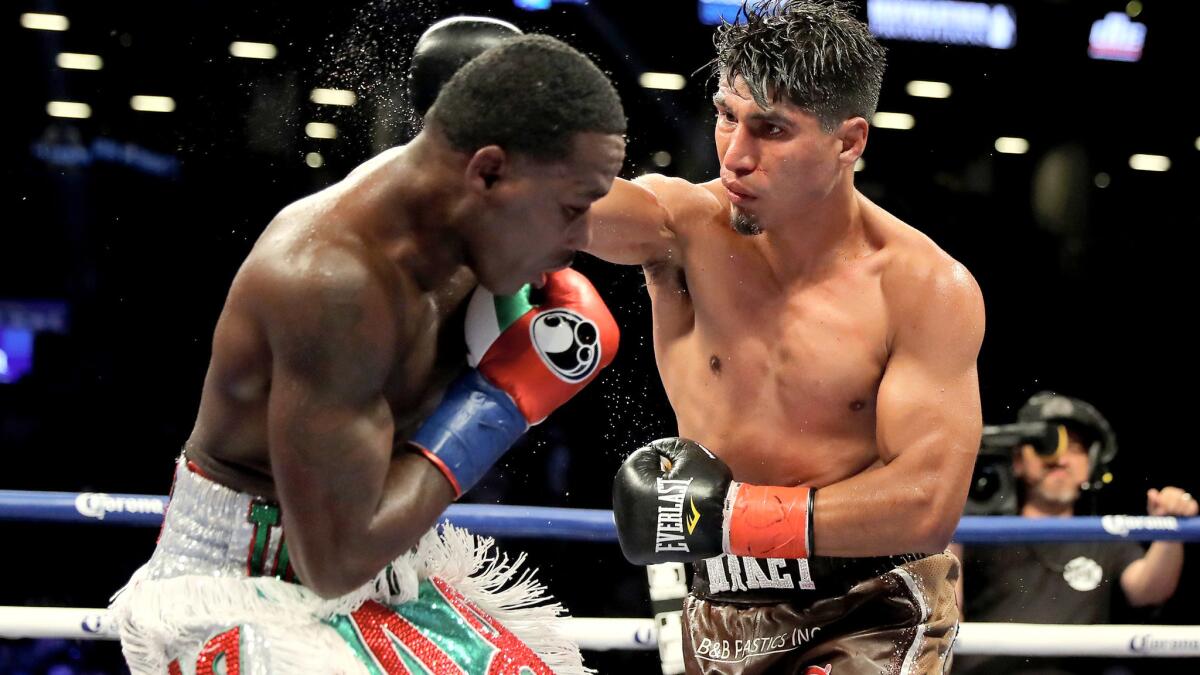 Unbeaten lightweight champion Mikey Garcia recently rejected an offer by Golden Boy Promotions' Oscar De La Hoya to fight Miguel Cotto on Dec. 2 for more than $2 million and be linked to the promoter for at least three more fights, De La Hoya and Garcia told the Los Angeles Times on Tuesday.
The 29-year-old Garcia (37-0, 30 knockouts) said he balked mostly because he wasn't certain De La Hoya could deliver him the elite bouts he seeks after the farewell fight for four-division champion Cotto and a lightweight title-unification against World Boxing Assn. champion Jorge Linares.
"Not bad but I'm doing better on my own," Garcia tweeted Monday. "Why not Cotto only and no further commitment?"
Cotto instead is scheduled next week to sign to fight New York's former welterweight world-title fighter Saddam Ali.
Garcia elaborated to The Times that the bouts discussed after Linares wereunsatisfactory
"I took a step back, looked at everything and was like, 'They can't guarantee me [those] opponents. It's only Cotto and Linares. So how much can they guarantee me — purses and names?'" Garcia said. "Good proposal, but not exciting enough to jump on."
The failure to strike an agreement inspired De La Hoya to present his side and underline the importance of boxing promotion in an extended Tuesday conversation with The Times at his downtown Los Angeles office.
"A fighter needs a promoter who knows how to guide his career — what the next step and move is," De La Hoya said. "You need a team, a partner … Anthony Joshua has a promoter [England's Eddie Hearn], and we promote Canelo [Alvarez].
"The fighter needs that someone with a vision, a plan, someone to work for them and make them Hall of Famers … it frustrates me because I'm an ambassador of the sport, because I love boxing and I want the sport to grow. We've had great events this year. Boxing is on a winning streak and I want it to continue that way."
Even Garcia agreed that without the benefit of his own promoter, he felt like the B side before defeating former four-division world champion Adrien Broner in June.
"He came to us to see about us promoting him, not about a Cotto fight," said Golden Boy President Eric Gomez.
With an obvious disinterest in mentioning him by name, De La Hoya was calling out his former managerial partner Haymon, who keeps welterweight champions Keith Thurman and Errol Spence, and heavyweight champion Deontay Wilder in his stable.
"The way their careers are going now, they're not going to make it into the Hall of Fame – too inactive, they're not fighting the right kinds of fights, the tough challenges that will take you over the top," De La Hoya said.
The injured, two-belt champion Thurman and his March 4 opponent, Danny Garcia, haven't fought since, and International Boxing Federation champion Spence has fought just once since August 2016. De La Hoya added that the fact featherweight champions Leo Santa Cruz and Abner Mares are fighting in separate Saturday tuneups at StubHub Center instead of each other is "a waste of talent."
"Why do you think Canelo Alvarez is the only superstar in boxing? He's the only guy who can walk down streets and people will stop and recognize him," De La Hoya said. "Everybody else is almost irrelevant. I'm criticizing the [other] fighters for listening to whoever's advising them."
Gomez said he believed he'd struck a deal with Garcia to meet 154-pound world champion Cotto at Madison Square Garden on HBO.
But Garcia, who missed 30 months of action while splitting with his former promoter Arum, paused and ultimately discussed the situation with his father and brother-trainer Robert Garcia.
"He should be fighting big, major fights. You need a promoter to set those fights up," De La Hoya said. "Boxing is not about setting up a one-off fight, collect your check and that's it. You need a plan … and that's the mistake too many boxers are making today."
Twitter: @latimespugmire
Get our high school sports newsletter
Prep Rally is devoted to the SoCal high school sports experience, bringing you scores, stories and a behind-the-scenes look at what makes prep sports so popular.
You may occasionally receive promotional content from the Los Angeles Times.