Chargers rookie Isaac Rochell has come a long way since 'hating' football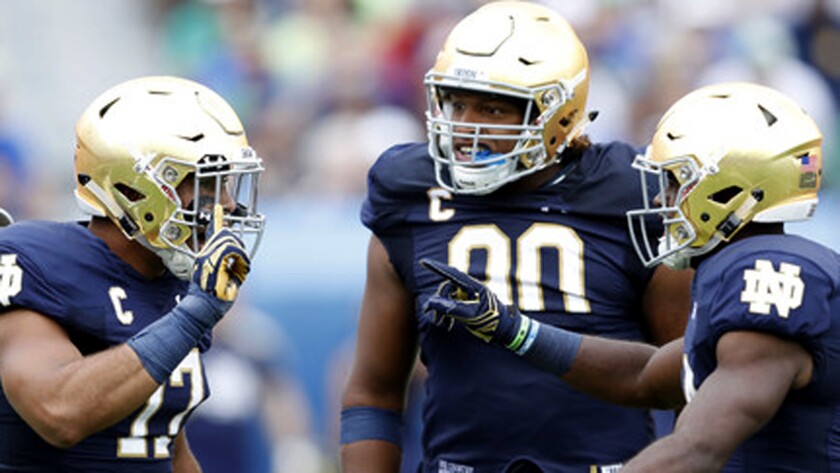 The bright beams of sunlight were making it hard to be outside for long stretches without sweating through a shirt.
In 2006, Isaac Rochell stood on a football field outside of Atlanta. He looked around at his peers, worshippers of one of the South's favorite religions, and thought, "This might not be for me."
He'd have rather been working on the family farm, walking huge buckets of water down to the pig pens on the edge of their property — a distance necessitated by the stench of the swine.
For two more years, Rochell played football without a passion for it. He tried to play because he wanted to be like his brother. He tried to play because every young boy, it seemed, wanted to be in football's congregation.
"I hated it," he said.
Then Rochell became a Charger — at Eagles Landing Christian Academy — right as he was learning to love a game his body would be built for.
Sunday, the 6-foot-4, 280-pound Rochell will take the field as a Charger again, this time as a professional, a seventh-round defensive lineman from Notre Dame with no guarantees of a spot on the final 53-man roster.
It's an extended job interview for one of around 50 guys competing for the 10 or so available roster spots.
"Half of us won't have a job (at the end of camp), essentially. I definitely think about that," Rochell said. "If someone tells you they're not, they're either making way more money than I am or they're lying. That's just the truth of it."
Rochell is part of a Chargers rookie class consisting of seven drafted players and a handful more of undrafted ones, including his teammate at Notre Dame, James Onwualu.
Training camp will cap a process that Rochell called "super-duper stressful" – a transition from someone playing football to someone earning a living from football. It has included the Senior Bowl, the NFL Scouting Combine, pro days, private workouts, interviews and finally a seven-round stomach-torturing event, the NFL draft.
From there, rookies almost immediately get thrust into minicamp and then offseason practices as they start to try and prove why they should be one of 53.
"It doesn't consume my thoughts. At the end of the day, I have to play well. I have to get better. And, I have to set up myself up for success," Rochell said. "Thinking about that stuff doesn't help anything — but inevitably, you think about it."
The Chargers' evaluators don't mind their players thinking about their professional futures because they're thinking about their professional futures, too.
"For all of these guys, you're not on scholarship anymore," Chargers general manager Tom Telesco said. "This is what you do for a living. Everybody that comes here is coming to take someone else's job. That's just the way it is."
Rochell said he understands that mentality — it's a must for him if he's going to succeed in the NFL.
"When you're getting recruited, those teams owe you something," he said. "Here, it's now your responsibility to prove your worth. You're not owed anything."
That's how a seventh-round pick should think. For a first-round pick, like Mike Williams, things are a little different.
Slowed by a lower-back injury, Williams doesn't have to worry about earning a spot on the team. He'll have one — and loads of guaranteed cash — since the Chargers invested the No. 7 overall pick on him.
The team is hopeful he can avoid surgery on the back, steps that can be aided if Williams can make the smooth transition from Clemson Tiger to pro. And, with Williams placed on the active/physically unable to perform list Saturday, he's going to have to find other ways to stay involved.
"One thing I talked to him about … mentally, if you're out here and not practicing, it's going to be hard on you," Telesco said. "But, he's young and I think he can handle it. He's said all the right things. We'll have a plan together as far as his rehab is concerned and he's got to stay on top of the details.
"This is his job now."
Williams has already been hired. Rochell's just trying to secure his spot.
He's got other skills — he used to build fences all around the family's farm. He helped raise cows and goats. He's fed the pigs.
But since falling hard for football, the dreams have changed. He'd rather use his quickness to get around an offensive guard to get to the quarterback, or his strength to beat a tight end and blow up a rushing play on the outside. He'd rather be immersed in a locker room and play in front of the Los Angeles Chargers' first crowds.
Wanting that job, though, and getting it are two very different things.
"You know there's a potential of guys getting fired," Rochell said. "That might intensify things."
Notes
Along with Williams, the Chargers placed Jason Verrett and Darrell Stuckey on the active/physically unable to perform list … The Chargers' first meeting of training camp featured a surprise appearance by former Laker Kobe Bryant. … Sunday will be the first of 13 training camp practices at the Jack Hammett Sports Complex in Costa Mesa. All the practices are free and open to the public, though bleacher seating can be reserved through the team's website. Practices in Costa Mesa are all scheduled to start at 10 a.m.
Twitter: @DanWoikeSports
---