Injury to Chargers teammate gives lineman Kenny Wiggins a clear path to the starting lineup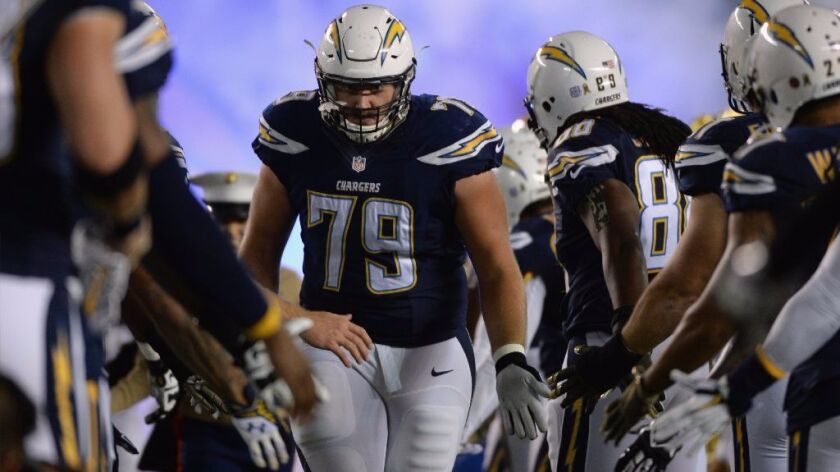 Kenny Wiggins has five weeks to transform himself from a jack of all trades into a master of one, last week's season-ending knee injury to Forrest Lamp giving the Chargers' utility lineman a clear path to the starting lineup at right guard.
"I've never gone into camp being the No. 1, so this is a whole new thing for me," the 6-foot-6, 314-pound Wiggins said Monday after practice in Costa Mesa. "But I love the challenge. I had to prove I could play multiple spots just to make the team.
"Now I'm trying to focus on one. Getting into and coming out of one stance is a lot different than saying, 'OK, today you're playing left tackle,' or 'Today, you're playing right tackle.' There have been games where I played three spots."
Wiggins, who turns 29 on Tuesday, is in his seventh NFL training camp. The former Fresno State tackle's first five camps ended with him being cut, three times by the San Francisco 49ers and twice by the Chargers.
Not drafted out of college, Wiggins spent most of 2011-2013 on the practice squads of the Baltimore Ravens, 49ers and Chargers. He was out of football for all but one week of 2014, the Elk Grove, Calif., native saying he spent the season "working out, sitting on the couch."
Wiggins seemed destined for a similar fate in 2015, when he was waived by the Chargers at the end of camp. But a Week 1 ankle injury to guard D.J. Fluker led the Chargers to sign Wiggins to their 53-man roster.
Wiggins started eight of 15 games that season, seeing action at both guard spots and right tackle. He made the team out of camp in 2016 and played 129 snaps in 13 games, starting once.
"Half of the battle in this game is being in the right place at the right time," he said. "I didn't get any breaks when I was younger. You have to roll with the punches and always be ready."
The jumbo-sized Wiggins was a standout basketball player in high school and played on an AAU team with DeMar DeRozan, now a shooting guard for the Toronto Raptors. Asked who boxed him out on the basketball court, Wiggins said, "Nobody."
That athletic ability served Wiggins well on the football field, where he has used a variety of skills and techniques at the guard, tackle and center spots. But Wiggins' role changed when Lamp, a second-round pick from Western Kentucky, suffered a torn knee ligament.
"He has a lot of versatility," Chargers coach Anthony Lynn said of Wiggins, "but right now, he's competing for a starting job."
That the opportunity arose from a devastating injury to a teammate made it bittersweet for Wiggins.
"It's the nature of the game," he said. "You don't want to celebrate when somebody gets hurt. That's not how it works. He's my teammate, and if he's going to help us, I want him to be on the team.
"Forrest was really shaken up after the injury. I told him that everybody's path is different. This is just a different chapter in his life, and he's going to be a great player in this league for a long time."
Opportunity knocks
Philip Rivers, the Chargers' 35-year-old quarterback, was given a second day off Monday, and 36-year-old tight end Antonio Gates sat out a third day of practice after attending LaDainian Tomlinson's Hall of Fame induction Saturday in Canton, Ohio.
"I like to get those veteran guys through that [early] period of camp and then work them back into it," Lynn said. Asked how Rivers, who rarely sits out practice, felt about forced days off, Lynn said, "He didn't have a choice."
Rivers' absence allowed backup quarterbacks Kellen Clemens and Cardale Jones to get more reps with the first and second teams.
With receivers Keenan Allen (sore calf) and Dontrelle Inman (recovering from sports hernia surgery) sidelined Monday, receiver Isaiah Burse made several nice catches. Burse suffered a shoulder tear last week but is playing while rehabilitating.
"He's fast, quick, and he showed good hands all offseason," Lynn said of Burse, who played mostly on special teams last season. "Nothing he's doing is surprising me."
Burse, 25, knows he must take advantage of every opportunity.
"You never know," he said. "In the future, if someone goes down, maybe they won't be scared to put Isaiah Burse in. They'll be like, 'Hey, he can make a play.'"
Nuts and bolts
The Chargers waived injured tight end Asante Cleveland and signed two undrafted free agents: former Purdue receiver Cameron Posey, who was most recently with the Carolina Panthers; and tight end Mike Estes, a Gardner-Webb product who participated in the Chargers' rookie mini-camp.
Follow Mike DiGiovanna on Twitter @MikeDiGiovanna
---
Get the latest on L.A.'s teams in the daily Sports Report newsletter.
You may occasionally receive promotional content from the Los Angeles Times.