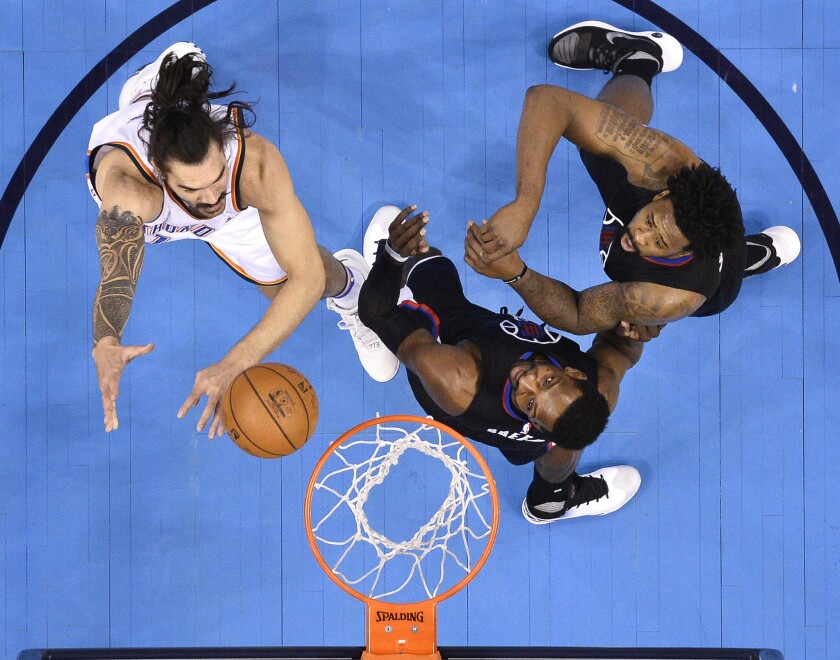 The Clippers largely won by going small in Blake Griffin's absence.
When he returns, they'll have the option to go big. Very big.
Their trade for Jeff Green last month will allow them to unveil a front line featuring the 6-foot-11 DeAndre Jordan alongside the 6-10 Griffin and the 6-9 Green, should Coach Doc Rivers decide to use that lineup.
"With the team that we're going to have," Green said Monday, "we're going to have a lot of options."
Rivers was reluctant to discuss his plans for his forward rotation when Griffin returns Sunday from a three-month absence caused by hand and quadriceps injuries as well as a four-game suspension for punching a team assistant equipment manager.
The coach has some decisions to make because he has four players — Luc Mbah a Moute, Paul Pierce, Wesley Johnson and Green — who are interchangeable at the small- and power-forward spots.
Four players have started at power forward in Griffin's absence, including the since-departed Josh Smith. Mbah a Moute has been almost a constant as the starting small forward except for the five games he sat out becasue of a lacerated left eyelid.
Each player can make a case for playing time alongside Griffin or as his backup.
Mbah a Moute has been a defensive tone-setter, and the Clippers had won 34 of 51 games with him as the starter before Monday. Green is superior offensively to Mbah a Moute and possesses more size.
Johnson has had stretches as a capable defender and three-point shooter. Pierce is known for playoff heroics, though Rivers acknowledged it's no longer 2008.
"He's just not the same, obviously," Rivers said. "Paul scored 40 points in a playoff game, so it's completely different."
But does Rivers believe that Pierce, who left Monday's game after suffering a sprained right ankle and bruised right knee in the second quarter, is capable of conjuring another magical moment?
"We'll watch and see," Rivers said, "but I also am very realistic too."
Rest of the story
The Clippers have only one player who ranks among the NBA's top 25 in minutes per game, and he doesn't figure to need a lot of extra rest before the playoffs.
Griffin has averaged 34.9 minutes per game, putting him 24th, but has not played since Christmas. He'll probably need rest only to help rebuild his endurance over the final 1 1/2 weeks of the regular season.
The Clippers' other stars also don't appear overly worn down. Jordan (34.1 minutes per game) ranks 33rd in minutes played and guard Chris Paul (33.2) ranks 42nd. Rivers said there's not a ready-made formula for resting players before the playoffs.
"There's guys who want to play, there's guys who need to play to keep their balance even if they've played a lot of minutes and then there's guys who need rest," Rivers said, "so there's no scientific way about it. We just kind of play it by eye, by ear and by conversation."
Rivers said the need to work Griffin back into the lineup would not affect his decision to rest other players if he felt it could benefit them.
Etc.
Los Angeles Police are investigating a tweet sent last month that threatened Paul's wife after a Clippers loss. "You don't know what is actually threatening or not," Rivers said, "but unfortunately in this day and time, you have to take everything serious. It's the way it is and it's too bad." … The Clippers recalled second-year guard C.J. Wilcox from the Canton Charge of the Development League.
---